/ Source: NBC News and news services
British authorities said Thursday they thwarted a terrorist plot to simultaneously blow up 10 aircraft heading to the U.S. using explosives smuggled in hand luggage, averting what police described as "mass murder on an unimaginable scale."
Officials told NBC News that the alleged mastermind of the plot is still in Pakistan and has yet to be captured.
Some plotters had already purchased tickets on a flight to stage a test run planned for this weekend. The test run would have determined how easily the plotters could have gotten their materials past security and on board the planes.
The actual attack would have followed within days, officials told NBC News.
Police arrested 24 people saying they were confident they captured the main suspects in what U.S. officials said was a plot in its final phases that had all the earmarks of an al-Qaida operation. However, ABC News quoted unidentified U.S. officials who had been briefed on the plot as saying five suspects were still at large and being urgently hunted.
President Bush called the plot a "stark reminder" of the continued threat to the United States from extremist Muslims.
Senior U.S. intelligence officials told NBC News that the plot was on British officials' radar for about two weeks and that several of the people involved had been monitored for several months when this plot came into view.
Asked whether there were a significant number of suspects involved in the plot still on the loose who could still carry out an attack, the official said, "They didn't get them all."
Secretary of Homeland Security Michael Chertoff described the plot on Thursday as "well-advanced and well-thought-out and ... really resourced to succeed."
The alleged plan
Britain disclosed no details about the plot or those arrested, although one police official indicated the people in custody were British residents, most of whom lived in east London. A French official in contact with British authorities described the arrested as originating from predominantly Muslim Pakistan.
British authorities said the suspects were arrested in London, its suburbs and Birmingham following a lengthy investigation, including the alleged "main players" in the plot.
At least one of the plotters attended a terrorist training camp in Pakistan, and more than one of the accused prepared a martyrdom tape, a counterterrorism official told NBC News.
Investigators say the plotters had not decided on specific flights to attack, but within the past few days were clicking around the Internet, looking at non-stop flights from the U.K. to the U.S. that left around the same time, NBC News' Pete Williams reported.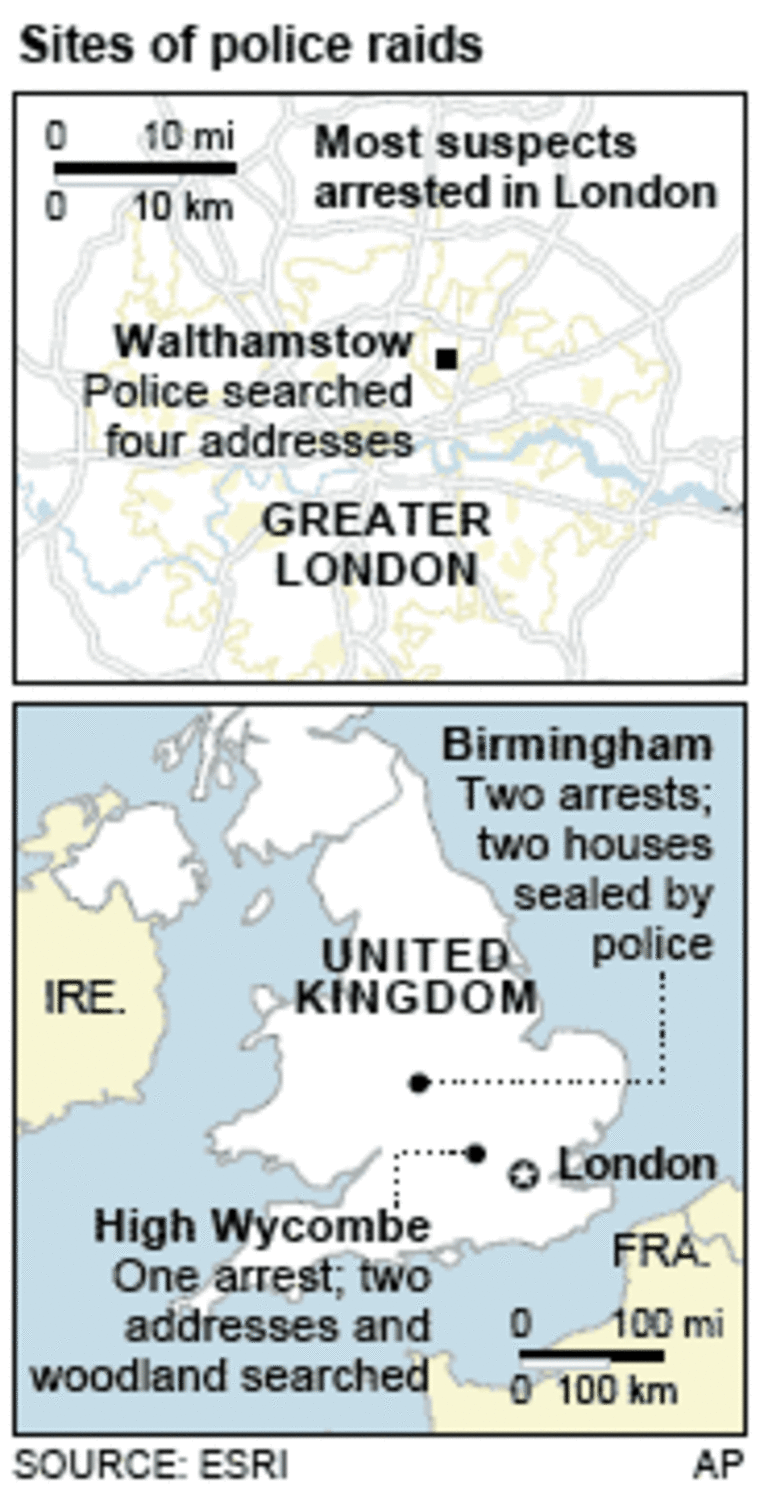 U.S. officials say British investigators had the terror cell under close surveillance for several months, keeping the U.S. informed, then adding more specifics just within the past several days.
For the past several days, the FBI has feverishly looked for any potential ties to terrorists in the U.S., but has not found any.
"We literally in the last couple of weeks have had hundreds of FBI agents around the country tracking down every lead, and we have not found to date any plotters here in the United States," FBI Director Robert Mueller told NBC.
Aviation experts say airport screening devices have a hard time picking up the chemicals the plotters planned to use, something officials verified with a test Thursday morning at Washington's Ronald Reagan National Airport.
Officials raised security to its highest level in Britain — suggesting a terrorist attack might be imminent — and banned carry-on luggage on all flights. Huge crowds backed up at security barriers at London's Heathrow Airport as officials searching for explosives barred nearly every form of liquid outside of baby formula.
Chertoff said the terrorists planned to use liquid explosives disguised as beverages and other common products and set them off with detonators disguised as electronic devices.
"I can't tell you that the particular explosives they had designed would have succeeded in bringing the planes down, but certainly you don't even want to come close to taking that kind of a risk," Chertoff said on MSNBC TV's "Hardball."
A counterterrorism official with knowledge of the plot and Thursday's arrests told NBC News that the plotters, who ranged in age from 17 to 35, planned to use false-bottomed sports drink bottles to bring the liquids on board.
The terrorists on each plane would combine the separated liquids mid-flight to create an explosive solution.
An American law enforcement official who was briefed on the investigation said it appeared the liquid to be used was a "peroxide-based solution" to be detonated by an electronic device that was not specified, but could be anything from a disposable camera to a portable digital music player.
The official spoke on condition of anonymity because British authorities had asked that no information be released.
Alerts raised worldwide
News of the arrests and extreme security measures in London, a major international aviation hub, sent ripples throughout the world. Heathrow was closed to most flights from Europe, and British Airways canceled all its flights between the airport and points in Britain, Europe and Libya. Numerous flights from U.S. cities to Britain were canceled.
Washington raised its threat alert to its highest level for commercial flights from Britain to the United States.
The alert for all flights coming or going from the United States was also raised slightly.
Two U.S. counterterrorism officials, speaking on condition of anonymity, said the terrorists had targeted United, American and Continental airlines.
A U.S. intelligence official said the plotters had hoped to target flights to major airports in New York, Washington and California.
'Stark reminder'
Visiting Green Bay, Wis., to raise support for a Republican candidate, Bush said that the plot was a "stark reminder that this nation is at war with Islamic fascists." Despite increased security since Sept. 11, he warned, "It is a mistake to believe there is no threat to the United States of America."
ABC News quoted sources as saying Western intelligence agencies had identified three of the alleged ringleaders. It said two were believed to have traveled recently to Pakistan and later had money wired to them from Pakistan, purportedly to purchase airline tickets for suicide bombers.
While British officials declined to publicly identify the 24 suspects, French Interior Minister Nicolas Sarkozy said in Paris they "appear to be of Pakistani origin."
Pakistan's government said later its intelligence agents helped Britain crack the plot and had arrested two to three suspects.
"Pakistan played a very important role in uncovering and breaking this international terrorist network," Foreign Ministry spokesman Tasnim Aslam said, but she declined to give details.
'Homegrown'
The suspects arrested in Britain were "homegrown," though it was not immediately clear if they were all British citizens, said a British police official who spoke on condition of anonymity because of the sensitivity of the case. Police were working closely with the South Asian community, the official said.
Raids were carried out at homes in London, the nearby town of High Wycombe and in Birmingham, in central England. Police also combed a wooded area in High Wycombe.
Hamza Ghafoor, 20, who lives across the street from one of the homes raided in Walthamstow, northeast of London, said police circled the block in vans Thursday and that they generally swoop into the neighborhood to question "anyone with a beard."
"Ibrahim didn't do nothing wrong," Ghafoor said, referring to a suspect. "He played football. He goes to the mosque. He's a nice guy."
The suicide bombing assault on London subway trains and a bus on July 7, 2005, was carried out by Muslim extremists raised in Britain.
The police official said the plotters intended to simultaneously target multiple planes bound for the United States.
"We think this was an extraordinarily serious plot and we are confident that we've prevented an attempt to commit mass murder on an unimaginable scale," Deputy Police Commissioner Paul Stephenson said.
First time red alert status invoked
Prime Minister Tony Blair, vacationing in the Caribbean, briefed Bush on the situation Wednesday. Blair issued a statement praising the cooperation between the two countries, saying it "underlines the threat we face and our determination to counter it."
Chertoff said the plot had the hallmarks of an operation planned by al-Qaida, the terrorist group behind the Sept. 11 attack on the United States.
"It was sophisticated, it had a lot of members and it was international in scope. It was in some respects suggestive of an al-Qaida plot," Chertoff said, but he cautioned it was too early in the investigation to reach any conclusions.
It is the first time the red alert level in the Homeland Security warning system has been invoked, although there have been brief periods in the past when the orange level was applied. Homeland Security defines the red alert as designating a "severe risk of terrorist attacks."
"We believe that these arrests (in London) have significantly disrupted the threat, but we cannot be sure that the threat has been entirely eliminated or the plot completely thwarted," Chertoff said.
He added, however, there was no indication of current plots within the United States.
'Close to the execution phase'
Chertoff said the plotters were in the final stages of planning. "We were really getting quite close to the execution phase," he said, adding that it was unclear if the plot was linked to the upcoming fifth anniversary of the Sept. 11 terror attacks.
A senior U.S. counterterrorism official said authorities believe dozens of people — possibly as many as 50 — were involved in the plot.
In the mid-1990s, officials foiled a plan by terrorist mastermind Ramzi Youssef to blow up 12 Western jetliners simultaneously over the Pacific. The alleged plot involved improvised bombs using liquid hidden in contact lens solution containers.