Oil giant BP is learning some lessons from pigs in its Alaska pipeline.
Pigs are in-the-pipe testing tools that might have done a better job at spotting the corrosion that prompted Sunday's partial shutdown of BP's Prudhoe Bay oil field, but the company didn't use them there for 14 years.
When BP finally pigged its pipes, under government orders after a massive March oil spill, the results were shocking.
"When we conducted an intelligent pigging, which gives you a lot of data, we were shocked and disappointed in what it found," BP spokesman Neil Chapman said. "... Because what it said was that the effectiveness of our (corrosion) program — we had a gap in the program and we're going to fix it."
BP said on Sunday it was closing operations at its Prudhoe Bay oil field on Alaska's North Slope, the largest in the United States, after an inspection with a so-called smart pig showed extensive corrosion and holes in its 16-mile pipeline.
Pigs, in this context, are bullet-shaped devices pushed through pipelines by the force of the oil behind them. One type of pig, the scraper or cleaner, scours sediment and other deposits from the pipe's inner walls as it goes.
After that, a more sophisticated smart pig can move through with sensors that gauge corrosion and wear.
An early version of the scraper, made of a wooden keg wrapped in burlap and barbed wire, emitted a pig-like squeal as it moved, giving the gadget its colorful name.
BP had not sent in the pigs at its Alaska line since 1992, relying instead on ultrasound and other external techniques to inspect its lines, Chapman said Thursday in a telephone interview. The company does employ pigs every five years in its North Sea pipelines, a company spokesman said.
Pigs in the pipe
The 800-mile Trans Alaska Pipeline, which receives oil drilled by BP and other North Slope producers, sends a scraper through its lines every week to 10 days and runs a smart pig every year to 18 months, said Dan Lawn, a retired regulator at Alaska's Department of Environmental Conservation, which monitors oil pipelines.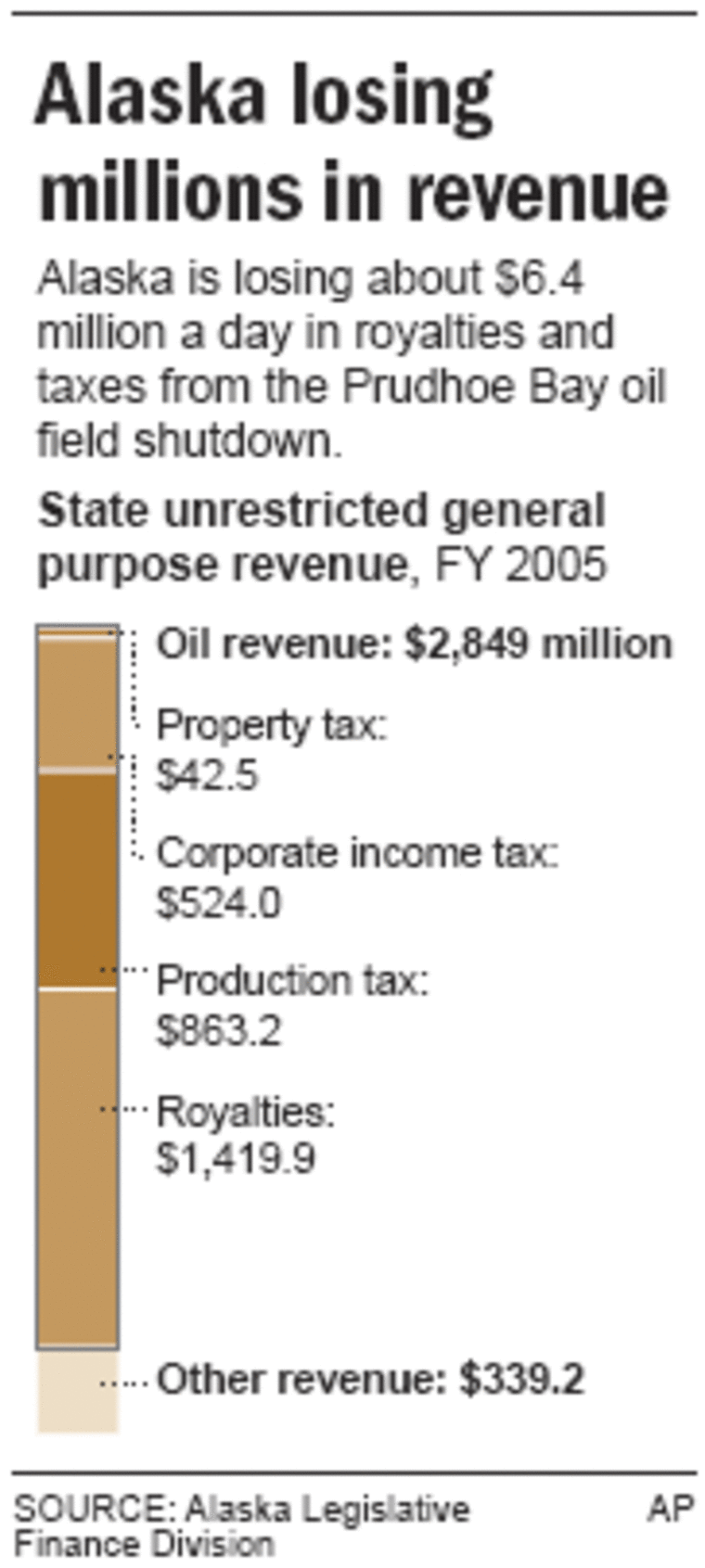 "To know where the pipe's thin, they have to run pigs," Lawn said by telephone from his home in Valdez, Alaska. "If you just measure it with an ultrasonic device from the outside, it will not give you verifiable data."
The government ordered BP to smart-pig its pipeline after a March spill of 200,000 gallons of crude onto the Arctic tundra. Back then, the line was so clogged they had to send numerous scrapers through before a smart pig would fit, said Damon Hill of the U.S. Transportation Department, which regulates oil pipelines.
A smart pig run on July 22 showed pipe walls 80 percent corroded in spots, with two places where there was 0.07 inch of steel — about the thickness of 25 newspaper pages.
This surprised BP officials, who did not expect such corrosion from the type of crude being carried — a processed oil with water, sediments and gas removed, Chapman said.
The smart pig found sludge in the pipe and microbiological activity despite anti-corrosion chemicals, he said.
Lawn, a former engineer on the Trans Alaska Pipeline and now president of the Alaska Forum for Environmental Responsibility, said BP was repeatedly warned by workers and inspectors about possible corrosion.
Chapman said any concerns are investigated, adding that "the key is having details where you can investigate further so that you know what action is to be taken."
Asked whether BP now intends to make pigging part of its routine at the Alaska operation, Chapman replied, "What we've got to do is improve the program using new techniques, new technology and we've obviously got to work with the regulator in order to establish a program we're going to undertake."