At the Walthamstow market, more than a half mile of vegetable and clothing stands said to be the largest in Europe, Pakistani Muslims buy and sell goods alongside Hindus in saris, Africans in traditional dress, black Caribbeans, eastern Europeans and Anglos.
An outdoor photo exhibit titled "1,000 faces of Walthamstow" shows off portraits of the community, and men dressed as Beatles pass out flyers.
But behind the proud multicultural façade, fears lurk. And few Muslim residents are ambivalent about the inescapable fact of Thursday's sensational arrests in the war on terror.
Walthamstow, a well-worn, busy east London town, was home to nearly half of the suspects in the plot to blow up trans-Atlantic airliners.
"After the arrests (the Pakistani Muslims) weren't out this morning; they weren't here to set up their market stalls," said Terry Johnson, a job training provider, who lives just down the road from one of the houses that was raided by police Thursday.
In this racially mixed town, many Pakistanis, who are the largest ethnic group after Anglos, feel targeted by the wider community. But suspicions, fears and conspiracy theories are high on both sides of the racial and religious divide.
After the call to prayer Friday at Jamia Masjid Ghousa, Walthamstow's central mosque, the mayor and a local councilor were eager to make statements to curious journalists, stressing the peacefulness of the community and its willingness to work with police on the investigation.
A father's shame
A man named Hanif spoke on behalf of six of the suspects and one of their wives, who was reportedly being held by police along with her 6-month-old baby. He said the father of three suspects — Umair Hussain, Mehran Hussain and Nabeel Hussain — wanted to tell the world that his sons are innocent students. His oldest, Umair, had just attained a degree in information technology and was looking for work.
"Their future has been ruined," he said through Hanif.
"He lived on that road for 20 years and never upset any neighbors, but now he feels he's been degraded and insulted by this, and his children are innocent," said Hanif, who did not give his last name, as he spoke on behalf of Fazal Hussain, whose three sons were taken into custody.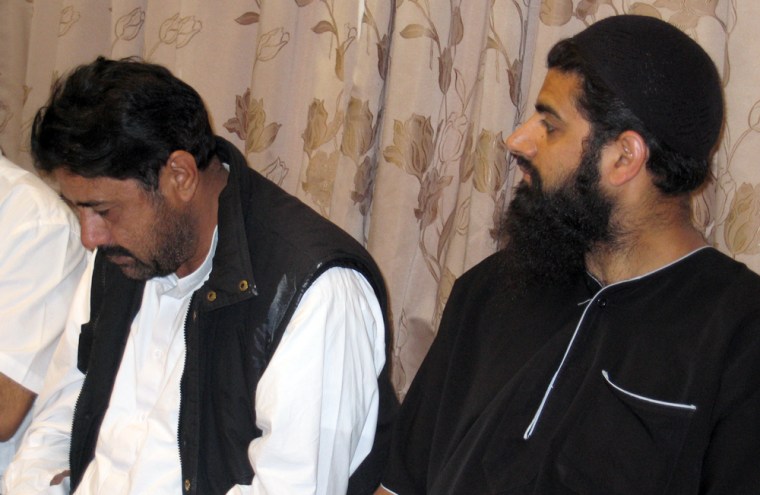 In a back room at the mosque Hussain tried to speak for himself but was too distraught to raise his voice above a whisper.
Others at the mosque, especially those younger, were not willing to accept the arrests.
Umer Akhtar, 17, said he doubted the police had any evidence to warrant the arrests and that "it could happen to anyone." His friend Yasir Razzak, 25, said, "If you're a Muslim, you've got a 99 percent chance of it happening to you."
"The last two shootings they've been wrong, so why should we believe it's true now?" said an older man, referring to the police killing of a young Brazilian following the July 7, 2005, London transport attacks, and the recent shooting of a man in a botched Forest Gate raid.
"It's got nothing to do with Muslims; they're trying to take people's attention away from Israel," he said, declining to fully identify himself.
"It's just a big conspiracy against Muslims, and I'll never believe it."
Rites of passage
While many first-generation Muslim immigrants to Britain saw assimilation as necessary to improve their social and economic standing, young second- and third-generation Muslims in neighborhoods such as Walthamstow use outward signs of their religion, a beard or hijab, as a statement of heritage. At the Walthamstow mosque, one of 10 in the area, young Muslims brag about growing their beards.
"I'm gonna grow a beard, i'nit — that's what Muslims have to do, i'nit," said 14-year-old Farhan Khan, a distant cousin of one of the arrested men — Waheed Zaman.
"They took (Zaman), and his brother doesn't even know where he is," said Hasnain Ali, 15, who is a friend of the arrested man's younger brother.
"Their mom's back home in Pakistan, and they don't want to tell her cause she's got a heart condition," he said.
Ali said he believed all the suspects were innocent and Zaman, whom he's known since he was 5 years old, "prays five times a day, goes to mosque, and he has a business."
"People say stupid things, but I don't think anyone around here would really do anything," said Ali.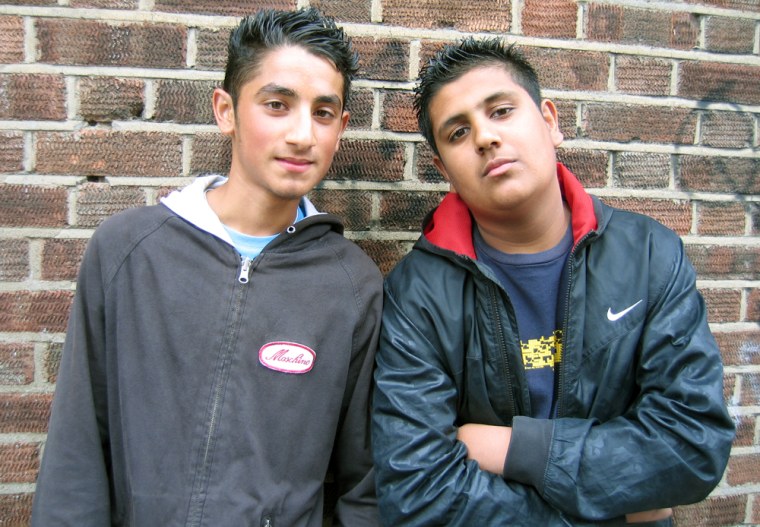 "But, everyone's got rights, and you've got to stand up for your rights," he said.
Johnson, the white job training provider, represents another view in the town. "They (Pakistani Muslims) accept that there is disharmony, and after 9/11 even their leaders said 'take off your hijabs and stop being isolated,' but they refused it," said Johnson, who saw police cars Thursday morning at the end of the road where he lives and later realized one of the suspects was a neighbor.
"There's a lot of tension here anyway and now it'll be 10-fold," he said.
Searching for common ground
"I'm horrified, everyone is," said resident Mary Scaffardi. "Any terrorism is awful — we had the IRA years ago and now we have this lot."
As an Irish person who lived in London during the IRA bombings, she said she understood that the vast majority of Muslims were law-abiding people who must fear terrorism as much as she does.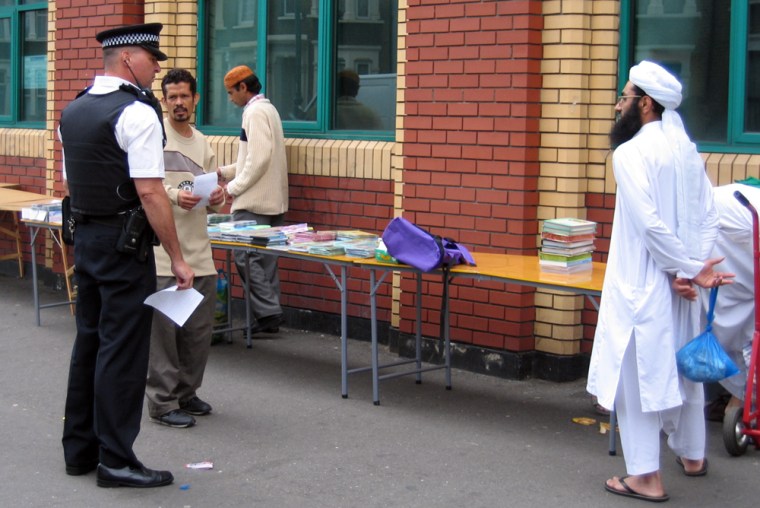 But "parents have got to get through to their sons — set examples, tell them not to look up to al-Qaida and these people," she said.
At the mosque, Afzal Akram, councilor and Cabinet member for community safety, was working overtime to keep dialogue going among the Muslim community, police and wider society.
"Past experience tells us that where no information has been cascaded, misinformation comes into place," he said, adding that the police were "more forthcoming with information than they have been in the past, so they're learning from past experience, too."
"Let's hope the community can get through this the way it got through 9/11 and 7/7; I'm sure the community is strong enough to get through this," he said.