/ Source: The Associated Press
Lebanese civilians jammed onto roads to stream back to war-ravaged areas Monday after a U.N. cease-fire halted fighting between Israel and Hezbollah that claimed more than 900 lives.
For the first time in a month, no rockets were fired into northern Israel, but Hezbollah guerrillas fired at least 10 Katyusha rockets into southern Lebanon early Tuesday, the army said. None reached Israel, and no injuries were reported.
Few Israelis who fled the war in northern Israel were seen returning, and Israel's government has advised them to stay away for now.
Hezbollah leader Sheik Hassan Nasrallah declared that his guerrillas achieved a "strategic, historic victory" over Israel. But President Bush said Hezbollah was defeated, and Israel's prime minister maintained the offensive eliminated the "state within a state" run by the militants in southern Lebanon.
Israeli soldiers reported killing six Hezbollah fighters in four skirmishes in southern Lebanon after the guns fell silent, highlighting the tensions that could unravel the peace plan.
Historic meeting
Lebanese, Israeli and U.N. officers met on the border to discuss the withdrawal of Israeli forces from southern Lebanon and the deployment of the Lebanese army in the region. Lebanon said later Monday that its forces would be ready to deploy north of the Litani River this week.
The meeting, the first involving a Lebanese army officer and a counterpart from Israel since Israeli forces withdrew from Lebanon in 2000, marked the first step in the process of military disengagement as demanded by a U.N. Security Council resolution.
The fighting persisted until the last minutes before the cease-fire took effect Monday morning, with Israel destroying an antenna for Hezbollah's TV station and Hezbollah guerrillas clashing with Israeli troops near the southern city of Tyre and the border village of Kfar Kila.
Israeli warplanes struck a Hezbollah stronghold in eastern Lebanon and a Palestinian refugee camp in the south, killing two people, and Israeli artillery pounded targets across the border through the night.
After the cease-fire took effect, lines of cars — some loaded with mattresses and luggage — snaked slowly around bomb craters and ruined bridges as residents began heading south to find what is left of their homes and businesses.
Humanitarian groups also sent convoys of food, water and medical supplies into the south, but the clogged roads slowed the effort. U.N. officials said 24 U.N. trucks took more than five hours to reach the port of Tyre from Sidon, a trip that normally takes 45 minutes.
Cease-fire holding
Israel had not lifted its threat to destroy any vehicle on most southern roads, a ban designed to keep arms from getting to Hezbollah, but there were no signs it was being enforced.
Capt. Jacob Dallal, a military spokesman, said the Israeli army was urging Lebanese civilians to stay out of the south until Lebanese troops and U.N. peacekeepers moved in.
"There are lots of Israeli troops and Hezbollah fighters. For their own safety, we advise them (civilians) not to go," Dallal said.
In some places in the south, the rubble was still smoldering from a barrage of Israeli airstrikes just before the cease-fire took effect at 8 a.m. (1 a.m. EDT).
"I just want to find my home," said Ahmad Maana, who returned to Kafra, about five miles from the Israeli border, where whole sections of the town were flattened.
'An earthquake zone'
In Beirut's southern suburbs, a Hezbollah stronghold, people wrapped their faces with scarves as wind kicked up dust from the wreckage left by Israeli bombardments.
Ahmed al-Zein poked through the ruins of his shop. "This was the most beautiful street in the neighborhood," he said. "Now it's like an earthquake zone."
There were no reports of Israeli strikes on cars — a sign Israel did not want to risk rekindling the conflict. But at least one child was killed and 15 people were wounded by ordnance that detonated as they returned to the south, security officials said.
Israeli forces remain in Lebanon, and Nasrallah said the militia would consider them legitimate targets until they leave.
In his speech, Nasrallah also promised to help the Lebanese rebuild. "Starting tomorrow morning, the brothers (Hezbollah members) in the towns and villages will turn to those whose homes are badly damaged and help rebuild them," he said.
City in a coma
The truce ushered in a calm that the border region had not seen since July 12, when Hezbollah staged a cross-border raid into Israel and captured two Israeli soldiers.
Stores that had been closed for weeks began to reopen in Haifa, Israel's third-largest city and a frequent target of Hezbollah rockets, and a few people returned to the beaches.
In the northern Israeli town of Kiryat Shemona, where more than half the population of 22,000 fled during the war, streets were mostly empty. Restaurants and cafes were shut.
Israelis tirred from their bomb shelters, but there was no influx of returning refugees.
"People are still scared," Haim Biton, 42, said, predicting things would not get back to normal soon. "You don't know what's going to happen."
"The city is still in a coma," said Shoshi Bar-Sheshet, the deputy manager of a mortgage bank. Getting back to normal "doesn't happen overnight," she said.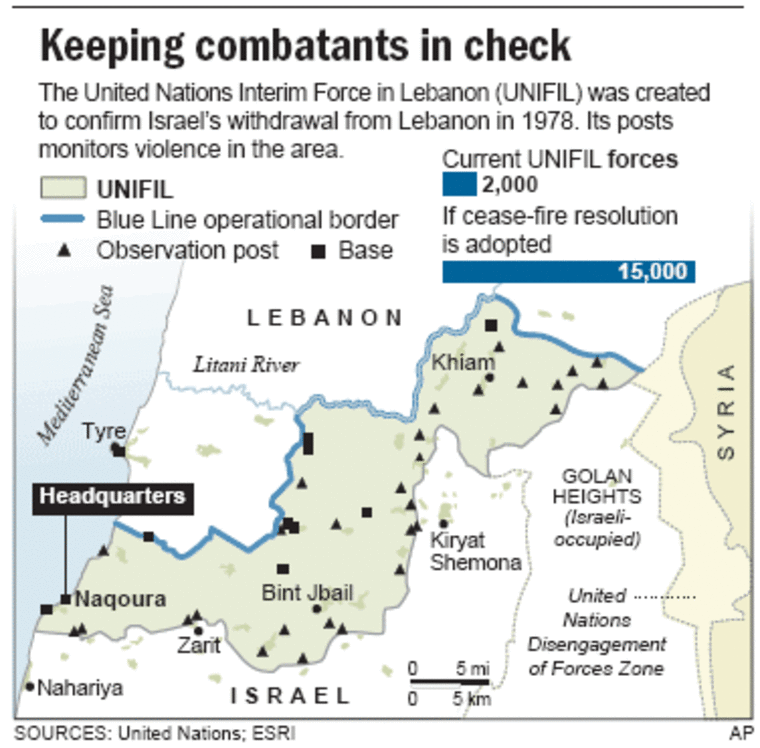 Peacekeeping mission set to begin
The next step in the peace effort — sending in a peacekeeping mission — appeared days away.
Late Monday, Lebanese Defense Minister Elias Murr said the Lebanese army would deploy 15,000 soldiers on the north side of the Litani River by the end of this week.
The U.N. plan calls for a joint Lebanese-international force to move south of the Litani, about 18 miles from the Israeli border, and stand as a buffer between Israel and Hezbollah militiamen. Murr did not say when the Lebanese soldiers would move south of the Litani.
In Paris, the French Foreign Ministry said a U.N. peacekeeping force should be mobilized "as quickly as possible."
A United Nations force that now has 2,000 observers in south Lebanon is due to be boosted to 15,000 soldiers, and Lebanon's army is to send in a 15,000-man contingent.
France and Italy, along with predominantly Muslim Turkey and Malaysia, have signaled willingness to contribute troops, but consultations are needed on the force's makeup and mandate. Italian Foreign Minister Massimo D'Alema said Italy's troops could be ready within two weeks.
The French commander of the current U.N. force, Maj. Gen. Alain Pellegrini, said additional troops are needed quickly. The region is "not safe from a provocation, or a stray act, that could undermine everything," he told The Associated Press.
Israeli soldiers stay put
Officials said Israeli troops would begin pulling out as soon as the Lebanese and international troops start deploying to the area. But it appeared Israeli forces were staying put for now. Some exhausted soldiers left early Monday and were being replaced by fresh troops.
Israel also maintained its air and sea blockade of Lebanon to prevent arms from reaching Hezbollah guerrillas, Israeli army officials said.
The Israeli army reported scattered skirmishes with Hezbollah militiamen.
Officials said four militia fighters were killed in two clashes near the town of Hadatha when armed men approached Israeli troops three hours after the cease-fire began. Later clashes occurred near the towns of Farun and Shama, with one guerrilla killed in each, officials said.
"They were very close, they were armed, and they did pose a danger to the troops," said Dallal, the military spokesman. "We're going to shoot anybody who poses an imminent threat to the troops."
Big victories
Both Hezbollah and Israel claimed they came out ahead in the conflict.
Bush, a staunch Israeli ally, agreed with Israel. "Hezbollah attacked Israel. Hezbollah started the crisis, and Hezbollah suffered a defeat in this crisis," the president said.
Prime Minister Ehud Olmert told Israel's parliament that the offensive restored Lebanon's sovereignty in the south. And Amir Peretz, the defense minister, said the war opened a window for negotiations with Lebanon and renewed talks with Palestinians.
But many Israelis were upset by the high casualties, and even Olmert acknowledged there were "deficiencies" in the way the war was conducted.
"We will have to review ourselves in all the battles," he said. "We won't sweep things under the carpet."
Lebanon said nearly 791 people were killed in the fighting. Israel said 116 soldiers and 39 civilians died in combat or from Hezbollah rockets.