British interior minister John Reid warned on Sunday that another attempted terrorist attack on Britain was "highly likely" after police said they had thwarted a plot to blow up transatlantic airliners.
"We think we have the main suspects in this particular plot," Home Secretary Reid said, "but there could be others out there, perhaps people we don't know."
"It is highly likely there will be another terrorist attempt," he told the British Broadcasting Corp. "The threat of a terrorist attack in the United Kingdom is still very substantial."
Reid said at least four plots had been thwarted since July last year when four Islamist suicide bombers killed 52 people on London buses and trains, and he did not deny media claims that police were hunting up to 25 terrorist cells in Britain.
Police said on Thursday they had foiled a plot by would-be suicide bombers to blow up simultaneously up to 10 airlines flying to the United States. Twenty-four people were arrested.
Drastic security measures
Disclosure of the alleged plot to smuggle bombs on aircraft disguised as drinks immediately brought drastic new security measures and chaos at airports on both sides of the Atlantic.
British Airways canceled 30 percent of its flights from London's Heathrow airport on Sunday in a growing row with airport authorities over how to handle tougher security.
Four days after police said they had thwarted the alleged plot, airlines warned that cancellations and disruptions showed no sign of easing.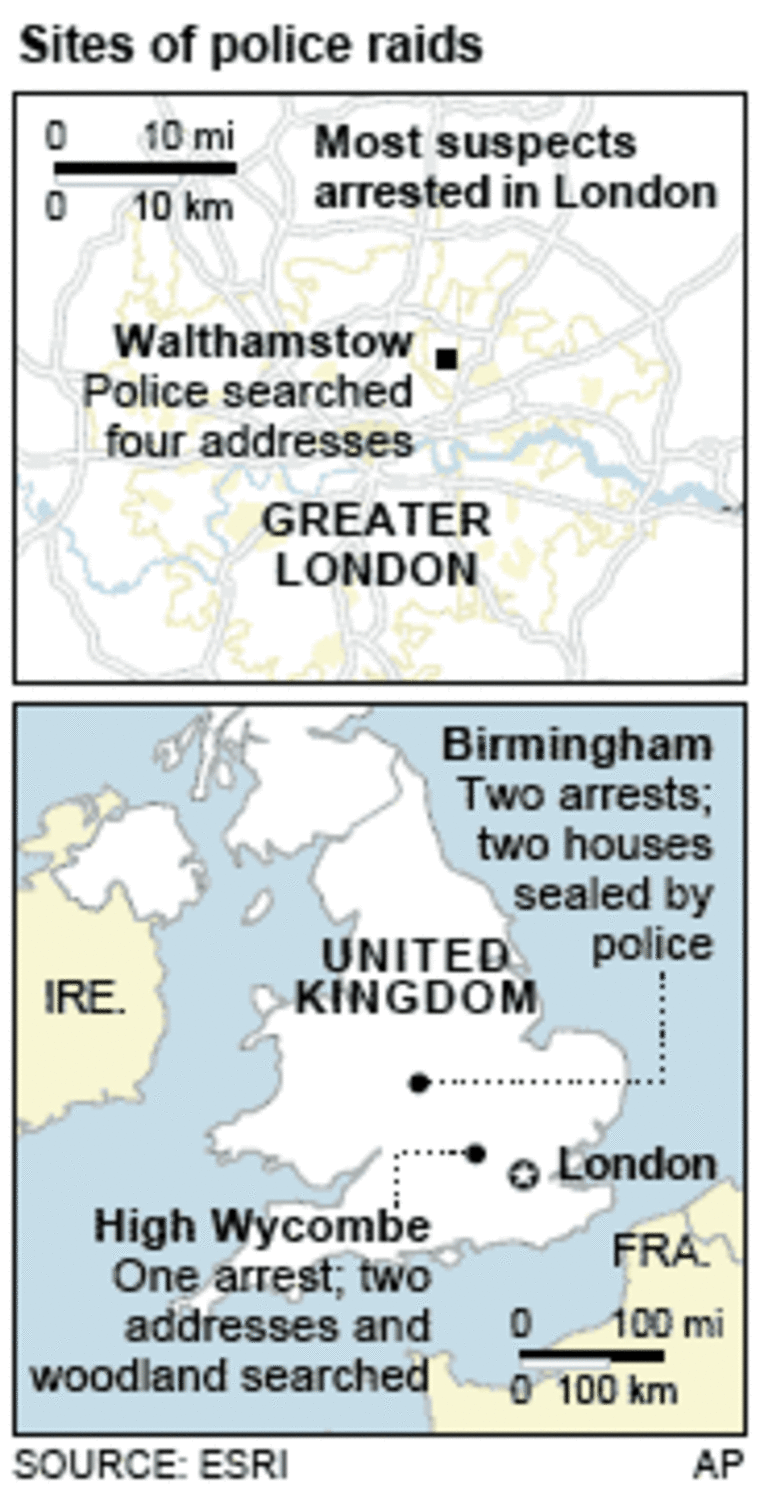 In the blame game that erupted, British Airways called on the British Airports Authority (BAA) to increase resources with chief executive Willie Walsh complaining: "BAA is unable to provide a robust security search process and baggage operation."
Budget airline Ryanair also said airports could grind to a halt unless the government took action to reduce the passenger backlog, suggesting police and army reserves should help carry out searches.
But BAA's chief at Heathrow, Tony Douglas, said that if extra searches were maintained, long queues and cancellations were inevitable. "They're not sustainable measures," he said.
"I don't know how long it's likely to go on," he told BBC television.
'Mass murder'
A police spokesman said the suspects had been plotting "mass murder on an unimaginable scale." Britain has named 19 of those arrested, who were aged from 17 to 35.
A suspected al-Qaida operative arrested in Pakistan has been named by authorities there as "a key person" behind the plot.
Rashif Rauf was seized by Pakistani intelligence who had monitored his telephone calls and e-mails after a tip-off from Britain's secret services.