/ Source: The Associated Press
Picture Alaska and most people in the Lower 48 think abundant forests, picturesque bears, frosted tundra and perhaps the odd salmon.
But what about oil? While there's plenty of scenic vistas for tourists to enjoy here, for better or worse Alaska's economy gets considerable power from the oil industry. BP's decision last week to shut down part of the nation's largest oil field shows just how dependent the state has grown on oil, and how much it has to lose if the industry slips up.
Alaska receives 89 percent of its income from oil revenue, and the state has no state sales tax and no personal income tax. Economist Patrick Burden also estimates that about a third of the state's overall economy is fueled by the oil industry. Another third is powered by state government, while the rest comes from other industries.
Experts say the net effect of the oil industry on the large, sparsely populated state is huge. The industry, which drew workers here decades ago to build the massive trans-Alaskan pipeline, has continued to supply high-paying jobs that, in turn, feed spending in the service economy and other areas.
Without oil, Alaska "would be a very, very small economy with limited infrastructure and vastly fewer people," said Burden, who is president of Northern Economics.
Alaskans got a taste of what life without oil might look like last week, when Gov. Frank Murkowski instituted a state hiring freeze just days after BP said it would have to shut down the Prudhoe Bay oil field it operates because it had discovered leaks and severe corrosion in oil pipelines there.
The company later said it would only partially shut down the oil field while it works to repair and replace 16 miles of pipes. But the news nevertheless rattled government officials, who promised to hold the company accountable as the state faced worries that it would lose millions in taxes and royalties.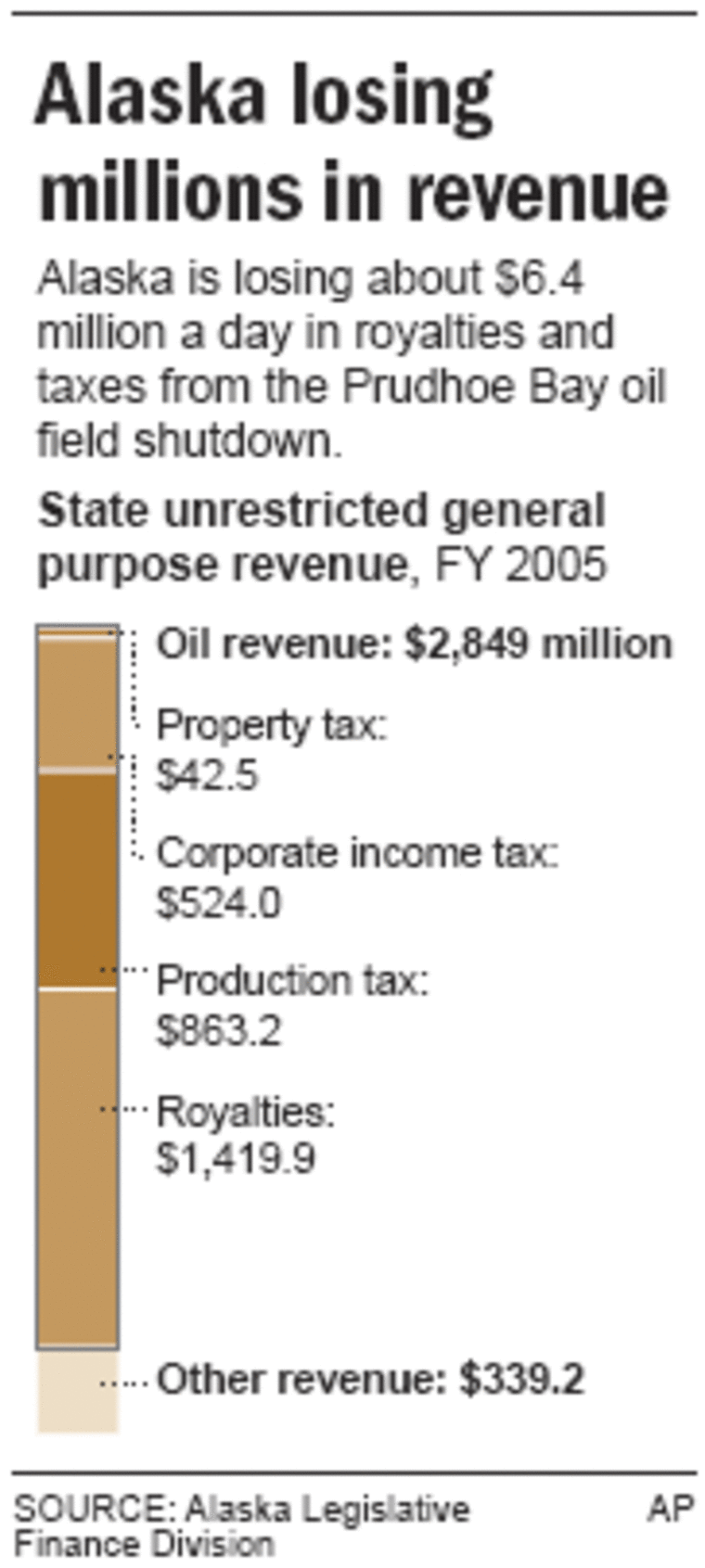 State economists insist there is more to Alaska than oil, and point to tourism, fishing, the military and the international cargo shipping industry as examples.
"There's lots of other slices to Alaska's pie than oil," said Neil Fried, a state economist with the labor department.
And while oil remains very important to the economy, Fried says the state is taking more steps to diversify. For example, he says the state has seen its service sector expand as Alaskans have increasingly begun buying goods and seeking out things like health care in Alaska, rather than traveling down to the Lower 48 for those services.
"We're certainly not as reliant as we historically were on oil," he said.
Burden, the economist, agrees that there are other industries that help power Alaska. But he notes that the percentage of state's general fund revenue that comes from oil has increased in the last few years. That's partly because of a rise in the price of oil, he says, but it's also come as other industries, such as fishing and wood products, have shrunk.
He argues that the state has actually become more and more dependent on the oil industry.
Doug Reynolds, an associate professor who teachers oil and energy economics at the University of Alaska Fairbanks, said one problem is that the other industries Alaska relies on — such as tourism and fishing — tend to be very seasonal. So, while both of those industries do employ a lot of people, they don't necessarily employ them all year long.
Other states have touted cheap land or quality of life to draw technology companies and other industries, but Reynolds said that's more difficult in Alaska, where many parts are extremely remote, and even the more populated areas can get bitterly cold and dark in winter. That can be a tough draw for workers.
"What spouse or kids are going to want to move up to Fairbanks?" Reynolds asked.
Only about 660,000 people live in Alaska, but Reynolds said another problem the state faces is that it can be extremely costly to provide roads, schools and other basic services to the rural populations that pepper the massive state.
"It's an expensive state to maintain," Reynolds said.
Still, despite the immediate fears prompted by the partial shutdown in Prudhoe Bay, Burden doesn't think it will end up having too much of a long-term impact on the state. That's partly because the state last week also passed a major tax rewrite.
The new rules set a base tax rate of 22.5 percent of oil companies' profits from their Alaska operations. But they also allow the companies to claim credits and deductions to partially pay for the facilities associated with a proposed new, $25 billion natural gas pipeline.
"The net effect is probably going to be close to a wash," Burden said.