/ Source: The Associated Press
Cuban state television on Monday aired the first video of Fidel Castro since he stepped down as president to recover from surgery, showing the bedridden Cuban leader joking with his brother and Venezuelan President Hugo Chavez.
Castro appeared tired and pale, yet alert in the videotaped encounter, speaking quietly but clearly enjoying himself as he chatted with Chavez, his close friend and political ally. Acting president Raul Castro also was present for the encounter on Sunday, his brother's 80th birthday.
As the men bantered back and forth, Castro's voice was inaudible. He was later shown in animated conversation with Chavez, but music played over his words.
Chavez told Castro he sat down to pray when he learned of the Cuban leader's illness and operation, and said "that was a horrible day." But the Venezuelan leader also was optimistic, saying, "Your capacity to recover is impressive."
The videotape showed the friends sharing a snack and looking at an album of photographs showing them together — including one from a trip Castro took to Venezuela during an earlier birthday. Sentimental music accompanied the footage, which lasted about 10 minutes.
The televised footage — released after still pictures of the same encounter were published in the Communist Party daily Granma earlier Monday — appeared aimed at dispelling any lingering doubts about Castro's recovery from intestinal surgery. Cuban officials have not released details of his condition or disclosed where he is being treated.
"I was thinking the worst before," said 37-year-old Ernesto Fundora, who works at a tobacco factory. "Now I don't have any doubt that he's alive. But still, he could go at any minute."
Castro announced two weeks ago that he had undergone surgery for intestinal bleeding and was putting his brother in charge while he recuperates. On his birthday, he released a statement saying his recovery would be long, and warned Cubans to prepare for "adverse news" — advice perhaps aimed at helping them come to terms with his eventual death.
Calming frayed nerves
While Castro's illness has made Cubans uneasy about the future, upbeat statements from government officials and the two days of photographs have helped calm their nerves as they face up to his mortality.
"It seems like he is getting better. He's a strong and healthy person and everyone wants him to get well," said Angela Ramirez, a 43-year-old cleaning woman.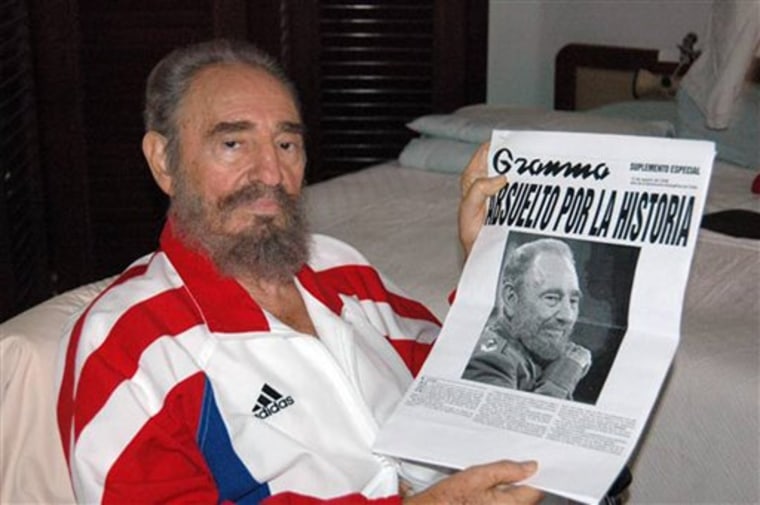 Whether Castro gets back on his feet or permanently cedes control to Raul Castro, some say they expect much to remain the same.
"I don't think anything is going to change," said Valeria Ramos, 38, currently unemployed as she takes care of her disabled child. "Our people are united, and even if Fidel's no longer here, all of us Cubans will be.
"But I do hope he can keep guiding us," she added.
Castro spent hours with his brother and Chavez on Sunday, eating, laughing and sharing anecdotes, according to Granma. A day earlier, the party's youth paper, Juventud Rebelde, released the first images of Castro since his July 31 announcement that he was temporarily ceding power to his brother.