/ Source: msnbc.com staff and news service reports
Hundreds of Israeli soldiers walked out of Lebanon on Tuesday — some smiling broadly and pumping their fists, others weeping or carrying wounded comrades — as a cease-fire with Hezbollah solidified after a shaky start. The process was expected to accelerate over the coming days.
The international community looked to build a U.N. peacekeeping force for south Lebanon, but it remained unclear how quickly such a force could be deployed. The guerrillas' patrons, Syria and Iran, proclaimed that Hezbollah won its fight with Israel — claims the Bush administration dismissed as shameful blustering.
Many of the infantry soldiers smiled with joy as they crossed back into Israel. Members of one unit carried a billowing Israeli flag. Some sang a traditional Hebrew song with the lyric: "We brought peace to you." Others wept as they returned to their country, exhausted by the fighting.
Some of the troops had been so disconnected from the news that they asked if Israel had managed to free two soldiers whose capture by Hezbollah on July 12 sparked the fighting. Israel had not. Several tanks headed back into Israel as well, including one that had been damaged and was being towed by a military bulldozer.
At times as they headed south, the soldiers crossed paths with Israeli civilians traveling in the opposite direction, back to the homes they abandoned weeks ago under Hezbollah rocket fire.
Areas of northern Israel that were turned into closed military zones weeks ago were reopened to civilian traffic, and the tanks, bulldozers and other heavy military vehicles that had lined the roads were gone. At one main junction, teenage girls handed out flowers to returning soldiers, thanking them for protecting their homes.
In the battered Israeli town of Kiryat Shemona, residents emerged from grimy bomb shelters and began cleaning up the wreckage caused by more than a month of Hezbollah rocket attacks.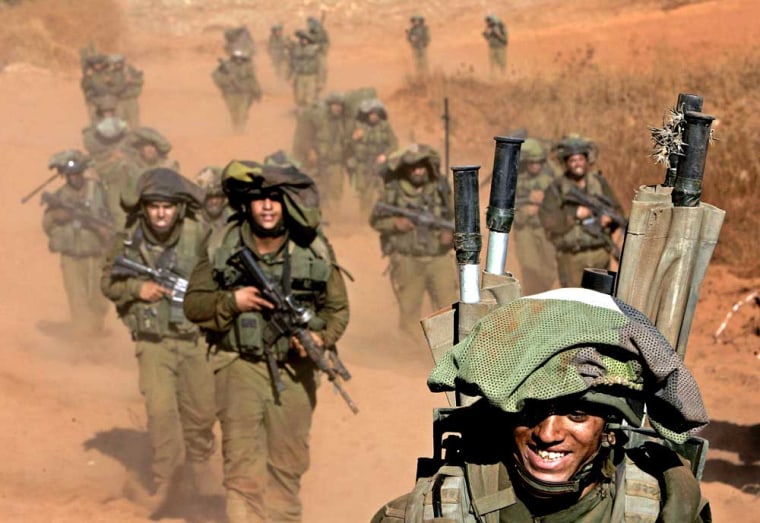 The partial Israeli withdrawal came in preparation for a Lebanese troop deployment across the Litani River, some 18 miles north of the Israeli border. Lebanon's deployment was expected to begin Thursday and eventually put its army in control of war-ravaged south Lebanon with the help of U.N. peacekeepers, military officials on both sides of the conflict said.
The United Nations hopes that 3,500 well-equipped troops can deploy to Lebanon within two weeks as the vanguard of a robust U.N. peacekeeping force to start the process of deploying the Lebanese army and withdrawing Israeli troops, a senior U.N. peacekeeping official said Tuesday.
But Assistant Secretary-General for Peacekeeping Hedi Annabi stressed that the Lebanese deployment and Israeli withdrawal can start even sooner using the current 2,000-strong U.N. force "if the political will is there."
Handovers to begin Wednesday
In Jerusalem, the Israeli army said it planned to begin handing over some captured positions on Wednesday and hoped to complete the withdrawal from Lebanon by next week. The plan for handing over territory showed the complexity of the border zone: Israel would transfer it first to the U.N. force, which would then turn it over to Lebanese envoys.
The United Nations force planned for Lebanon will take a year to reach full strength, said Maj. Gen. Alain Pellegrini, the Frenchman who leads the current U.N. peacekeeping mission in Lebanon.
Israel's military also made a first gesture at possible post-conflict negotiations. It said it could exchange 13 Hezbollah prisoners and the bodies of dozens of guerrillas for two Israeli soldiers whose capture in a cross-border raid July 12 touched off the fighting.
Foreign ministers coming to Beirut
The foreign ministers of Turkey, Pakistan, Malaysia and France were due in the Lebanese capital Wednesday, and it was widely believed they would work out details of assembling a 15,000-strong international force. Indonesia and a dozen other countries also have expressed a willingness to help.
That force would work with an equal number of Lebanese soldiers. Together, they are expected to police the cease-fire that took hold Monday and ended 34 days of brutal combat, Israeli airstrikes and Hezbollah rocket barrages.
France, which was expected to lead the force, was demanding a clearer U.N. mandate, including details on when the troops can use firepower. France had not yet made any announcement of how many troops it plans to send, holding up announcements of troop commitments from other countries.
Three armies involved — before U.N. forces arrive
In the short term and before international forces arrive, the process involves three armies on the ground and is complicated, given that the Lebanese and Israeli armies do not have direct contact and a third and central player — Hezbollah guerrillas — will not be involved.
The current U.N. observer force, known as UNIFIL, stationed permanently in the 18-mile band of territory between the Litani and the Israeli frontier, was to take up positions temporarily along the border.
The zone along the frontier would then be handed to Lebanese troops and the bolstered UNIFIL force once all Israeli soldiers have withdrawn, military officials on both sides of the conflict said. They spoke on condition of anonymity because of the delicate nature of the operation.
"It will be a gradual withdrawal. ... It will take couple of days, even up to one week," a UNIFIL officer told The Associated Press on condition of anonymity because he was not authorized to speak to reporters.
"We agreed with the Lebanese army that it will start deploying as the Israelis start withdrawing. It could be as early as Thursday, maybe a slight delay," he said.
Lebanese Cabinet divided
Those plans, however, depend on the Lebanese government's giving the order for the army to move south of the Litani. The Cabinet has been unable to meet on the issue since the cease-fire took hold because of deep divisions over what should be done about Hezbollah's arms in the south.
The arrangement that appears to be coming together among Lebanese politicians, military officials and Hezbollah would call not for the disarmament of Hezbollah, but instead for the guerrillas to avoid carrying weapons or using their heavily fortified bunkers to fire rockets. There would be no requirement to move the weapons north of the Litani, for the time being.
Israel's military officials made a first gesture at possible post-conflict negotiations. It said it has 13 Hezbollah prisoners and the bodies of dozens of guerrillas that could be offered in exchange for the two captive soldiers.
Meanwhile, the Israeli army said its forces killed a senior Hezbollah leader just before the U.N. cease-fire took effect. It identified the guerrilla as Sajed Dawayer, the head of Hezbollah's special forces. A Hezbollah official in the southern Lebanese port city of Sidon dismissed the report as "baseless," saying he had not heard of a Hezbollah military leader by that name.
Despite Israeli warnings that Lebanese refugees should avoid returning south until international forces arrive, families packed in cars loaded with salvaged possessions streamed back to learn what had become of their homes and livelihoods. Many found near-total destruction.
War's grim tally for both sides
At least 15 more bodies were found in two villages near the border, Ainata and Taibeh. The newly discovered victims raised to at least 809 the number of people killed in Lebanon during the 34-day campaign, most of them civilians. Israel suffered 157 dead — including 118 soldiers, according to the Israeli military and government officials.
The Lebanese figures are assembled from police and security officials, hospital workers, doctors and morgue attendants as well as witnesses such as Associated Press reporters and photographers. The AP count is considerably lower than that of the Lebanese government, which says 1,110 have been killed.
Children are particularly at risk in the aftermath of war, and the U.N. Children's Fund is mounting a campaign to warn young Lebanese to stay away from shiny, strange objects in the rubble. Lebanese authorities and Hezbollah sent teams across south Lebanon to clear unexploded ordnance. A 12-year-old girl was wounded when an object exploded in her village east of Nabatiyeh.
Relief agencies struggled to move supplies to the south over bombed roads and others clogged with traffic. U.N. officials said 24 U.N. trucks took more than five hours to reach the port of Tyre from Sidon, a trip that normally takes 45 minutes.
Progress for aid workers
But the cease-fire has allowed some relief workers to start making inroads.
"What's changed over the last 48 hours is we can [now] go to the farthest villages," said Christopher Stokes, director of Lebanon relief efforts for Médecins Sans Frontières, or Doctors Without Borders. "We can get a good idea of the damage."
Stokes said Tuesday in an interview on MSNBC-TV's "The Most" that aid workers' top priority was to salvage hospital operations in southern Lebanon, where he said most doctors and nurses refused to leave their posts during the fighting. "That's a key thing, because in most of these things you have a real brain drain," he said.
But medical supplies are short, and even though the fighting has abated, "there's a lot of unexploded ordnance" to slow aid workers' progress.
"Most of the real work is going to be done by the Lebanese themselves," Stokes said. "They're very well organized and very keen to restart their lives without a lot of outside help.
"We just have to hope that nothing is going to restart the game now."
Sweden plans to host an international donors' conference Aug. 31 to help fund the rebuilding of Lebanon.