/ Source: The Associated Press
Textbook prices are soaring into the hundreds of dollars, but in some courses this fall, students won't pay a dime. The catch: Their textbooks will have ads for companies including FedEx Kinko's and Pura Vida coffee.
Selling ad space keeps newspapers, magazines, Web sites and television either cheap or free. But so far, the model hasn't spread to college textbooks — partly for fear that faculty would consider ads undignified. The upshot is that textbooks now cost students, according to various studies, about $900 per year.
Now, a small Minnesota startup is trying to shake up the status quo in the $6 billion college textbook industry. Freeload Press will offer more than 100 titles this fall — mostly for business courses — completely free. Students, or anyone else who fills out a five-minute survey, can download a PDF file of the book, which they can store on their hard drive and print.
The model faces big obstacles. Freeload doesn't yet have a stable of well-known textbook authors across a range of subjects, and it lacks the editorial and marketing muscle of the "Big 3" textbook publishers (Thomson, Pearson, and McGraw-Hill). Its textbooks don't come with bells and whistles such as online study guides that bigger publishers have spent millions developing in order to lure professors — who assign textbooks and are the industry's real customers.
St. Paul-based Freeload's numbers are modest so far: 25,000 users have registered and 50,000 books have been downloaded, for courses at schools ranging from community colleges to the University of Michigan. But the company says it is rapidly adding titles and will have 250,000 textbooks and study aids in circulation by next year. It has also signed agreements with three small, specialty publishers to make their textbooks available the same way, and is in negotiations with others.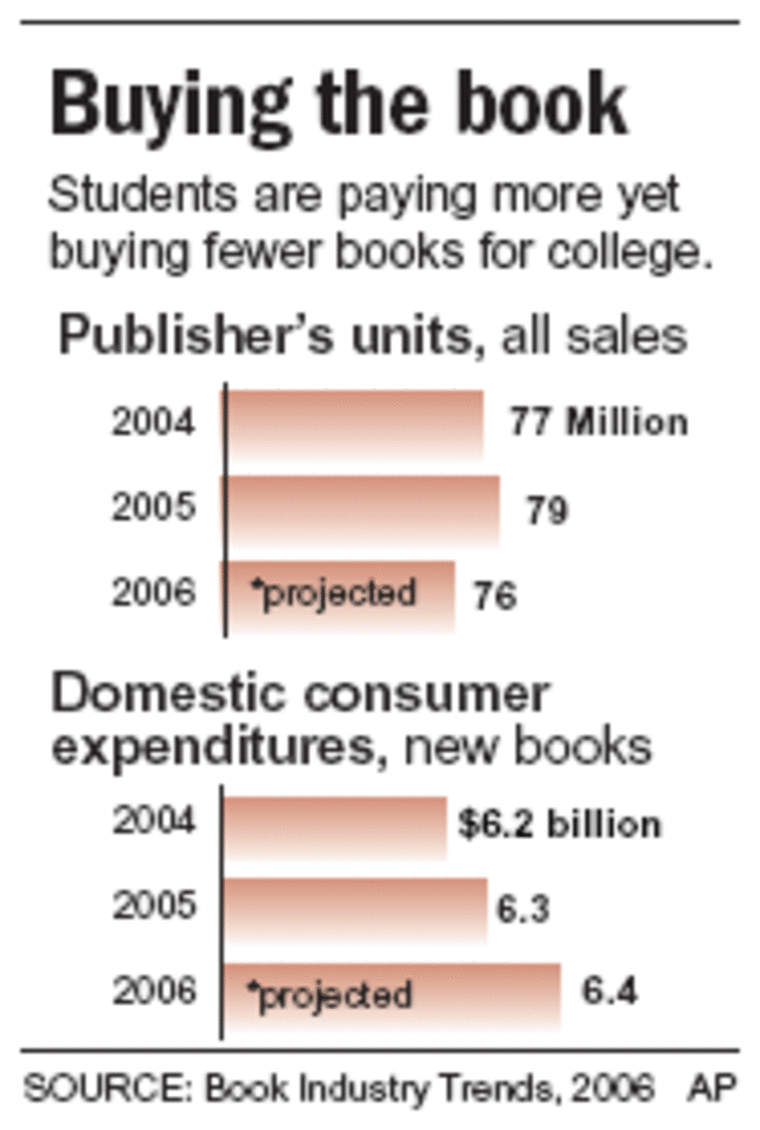 What Freeload has going for it is its arrival on the scene at a time when textbook publishers are under immense pressure to moderate prices. A recent government study found prices have risen at twice the rate of inflation since 1986.
A new Connecticut law requires that textbook sellers tell professors what their books will cost students, and other states are considering similar measures. Cost complaints come not just from students and parents but also teachers. A 2005 study by the National Association of College Stores Foundation found 65 percent of students don't buy all the required course materials — which means many probably aren't learning the material, either.
Students "are saying, 'to heck with it, we'll try to wing it,"' said Jack Ivancevich, a longtime University of Houston professor who helped found Freeload.
Publishers answer criticism by saying textbooks are expensive to produce, and note they are clobbered by the rapidly expanding secondary market for re-sales in bookstores and on the Internet. Publishers get nothing from those sales, so they essentially have to recoup their investment in one year's worth of sales.
The industry also is exploring ways to use technology to cut distribution costs and prices. Thomson, for instance, is making "ichapters" of textbooks available, similar to the iTunes model for music. But so far, publishers have resisted selling ads.
A Canadian subsidiary of McGraw-Hill briefly rolled out an ad-based model, but dropped the plan last year. Susan Badger, CEO of Thomson Higher Education, said her company tested the idea with focus groups, in biology, but the professors were adamantly opposed.
Tom Doran, Freeload's CEO, says McGraw-Hill's experiment failed because it didn't use the ad revenue to reduce prices enough to get students' attention. As for faculty, Doran says he realizes not everyone will go for it.
Current customers "are primarily business instructors, so they understand there's a quid pro quo here," Doran said. "When we walk over to the social sciences and humanities, I expect there will be more push back."
As to objections that textbooks shouldn't have ads, Doran notes ads already appear in academic journals. He says Freeload's ads won't be distracting; they will be placed only at natural breaks in the material, and won't push products like alcohol or tobacco. Schools with other concerns could customize their standards; for instance Brigham Young University, founded by Mormons, could nix ads for caffeine products.
Will they succeed?
Ultimately, whether Freeload changes the industry or fades away will likely depend on its ability to attract popular textbook authors. Fordham University professors Frank Werner and James Stoner had each written several finance textbooks for traditional publishers, but after their latest was dropped by one company following a merger, they took it to Freeload.
"I was pretty disgusted with the basic textbook model," Werner said. Textbook authors, he says, often waste time making pointless revisions just so publishers can justify putting out new editions.
"That didn't seem like an ethical thing to do and it seemed like a hell of a waste of time," he said, adding there's no need to do that with Freeload.
The professors assigned the Freeload book to their class last year and said it was a hit. The students include "lots of working-class kids trying to get through college," Werner said. "To ask them to go to the bookstore and spend $150 is pretty wasteful."
Shannon Langston, a rising sophomore at Georgia Tech taking classes this summer while also juggling two jobs, said she often won't buy textbooks unless she hears from other students that it's absolutely essential.
But when her accounting professor assigned a Freeload book, she was glad not to have to make that call — and worry that she wouldn't be able to sell back a new book because the publisher had already rushed out a new edition.
"I definitely don't mind ads," she said, "if it helps with the price."