/ Source: The Associated Press
Calm, cooler weather and unusually high humidity Friday helped firefighters battling a wildfire that had threatened hundreds of homes and burned four cabins.
Evacuation orders were lifted for a few subdivisions, but most of the roughly 400 threatened homes remained under watch Friday.
Firefighters had cleared a fire break around half of the wildfire, which had blackened about 12,000 acres, more than 18 square miles. With the favorable weather, officials hoped to have the fire 80 percent contained by the nightfall.
"It's a great day for fighting fire," State Forester Bill Crapser said.
Humidity was up from 10 percent earlier in the week to 50 percent Friday, and the air had stilled following gusts a day earlier of up to 50 mph.
Lighting sparked the fire Monday and it quickly spread over Casper Mountain, prompting the evacuations Tuesday and Wednesday.
Reopening the roads
In Utah, a firefighter died Thursday while battling a 250-acre fire in a rugged canyon above Oak City. There was no immediate word on the cause of death.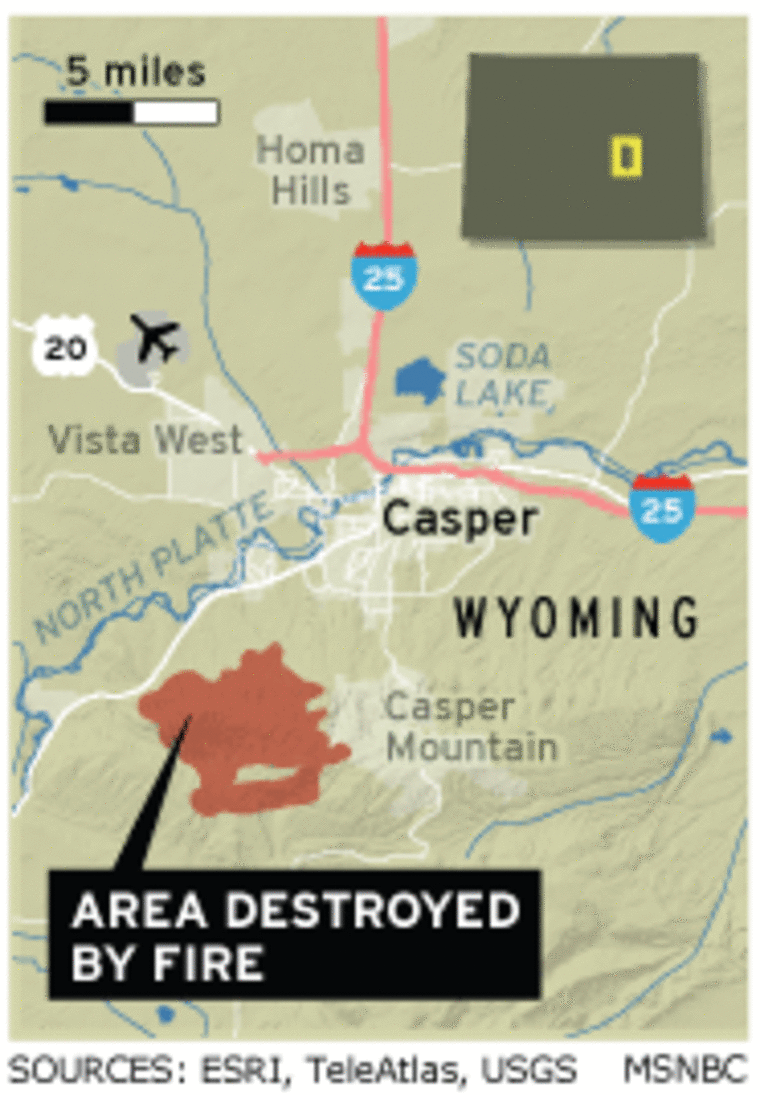 Other firefighters were pulled off the blaze after the death, officials said.
Authorities had mostly contained a wildfire that sent clouds of thick smoke over southern Oklahoma and forced the closure of main highways through the Arbuckle Mountains area, authorities said Friday.
Interstate 35 reopened late Thursday and U.S. 77 reopened before dawn Friday, the Oklahoma Highway Patrol said.
Authorities closed had 15-mile sections of each highway as the fire burned across an estimated 2,500 acres, threatening homes of about 30 residents.
Blazes in Nevada
Nevada firefighters gained ground on one of five big blazes that combined have scorched more than 100 square miles of rangeland and wildlife habitat. Ranchers were helping Thursday to round up thousands of cattle and sheep to move them to safety.
The largest of the range fires was 80 percent contained Thursday at 67 square miles. Officials hoped to have it fully surrounded with fire line by nightfall Friday.