If you're hesitant to jump into the housing market, you're not alone.
As the real estate market shows signs of softening, many Americans are adopting a wait-and-see attitude about home buying. And those in need of housing are turning to the only viable alternative — rentals.
The result of this shift is an increasingly tight rental market.
According to the latest Commercial Real Estate Outlook from the National Association of Realtors, a trade association based in Washington, D.C., the apartment rental market will see average vacancy rates of 5.7 percent in the fourth quarter of this year, down from 6.2 percent during the same period in 2005.
"With mortgages rising and home prices at such a high level, people who might have considered purchasing a home a few years ago may now be turning to the rental market, particularly in big cities like New York," says Richard Levy, a senior research analyst at the National Multi Housing Council, an industry association based in Washington, D.C.
But much to renters' chagrin — and landlords' delight — greater demand has led to higher rents. In fact, NAR expects rents will rise an average of 4.1 percent this year, compared to a 2.9 percent increase last year.
To determine the costliest 20 rental markets in the U.S., we turned to real estate research firm Global Real Analytics, which publishes the National Real Estate Index. The San Francisco-based company collects rental data for studios through three-bedroom units in apartment complexes around the country. The firm provided its most recent data on the metropolitan areas with the highest annual rents per square foot.
As in 2005 (see "Most Expensive Rental Markets In America 2005"), the New York metropolitan area, which includes New York City and its surrounding counties, topped our list, with an average price of more than $27 per square foot for a high-end apartment.
In Manhattan specifically, the average rent came in at a whopping $48.33 per square foot — an estimate supported by July figures from Citi Habitats, a New York City-area real estate agency. The median monthly rent for a studio apartment in Manhattan is more than $1,900, according to Citi Habitats. If it's a three-bedroom spread that you're after, prepare to fork over somewhere in the neighborhood of $5,000.
While metro areas like Boston, Chicago and Miami also scored spots on our list, this year's ranking was dominated by California markets, with San Francisco leading the pack.
San Fran's rental market, which took a major spill after the dot-com bust, has regained strength — and costly price tags. The average price is $27.17 per square foot each year for a high-end spread in the hilly city, up from $22.48 last year, an increase of more than 20 percent. That means renters will fork over more than $2,000 a month for a 1,000-square-foot pad.
Its southern neighbor, Los Angeles, isn't much more affordable, at $25.12 per square foot.
"An average home in the Hollywood Hills will rent for $10,000 a month," says Aaron Leider, owner of Keller Williams Realty's Brentwood office. "That's a basic home. A really nice home is in the area of about $30,000."
Beyond being highly desirable places to call home, the reasons for the lofty price tags —which range from $13.87 annually per square foot in West Palm Beach, Fla., to $27.84 in New York City — vary from region to region and neighborhood to neighborhood.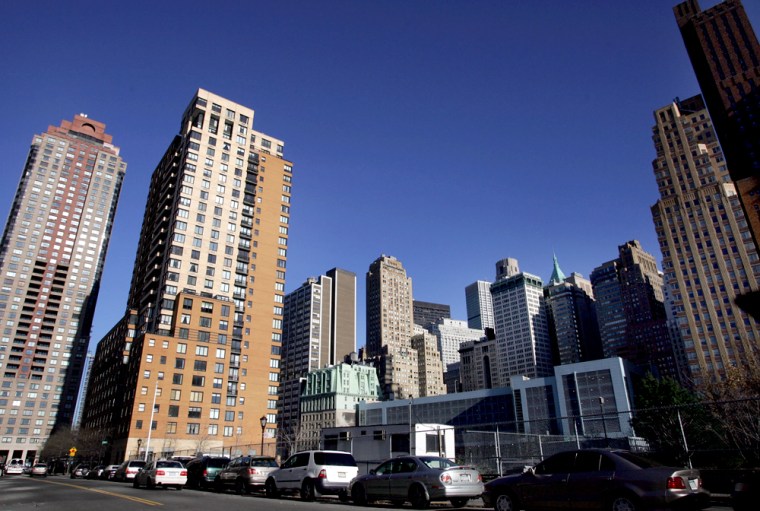 Take New York. Yuval Greenblatt, executive vice president at Prudential Douglas Elliman in Manhattan, says there is a siege on the local rental market. Among the stressors are a lack of new rental construction and the conversion of many rental buildings into condominiums.
"Literally, there is nothing available," he says. "I've found myself sending people to Long Island City and Roosevelt Island," two less-desirable neighborhoods outside of Manhattan.
Dennis R. Hughes, a senior vice president at New York brokerage The Corcoran Group, a division of Cendant, says he recently worked with a customer who had a budget of up to $25,000 per month for a three-bedroom apartment, but he still had a hard time finding anything suitable. "There were just a handful of rental listings to show at that price point — that's how tight the market is," Hughes says.
But when a prime rental does come on the market, residents are willing to shell out the big bucks — even in the priciest area.
Just last month, Frances Katzen and Dennis Murphy, co-exclusive agents of Prudential Douglas Elliman and Posh Domain respectively, signed leases on the highest recorded rental in Manhattan's trendy Meatpacking District. The apartment, approximately 5,000 square feet of unfinished space, rented for $37,500 per month, or $90 per square foot.
Of course, not everyone is convinced that renting, particularly at current prices, is the better alternative. For the $10,000 a month you shell out for a rental, you could buy a $1.5 million house, says Keller Williams Realty's Leider.
"And you don't even get the tax advantage," he says.