/ Source: The Associated Press
A volcanic eruption in Ecuador's Andes mountains destroyed three villages, killed at least one man and left more than 60 others missing, the mayor of a village on the volcano's slope said Thursday.
One body was recovered after the overnight eruption of lava from Tungurahua, in the country's high Andes, and four others were believed to be under the rubble, Penipe Mayor Juan Salazar said.
Salazar told Channel 4 television that the villages of Chilibu, Choglontuz and Palitagua "no longer exist. Everything is wiped out."
"This is an indescribable catastrophe," Salazar said. "The houses have collapsed. The rocks that fell caused injuries and burns in the city of Riobamba and in Penipe."
Salazar said there were 60 other people on the high flanks of the volcano whom officials could not get to Thursday morning.
Choglontuz, Penipe and another village were ordered evacuated on Wednesday hours before the 16,575-foot volcano unleashed gas and ash some 5 miles into the sky, according to a report by Ecuador's Geophysics Institute.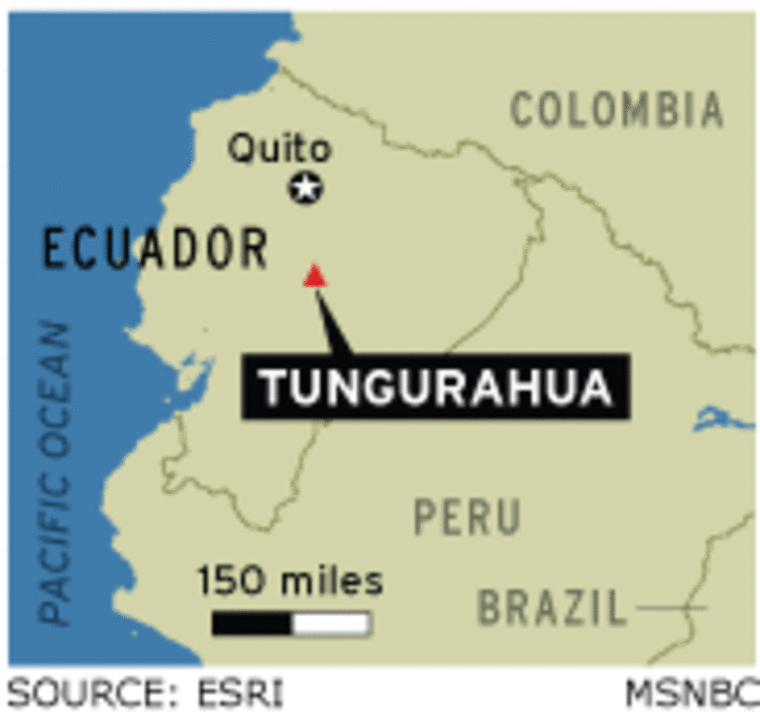 Salazar said 3,200 people were evacuated Wednesday from the three communities. He did not say how many remained in the villages.
Dr. Hernan Ayala told Channel 4 TV that about 50 people from Penipe were treated at a medical center in Riobamba for burns caused by "lava flows and incandescent rocks that burned them as they tried to flee."
"They were also burned by vapor and the elevated heat in the zone. It was a scene of chaos, a Dantesque situation," he said. "There are six whom we consider the most grave, one of them with burns over 85 percent of the body."
The death reported Thursday was the first reported from a Tungurahua eruption since the volcano rumbled back to life in 1999 after staying dormant for eight decades.