/ Source: The Associated Press
When urban dwellers think of hotel-condos, they usually imagine sky-high city apartments that come with daily maid service, mints on pillows and the option to order chilled champagne for delivery at any hour.
In New York perhaps, their fantasy would not be far from reality.
More often though, hotel-condos are proliferating into mid-size and smaller cities across the nation and, in some cases, transforming the places where they're being built.
Hotel-condo projects can be found in different stages of development in cities such as Berkeley, Calif.; Provo, Utah; Pittsburgh and Little Rock, Ark. And they've been proposed for towns as varied as Yankeetown, Fla.; Asheville, N.C.; and West Wendover, Nev.
The founder of the Phoenix-based hotel chain Inn Suites decided about a year ago that hotel-condos might work for his 11 properties. Since then, Chief Executive James Wirth has started converting the company's Arizona properties in Yuma, Tempe, Tucson, Flagstaff and Phoenix, nearly half of the company's total portfolio. The conversions should be completed in six to 12 months.
More condo-hotels are being built because they simply make financial sense, experts say. Hotel developers can spread risk to condo owners and earn income from condo sales at the time projects are finished. In some cases, developers can break even upon completion.
Further, condo-hotels by nature are better suited to surviving than a hotel on its own, experts say.
"Condo-hotels earn like commercial hotels and appreciate like residential condominiums," said Dante Alexander, the founder of the National Association of Condo Hotel Owners.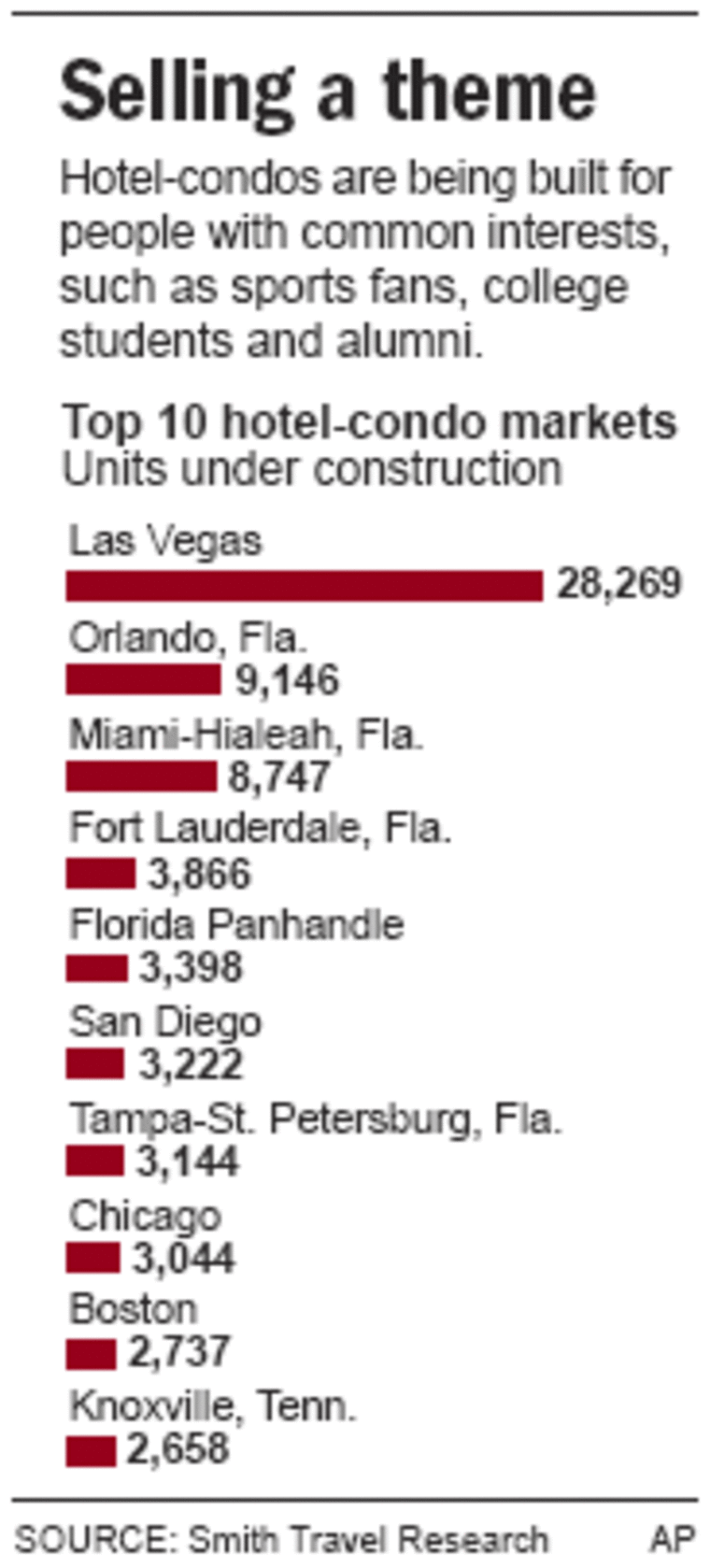 Condo buyers investing in true hotel-condos buy the unit allow the hotel management to rent it out when they're not using it, sharing the revenue. This arrangement makes the most sense in cities that get more traffic from travelers. In certain smaller cities, developers instead build hotels with residential units.
Projects of both types are in development in 31 states throughout the U.S., Jan Freitag of Smith Travel Research said. This is almost certainly a rise, although industry watchers say it's difficult to estimate by how much since little historical data exists.
"That's been a concept that's worked in places like New York, San Francisco, Chicago, for a long time and that's now filtered into other areas," the director of the Milstein Center for Real Estate at Columbia University, Chris Mayer, said.
Construction in Las Vegas puts Nevada second only to Florida in terms of the number of condo-hotels being built, according to Smith Travel Research. And now Reno, the lesser-known, less glamorous cousin of Las Vegas, will soon get its first hotel-condo, and quite a large one at that.
Investors led by a developer, Thomas Schrade, bought the Reno Hilton in late June and announced a wholesale renovation. The top 11 floors of the 27-story hotel, which sits on 148 acres about 10 minutes from downtown, will be converted into hotel-condos. Renovation begins after the Labor Day holiday, and the interior renovation should be done by next summer.
The developers of the renamed Grand Sierra Resort and Casino hope the $1.8 billion redevelopment will attract more families and business travelers to Reno, a popular gambling destination. They plan to add a resort spa, 150,000-square-foot indoor water park, a four-level driving range, an 1,800-seat dinner theater, nightclubs and retail stores.
"We are well aware it is a second-tier destination, but I think it's poised for great success," Grand Sierra President Michael Carsch said. "Las Vegas is so successful and to a certain extent, they're going to be a bit of a victim of their own success. Reno, we believe, is a great viable alternative."
While resort and vacation destinations are getting their fair share of hotel-condos, developers proposing them for smaller towns meet greater resistance.
In McCall, Idaho, a group called Save Our Skyline opposes a $25 million plan to build a 50-foot tall hotel with condos and retail space on the shore of nearby Payette Lake. "My guess is that this is going to turn this town upside down," a member of the group, Tuck Miller, told the Idaho Statesman.
The developer of a hotel with residences in Idaho Falls, Idaho, proposes a 13-story, 800-unit project that would be the tallest structure around, beating out a water tower.
And in Raleigh, N.C., a local developer plans to build two hotels with condos, 21 stories and 25 stories in height, at opposing ends of its downtown. A June 20 headline in the Raleigh News & Observer read, "Builders want to lift the skyline," and the story notes that the projects would change the face of the downtown area.
Proponents of smart growth — characterized by greater density and development that more closely integrates work and home life — say the popularity of hotel-condos validates the idea that more Americans want an urban lifestyle.
"We're at a time right now of a great deal of change. ... I would say the traditional urban subdivision paradigm is breaking down," said Adam Gordon, editor in chief of the magazine The Next American City. "We have much more complicated patterns of where people are moving."
Condo-hotels are part of that changing landscape, and they are multiplying because they make market sense, said John Norquist, president of the Congress for New Urbanism and a smart growth advocate.
"We're kind of moving from an era where cities were building huge convention centers and now they're actually doing something that the market wants, blended with a hotel," Norquist said. "These are all things that are healthy. It shows common sense. Cities and consumers and developers are all getting something without having to subsidize each other."