Two aerospace teams headed by SpaceX and Rocketplane Kistler will share almost half a billion dollars set aside for demonstrations of new spaceships capable of transporting cargo and crew between Earth and the international space station, NASA announced Friday.
The Commercial Orbital Transportation Services program, or COTS, marks a dramatic departure in the way NASA does business and could give a boost to the nascent private-sector space race — including space tourism for paying passengers.
NASA Administrator Mike Griffin acknowledged earlier this week that the program could also turn out to be a $500 million flop. "If it doesn't work, I've frankly made the wrong bet … with a good amount of money that we could have used for other purposes if the entrepreneurial sector is, in fact, not able to step up," he told Space.com.
Critics of NASA's traditional approach to spaceship development, on the other hand, tend to see COTS and similar initiatives as the space agency's best hope. "If anything's going to get us out of this hole, it is this new entrepreneurial spirit," Jerry Pournelle, a science-fiction author who also served as a space policy adviser to the Reagan administration, told MSNBC.com.
With the rise of less expensive rockets, "we will see human transportation to low Earth orbit become more of a reality in the next four or five years," said Will Trafton, executive vice president for business development at Rocketplane Kistler.
Elon Musk, SpaceX's founder and chief executive officer, told MSNBC.com that "this is going to be the best value for money that NASA and the American taxpayers have ever received."
Two approaches to funding spaceships
In the past, NASA has funded the entire development cost for creating spaceships for human spaceflight, ranging from Mercury capsules to space shuttles. This approach is still being used for the development of the main successor to the space shuttle fleet, known as the Crew Exploration Vehicle or CEV. Two teams, led by Lockheed Martin on one side and Northrop Grumman and Boeing on the other, are vying for that multibillion-dollar project — and NASA is expected to announce the winner of the CEV contract sometime in the next couple of months.
COTS is different in that NASA will be merely "investing" in projects primarily supported by the private sector, with quarterly payments made as the development teams reach technical and financial milestones through the end of 2009. The final milestones call for three test flights, including an unmanned flight to the space station itself, said Alan Lindenmoyer, commercial crew/cargo project manager at NASA.
The spaceships developed with NASA's support could well help fill the gap between the scheduled 2010 retirement of the shuttle fleet and the start of CEV flights in the 2012-2014 time frame.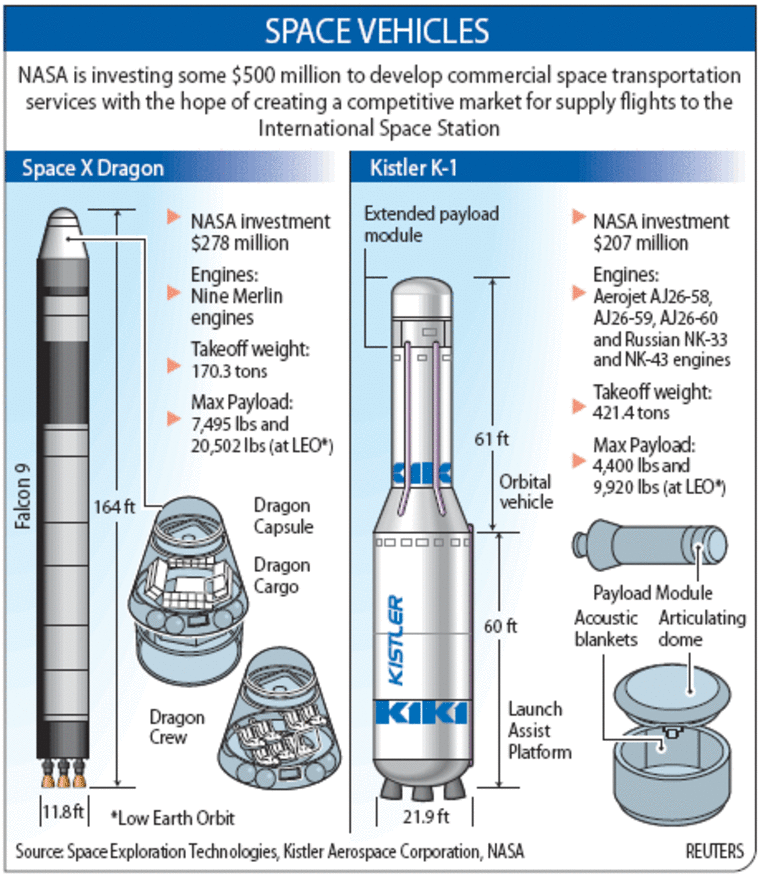 When the first phase of the COTS program runs out in 2010, NASA says it will conduct another competition for pay-as-you-go contracts to resupply the space station. Officials have compared it to renting a moving van rather than having one custom-built for your exclusive use. Such "vans" can be used for non-NASA purposes as well, ranging from private-passenger joy rides to commercial research flights.
The applicants for those future NASA contracts are likely to include Friday's winners, but would also be open to other COTS competitors that were passed over.
Unlike Boeing and Lockheed Martin, SpaceX and Rocketplane Kistler are unaccustomed to having a lead role in the development of piloted spaceships. Now they will manage $485 million between them. NASA is setting aside another $15 million from the half-billion-dollar program for its own program costs, Lindenmoyer told MSNBC.com.
SpaceX's plans
California-based SpaceX, or Space Exploration Technologies, has been developing a line of Falcon 1 and Falcon 9 rockets, as well as its for cargo and crew. However, so far it has made only one launch attempt, which ended in failure.
Musk said SpaceX's partners included Spacehab, which was also a COTS finalist in its own right; ARES Corp.; Odyssey Space Research; and MacDonald Detwiler & Associates, which built the robotic arms for the space station and the shuttle fleet. Paragon Space Development Corp. is on the SpaceX team as well as the Rocketplane team, said the company's CEO, Taber McCallum.
If SpaceX hits all of NASA's milestones, its team would receive $278 million, Lindenmoyer said.  He said SpaceX's proposal was particularly attractive because its launch vehicle could be recovered and refurbished — and eventually could be fully reusable.
Musk said the Falcon/Dragon system could be used to resupply the space station as well as take passengers to private-sector space complexes such as those currently being tested by Bigelow Aerospace. "We expect Bigelow to be a significant customer along the road," he said.
That meshes with NASA's intentions, he said: "NASA really wants us to find markets outside just them in manned spaceflight."
Musk declined to say precisely how much the Falcon/Dragon flights would cost on a per-pound or per-flight basis, but was confident his team could bring down the cost of access to space dramatically. Currently, the cheapest way to send people to space is aboard Russia's Soyuz spacecraft, which is thought to cost in the neighborhood of $30 million to $50 million per launch.
"We expect to be quite a bit more cost-effective than Soyuz, and as you know, Soyuz is 6 or 7 percent of the cost of the space shuttle," Musk told MSNBC.com.
Rocketplane Kistler's plans
Oklahoma-based Rocketplane Kistler, meanwhile, plans to adapt the Kistler K-1 reusable launch vehicle — which has been under development for years by Kistler Aerospace but has never flown. Rocketplane acquired financially troubled Kistler just this year, specifically to go after the COTS money.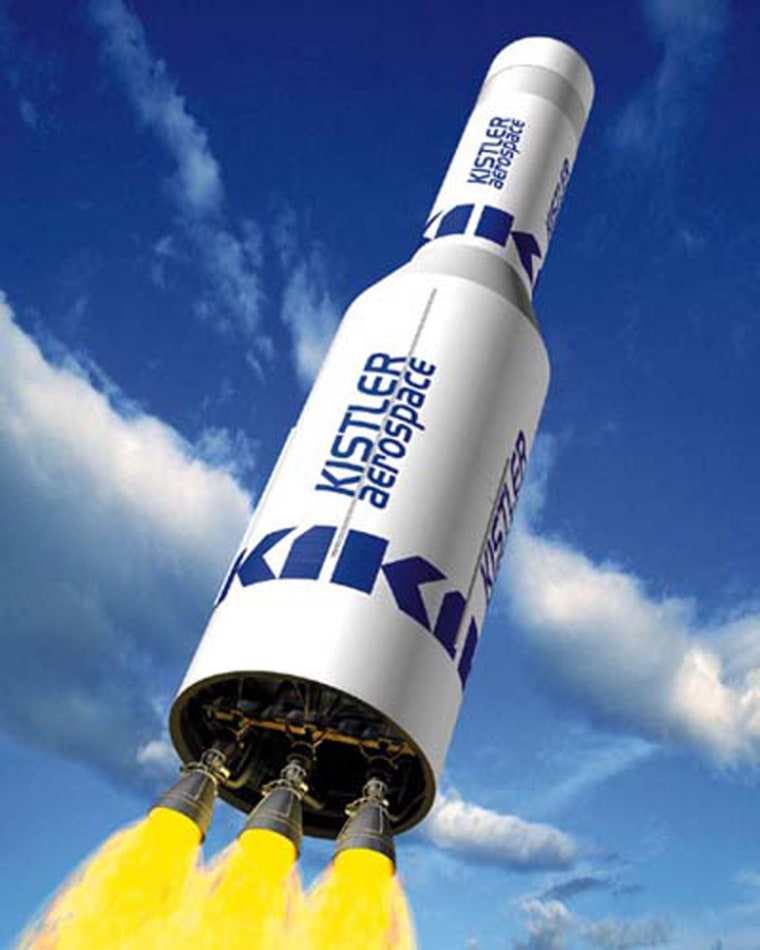 Rocketplane's Trafton said partners on the team included Orbital Sciences, Lockheed Martin, Northrop Grumman, Aerojet, Draper Laboratory, Honeywell, Oceaneering International, ATA Engineering and RS&H. A Rocketplane also mentioned Orbitec, Irvin Aerospace and the Italian aerospace company Alenia Spazio.
About $207 million has been allocated to the Rocketplane Kistler team, Lindenmoyer said. One of the big factors in the team's favor was that "they are using pretty much known technology, repackaging it and trying to take advantage of this reuse," he told MSNBC.com.
"It's not a great deal of technical risk in the system," he explained.
Rocketplane has been working on a that could be ready for flight in 2008, and Trafton said the first Kistler K-1 orbital rocket could lift off from Australia in late 2008. He said his company was looking into developing a Cape Canaveral launch site as well, and studying the design for a crew-capable vehicle that would fit atop the K-1. The crew vehicle could enter service in the 2011-2012 time frame, he said.
"The price to get a payload to low Earth orbit is going to be a fraction of what it has been for the past 15 or so years," he told MSNBC.com.
For both companies, the NASA money represents a supplement to private investment. "They each have significant 'skin' in the game," said Scott Horowitz, NASA's associate administrator for exploration systems.
For example, Musk said SpaceX would invest $200 million in the Falcon/Dragon program — on top of the $100 million he already has spent on the Falcon 1. Trafton declined to provide a specific figure but said Rocketplane's contribution would exceed NASA's on a 2-to-1 basis — implying an investment of more than $400 million.
Other contenders
Horowitz said he hoped that the first phase of the COTS process would "create an optimum portfolio" for the second phase, involving actual space station resupply.
It's possible that someone could "come out of left field" and win a Phase 2 contract even though they didn't receive NASA money in Phase 1, he said. That means the four other finalists in the Phase 1 competition could still be in the running in 2010. Those also-rans included:
All the finalists said that they would pursue their spaceship projects even if they didn't share in the $500 million from NASA.
The amount of money set aside for the COTS winners was misstated in a headline appearing on an earlier version of this report.