/ Source: The Associated Press
Wining and dining at 35,000 feet gave way Monday to a cramped jail cell, a metal cot and bologna sandwiches as John Mark Karr awaited a hearing to determine when he will be sent to Colorado to face charges in the slaying of 6-year-old JonBenet Ramsey.
Karr, who was brought back to the United States late Sunday night on a 15-hour business-class flight from Thailand, was immediately locked up in a high-security jail cell to await an extradition hearing Tuesday morning.
Karr may waive extradition and agree to go immediately to Colorado, but if he decides to fight the move, prosecutors say it could take a few days before he is cleared to go.
"What we're really focusing on is getting him back to Colorado and getting through that first appearance and going from there," said Boulder County district attorney's spokeswoman Carolyn French.
Colorado's warrant has remained sealed, and little is publicly known about what evidence Boulder officials may have on Karr. The 41-year-old teacher has told reporters he was with JonBenet when she died in the basement of her Boulder home on Dec. 26, 1996, and it was an accident.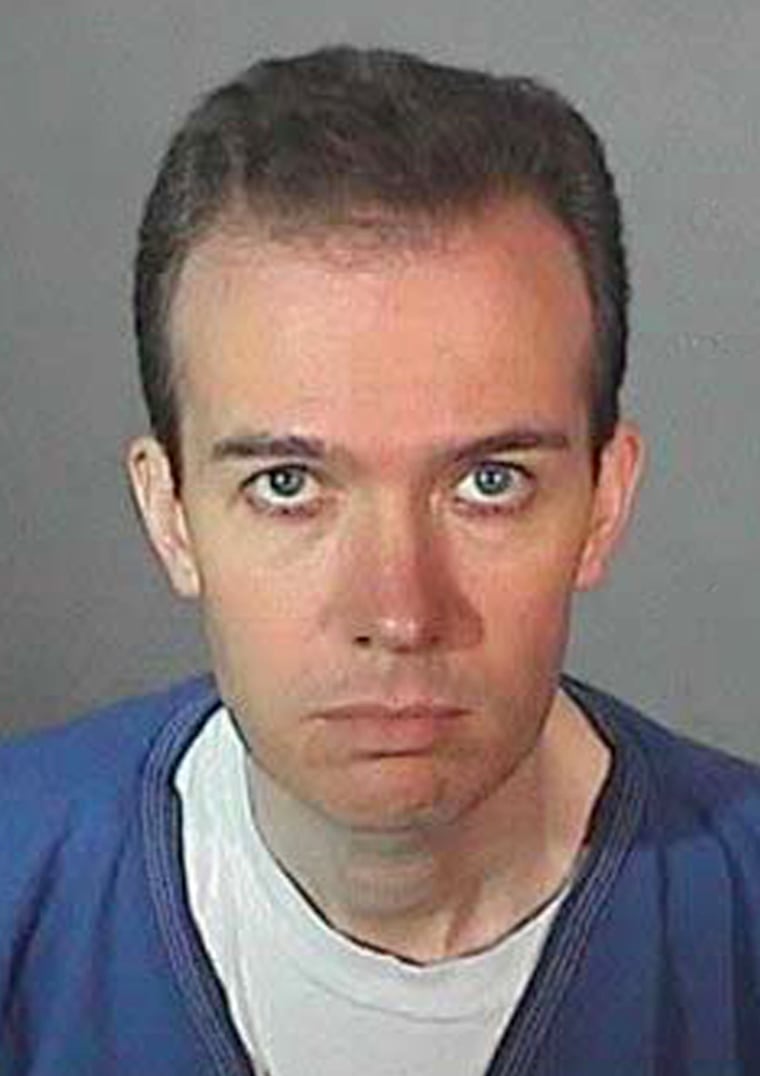 It was unclear whether he had an attorney.
French would not comment on whether Karr gave up any more information about the case during the long flight from Bangkok, on which he was served courses of fried king prawns, roast duck, champagne, beer and wine.
Karr, who was not handcuffed or in custody during the flight, was seen chatting, and even clinking glasses, with Boulder district attorney's investigator Mark Spray, who took notes.
Spray, who formally arrested Karr as part of the extradition process, had to rush back to Colorado for a family emergency Monday, said Los Angeles County district attorney's spokeswoman Sandi Gibbons.
Karr, whose record includes a 2001 arrest on charges of possessing child pornography, was put in a high-security, isolation area of Los Angeles County's Twin Towers, a jail that houses about 3,500 male inmates.
"We want to make sure that we keep him safe," said sheriff's Chief Marc Klugman, who oversees county jails. "He's alleged to have killed a child. There may be inmates in here who might take an opportunity to hurt him, so we have to be careful."
His accommodations are a 6-by-9 cell with a bed, a toilet no windows and no phones. Unlike in Thailand, Karr will not be made available for media interviews, officials said. Inmates are only given about three hours of exercise a week and eat all their meals in their cells.
'He'll get jail chow'
"He'll get jail chow," said sheriff's spokesman Steve Whitmore. "He won't get king crab, I'll tell you that."
Monday's lunch, for example, included a bologna sandwich, carrots and an apple.
Colorado Gov. Bill Owens could be brought back into the case if he makes a formal request to California Gov. Arnold Schwarzenegger to extradite Karr.
In the late 1990s, Owens accused JonBenet's parents, John and Patsy, of "hiding behind their lawyers" and failing to cooperate fully with investigators.
"If they're innocent, they're sure not acting like they are," he said on a radio talk show in October 1999.
The following month, as the Ramseys began a publicity tour for their book "Death of Innocence," Owens urged the couple to return to Colorado and help with the investigation "no matter where that trail may lead."
Owens' role is an "interesting irony," considering his earlier statements on the case, said former prosecutor Craig Silverman, who has followed the case.
Owens "is going to have to certify his belief that John Mark Karr was present in Colorado at the time of the commission of the alleged crime and that thereafter he fled from the state," Silverman said.
"Normally that's a no-brainer for a governor; he just relies on the prosecutor and frankly doesn't investigate on his own. But Bill Owens has a history with this case," Silverman added. "I would be shocked if Gov. Owens did anything to stand in the way of a speedy extradition."
Sex-change operation?
In Thailand, meanwhile, a doctor said Monday that Karr had visited a clinic to have facial hair removed permanently because he wanted to prepare for a sex-change operation.
Karr went to the Siam Swan Cosmetic Clinic and its branches in Bangkok to have his sideburns and hair under his chin removed with lasers, Dr. Setthakarn Attakonpan said.
"He wanted to prepare himself to do a sex-change operation," said Setthakarn, a dermatologist.
Another Bangkok physician, Dr. Thep Vechavisit of the Pratunam Polyclinic, said Karr had been one of his patients. The clinic specializes in sex-change surgery.
Karr, once detained on charges of possessing child pornography, in recent years apparently traveled to Europe, Central America and Asia to search for teaching jobs. He taught in at least two Thai schools.