/ Source: The Associated Press
Luxury home builder Toll Brothers Inc. said Tuesday that its third-quarter profits fell by 19 percent as the housing-market malaise weighed on sales and caused the company to abandon some building locations.
The Horsham, Pa.-based company also cut its earnings estimate for the full year, signaling that it doesn't expect the housing market to stabilize soon. Investors have given up on flipping properties for a quick profit and builders have slashed prices to move homes, especially on the luxury end.
Robert Toll, chairman and chief executive, told analysts during a conference call that he doesn't yet see signs of improvement nationwide.
"I don't see a turnaround in any of the markets," he said. "I don't see any forming a bottom."
The housing market has been getting weaker faster than expected, said Alex Barron, senior housing analyst with JMP Securities in San Francisco. Toll Brother's vulnerability is its luxury niche.
'Luxury homes are very discretionary'
"What's hurting Toll is just the fact that they build luxury homes. Luxury homes are very discretionary," he said. "People who want to live on the golf course, they can do so today or they can wait a year. There's no hurry."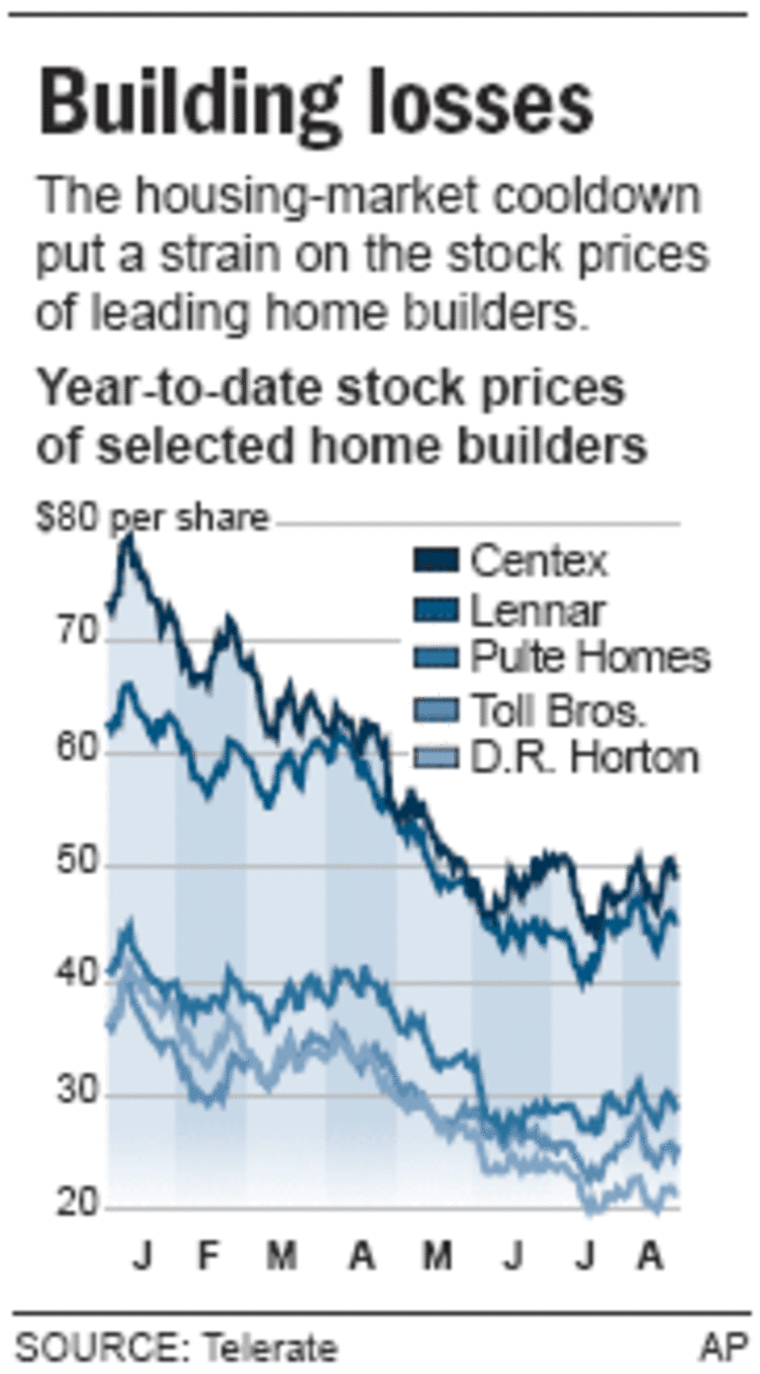 Shares of home builders rebounded Tuesday slightly after a sell-off Monday, but the trend this year has been negative. The Philadelphia Stock Exchange Housing Sector Index, which tracks housing stocks, has fallen by 27 percent since its April 5 high.
On a positive note for the industry, the average fixed rate on a 30-year mortgage has fallen back to mid-April levels. Last week, Freddie Mac said the rate fell to 6.52 percent.
Barron said Toll Brothers' strategy of not cutting prices hurt its sales, since many builders are doing it. Over the weekend for example, Lennar Corp. slashed prices of homes in a Florida community. One 3,900-square-foot house was selling for $560,000 down from $768,000 — a savings of $208,000.
One reason for Toll Brothers' stance is that it mainly builds homes when there are orders. Others build at least 40 percent of their homes before having buyers, the analyst said.
In the quarter, Toll Brothers said sales headed lower in the Mid-Atlantic, Midwest, and California markets, while revenue rose in the Northeast, Southeast and Southwest.
Signed contracts cut nearly in half
As of July 31, the number of signed contracts was cut nearly in half to 1,473 from a year ago. The contracts' value fell by 46 percent to $1.1 billion.
Toll Brothers reported profits of $174.6 million, or $1.07 per share, compared with $215.5 million, or $1.27 per share, in the previous third quarter.
Earnings were hurt by writedowns of $23.9 million, most of which comprised the cost of optioning properties as the company abandoned plans to build homes on them. Toll Brothers cut the number of lots it now controls to about 82,900, down from 91,200 at the end of the second quarter.
Revenue came to $1.53 billion, down 1 percent from $1.55 billion a year ago.
Toll Brothers beat the lowered earnings estimate of analysts surveyed by Thomson Financial of $1.04 per share.
Looking ahead, the company now expects to post a full-year profit of $4.41 to $4.63 per share, down from $4.69 to $5.16 per share. Wall Street analysts had been expecting $4.40 per share.
The fourth quarter will be weaker as well, with profits now down to $1.33 to $1.53 per share. Analysts are expecting earnings of $1.31 per share.
The company expects to deliver 8,600 to 8,900 homes for the year at an average price of $685,00 to $690,000. For 2007, deliveries are projected at 7,000 to 8,000 at prices of $635,000 to $645,000.
Robert Toll said prices aren't being cut, but the mix of homes to be sold should shift more toward lower-priced units — smaller homes, multifamily units and dwellings for active adults.