/ Source: msnbc.com news services
Sludge has washed up on Panay, a large island in the central Philippines, as an oil spill from a sunken tanker continues to spread, threatening rich fishing grounds, officials said on Tuesday.
Eleven days after the tanker chartered by Petron Corp., the largest oil refiner in the Philippines, sank off the island of Guimaras, an average of 25-50 gallons of oil continued to gush every hour, officials said.
"We are still trying to combat the oil spill," said Vice Admiral Arthur Gosingan, the coast guard commander.
The tanker was carrying about 500,000 gallons of bunker oil, an industrial fuel, when it sank in rough weather on Aug. 11 and initially spilled 100,000 gallons into the sea.
The sunken ship is too deep for divers to reach and the Philippines, lacking heavy salvage equipment, has appealed for international help to prevent the disaster from getting worse.
Ignacio Bunye, a spokesman for President Gloria Macapagal Arroyo, asked critics to stop assigning blame and said the government's crisis team "is on the ball 24/7 and making the tactical decisions on the oil spill cleanup".
"We need to focus all our energy and resources in addressing the problem," said Bunye.
U.S., Japan send teams
Experts from the United States and Japan were on the way to help assess the cleanup operations and suggest measures on how to stop the slick from spreading further to vast mangrove areas and fishing grounds.
Raul Banas, mayor of Concepcion town in Iloilo province, said the slick had reached eight coastal villages, threatening fishing grounds as ocean currents moved thin sheets of oil to the north.
"We've declared the coastal areas a calamity zone," he said.
The spill is the worst to hit the Philippines but is tiny compared with the world's biggest accident, the collision of the Atlantic Empress and another vessel in 1979 that leaked 287,000 tons into the sea off Tobago.
Coast guard efforts to set up bigger oil booms near the tanker have been hampered by bad weather.
The oil slick has damaged some 185 miles of coastline, 1,235 acres of mangroves and 148 acres of seaweed plantations, affecting at least 26,000 villagers in Guimaras, provincial governor Joaquin Nava said.
Bamboo, rice straw oil booms
On Monday, a crew from Greenpeace's ship MY Esperanza and marine experts from the University of the Philippines at Visayas set up booms at the most critical areas of Guimaras' Taklong marine reserve.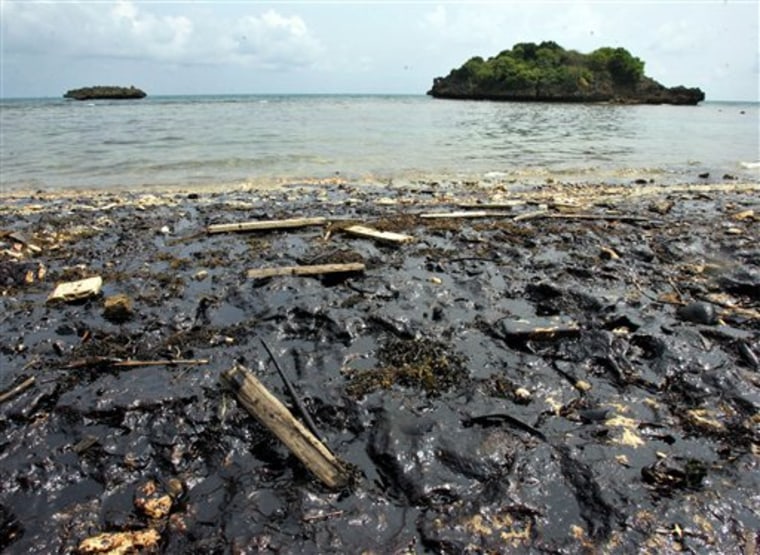 The school made the booms from bamboo, rice straw and sacks to serve as a prototype for communities planning to use indigenous biodegradable materials to keep the oil slick from their coasts, Greenpeace said.
Philippine officials have said the pollution from the spill could take up to three years to clean up completely.
But Petron spokeswoman Virginia Ruivivar said in a statement Monday that the company has "covered nearly 12 kilometers of shoreline and collected 60 metric tons of debris. At our current rate, we expect the cleanup to be completed in 30-45 days."