SARATOGA SPRINGS, N.Y. — Kirsten Gillibrand, the Democratic candidate in New York's 20th Congressional District, was looking for votes Thursday at the annual fair in upstate Washington County.
Amid the cows, sheep, horses and barbecued chicken, Gillibrand came upon Roger Jones, a Democrat from neigboring Warren County, who was wearing a National Rifle Association baseball cap and an NRA T-shirt.
"It seems like you've been avoiding it," Jones told Gillibrand, referring to the issue of gun control.
Gillibrand was ready. "I am pro-Second Amendment, I support hunters' rights," she shot back. "I come from a hunting family. ... I eat so much venison and so much turkey in my house."
She needs to be fully prepared. Although heavily favored Sen. Hillary Clinton and gubernatorial candidate Eliot Spitzer are at the top of the ticket in New York this November — and would seem to make it a sure thing for the area's entire Democratic slate — the 39-year-old first-time candidate is trying to unseat four-term Republican Rep. John Sweeney, 51, in a heavily rural district he won with 66 percent of the vote in 2004.
Generous Democratic donor
And in terms of Jones' concerns, she carries some pretty heavy political baggage.
Gillibrand, a lawyer in the same firm as celebrated attorney David Boies — he argued Al Gore's side before the U.S. Supreme Court in the 2000 election — has been an openhanded donor to liberal Democrats in recent years, ($21,750 from 2001 to 2004) giving money to the campaigns of gun control advocates Sen. Barbara Boxer, D-Calif., Sen. Hillary Clinton, D-N.Y., Sen. Charles Schumer, D-N.Y., and 2004 presidential candidate Sen. John Kerry, D-Mass., according to the Center for Responsive Politics, a non-partisan Washington group that tracks campaign donations. (Sweeney's campaign has gotten $2,000 from the NRA's political action committee.)
However, she promised Jones that "I'm going to send out a mailer" detailing her commitment to the Second Amendment.
"I'm just a woodchuck from up in the woods," Jones told Gillibrand, adding "I'm a one issue-voter," as a Washington County Democratic chair Sheila Comar handed him a Gillibrand brochure spelling out her positions on other issues.
After Gillibrand walked on in search of other votes, Jones said, "I haven't made up my mind" on whether to vote for her. "Spitzer, Hillary, they're all anti-gun," he said. Gillibrand "has got to divorce herself from them."
Heavily Republican constituency
She also has to win over a huge section of voters who are not usually inclined to vote Democrat. The mostly rural 20th District, which includes lots of dairy farms, woods (and woodchucks) and the horseracing Mecca of Saratoga Springs, has about 88,000 more registered Republicans than registered Democrats, as well as 18,000 independents.
At a time when the Gallup Poll finds that nationally 65 percent of Americans disapprove of the job Congress is doing, the question is: will that discontent be strong enough in this district to oust Sweeney?
Born in the nearby state capital, Albany, and educated at Dartmouth and UCLA Law School, Gillibrand was a counsel to Housing Secretary Andrew Cuomo in the Clinton administration.
After that, "I was a lawyer in Manhattan for a while, but we moved back up here as soon as I got married and wanted to have a family, because I really wanted to raise my family near my parents and my cousins," she explained Thursday. "I know the families of this district very well because I've lived here my whole life. … I visited every community in the district many, many times, I grew up in the northern part every summer."
Opponent comes out swinging
Sweeney portrays Gillibrand as an urbanite and a carpetbagger; his mailers feature a photo of her former Manhattan apartment.
"She wouldn't know the difference between milk prices and French wine prices," Sweeney scoffed Wednesday as he campaigned at the Washington County Fair.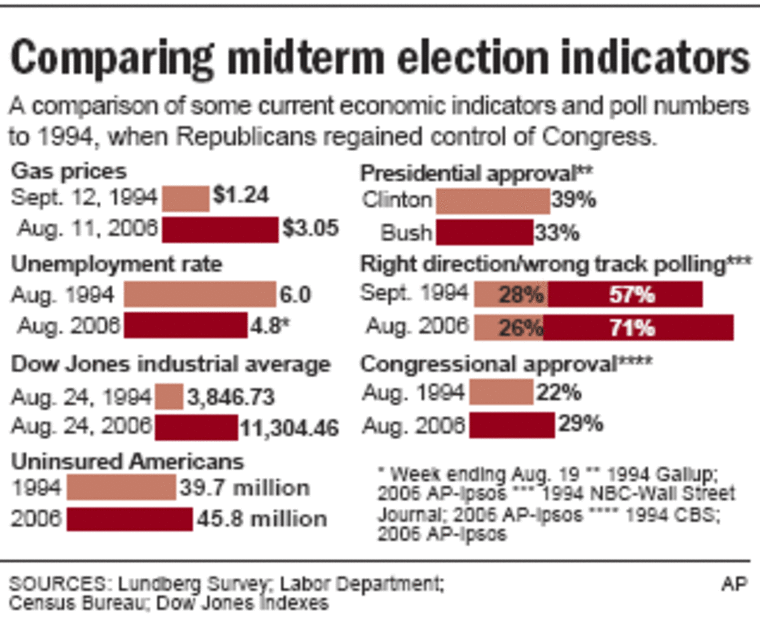 But for a non-incumbent, Gillibrand has raised a lot of money — an impressive $1.2 million by July 1, compared to Sweeney's $1.7 million.
Sweeney implies the inflow of cash is orchestrated. The Democrats, he contended, "can't make the plausible argument they can take back the majority without having races like mine and everybody else in the Northeast. That's the sales pitch [Democratic Congressional Campaign Committee] Rahm Emanuel is giving to the nation. He's trying to create a buzz."
Against Bush on stem cells, Hudson dredging
Sweeney is disimissive of his opponent — "I don't think she's ready for prime time; I think she should have run for a town council seat," he quipped — but he also seems a little worried.
In part, that may be due to his loyalty to the White House. Sweeney voted with Bush 82 percent of the time on roll call votes in 2005, according to the Congressional Quarterly.
There have been exceptions: he voted against the constitutional amendment to ban same-sex marriages and for funding of embryonic stem cell research.
Sweeney tries to emphasize that he is his own man. He said "the best example of the independence I've shown" is his opposition to the decision by Bush's Environmental Protection Administration in 2001 to order dredging of the Hudson River to remove approximately 150,000 pounds of polychlorinated biphenyls, a pollutant linked to cancer in humans, which had been dumped in the river decades ago by General Electric plants. (MSNBC.com is a joint venture of Microsoft and NBC Universal News, a division of General Electric.)
The dredging will disrupt upriver towns' economies for many years and "will be a debacle," Sweeney predicted. Gillibrand supports the dredging as environmentally necessary.
Iraq and fuel-price debates loom large
One of the biggest issues, of course, is Iraq.
Sweeney is quick to express frustation, but at the same time toes the White House line about finishing the job before U.S. troops are withdrawn.
"I'm tired of not seeing enough light at end of tunnel to make me feel confident that it's going to be successful," he said. But "we have to be successful; we've just got to find a way to do it."
Gillibrand, meanwhile, has called for Bush to devise a plan to withdraw U.S. troops, but said she opposes a resolution sponsored by 17 House Democrats which would cut off funds for the Iraq deployment.
On another issue irking voters, fuel prices, Sweeney and Gillibrand are closer. Both say that voters are irate about the cost of gasoline and the prospect of expensive home-heating oil this winter.
He decries "having to depend on sheiks and other sordid figures in the world" and voted for last year's energy bill which includes subsidies for domestically-produced biomass fuels.
Gillibrand also supports the development of alternative fuels as well as calling a suspension of the 18.4 cent-per-gallon excise tax on gasoline for at least six months. And she wants even larger subsidies for non-petroleum fuels than Congress enacted in its energy bill last year.
A lift for an elderly lady
A couple of signs of how seriously Sweeney is taking Gillibrand's challenge: his ads are hard to miss on the areas' radio stations and he is not shy about bringing home the bacon.
In one an elderly lady recounts how Sweeney got $118,000 in federal money to buy two buses for the senior citizens' community where she lives.
"Thank you for the lift, Congressman Sweeney — you have my vote," she says.
Sweeney vigoroulsy defends against suggestions that such measures are are draining the federal coffers.
"Earmarks are one percent of the federal budget, so the buzz coming from the Jeff Flakes on my side of the aisle, and from some demagogue Democrats is just false. Federal spending is out of control because of mandatory spending" and due to the Afghanistan and Iraq deployments, he said. (Rep. Jeff Flake, R-Ariz., is an anti-earmark crusader.)
Sweeney says he doesn't hear any of his constituents calling for a ban on earmarks.
"What I do hear from them is 'Congressman, I can't believe the price of gas,' and … '[M]y family farm is in jeopardy because of the structure we have for the pricing of milk," he said. "Those are legitimate and we must respond to those, and we must do better."