/ Source: msnbc.com news services
Three people died and dozens more were injured in a blast in Turkey's Mediterranean city Antalya on Monday, the fifth bomb to hit the country in less than 24 hours.
Two witnesses told Reuters by telephone from Antalya they heard a loud explosion, which broke windows, shattered glass, and sparked a fire at a shopping area in the center of the city, one of Turkey's most popular tourist destinations.
"A parked motorbike next to a tramway had exploded and pieces of the motorbike were shattered all around. A man who was a street vendor was then dead," said a shaken local businessman, who declined to be named.
Local police said two people were killed in the attack and many more were injured, with one policeman saying up to 50 may have been hurt. Shortly afterwards private broadcaster NTV reported a third person had died at hospital from injuries.
State-run Anatolian news agency said a nearby street had been shut off to traffic because a suspicious bag was found. A bomb squad was on its way to the scene.
"The cause of the explosion is still under investigation," said Guzide Ormeci, a spokeswoman for the governor's office. "It occurred in front of a building housing Turkish restaurants."
Claim of responsibility in earlier blasts
The Antalya blast came less than 24 hours after three bombs in the coastal tourist resort of Marmaris injured 21 people within 15 minutes and another device in Istanbul wounded six people earlier in the evening.
A hardline Kurdish militant group claimed responsibility Monday for that bombing, as well as the Istanbul attack.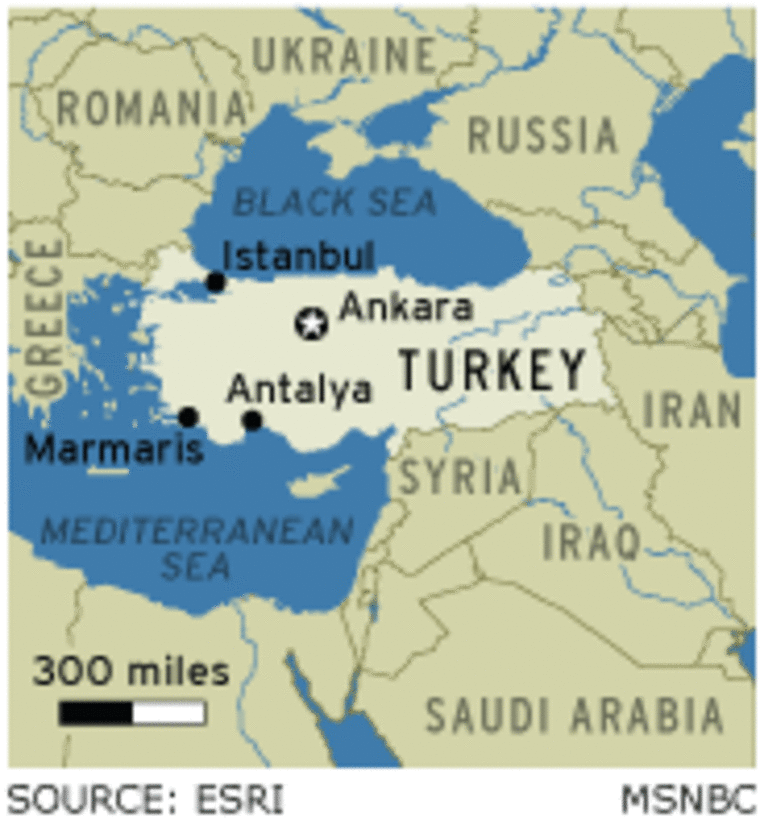 The Kurdistan Freedom Falcons, a small group linked to the main Kurdish guerrilla group, the Kurdistan Workers Party, or PKK, claimed responsibility on its Web site for Sunday's attacks and warned that "Turkey is not a safe country. Tourists should not come to Turkey."
Kurdish militants have repeatedly threatened to target Turkey's crucial tourism industry as part of their fight for autonomy in the Turkish southeast.
The same militant group had also claimed responsibility for a 2005 bomb blast that destroyed a minibus in the Aegean resort town of Kusadasi, killing five people and injuring 13 others. The dead included a British woman and an Irish teenager.
The rebel statement did not mention the Antalya explosion on Monday.
The Mediterranean coast is extremely popular with millions of European tourists who flock to Turkey during the summer months.