/ Source: Special to msnbc.com
The Catholic Church doesn't often grant artists, especially American artists, permission to redecorate its houses of worship. Yet that's just what Father Vincenzo Coli proposed to an Alabama-born painter who goes by the name Nall. Coli is head of the Franciscan Order, and manages the 800-year-old Basilica di San Francesco in Assisi, Italy, one of the most holy shrines in Catholicism. Last year the monk invited the artist to visit Assisi, and ended up commissioning him to paint a series of 52 icons. Each image would highlight one of the most common pitfalls of being human. They named the project Violata Pax, or Wounded Peace.
"Father Coli had seen some of my aggressive, violent art from the 70's" says Nall. "He wanted me to capture the harder things in life, like alcohol abuse, suppression of women, political exile."
In recreating images of humanity at its worst, Nall drew on his personal experience as a penniless artist living on the streets of Paris. It was during this dark time that Nall befriended Salvador Dali, later studying with the master surrealist.
Dali's influence continues to inform Nall's work, and many of the 52 icons include jarring representations of blood-soaked flowers and birds with skulls in place of heads.
The lower Basilica in Assisi has been transformed into an immense exhibition space for the 52 icons. Visitors must pass through the disturbing imagery on their way into the cathedral— which is exactly what Father Coli was intending.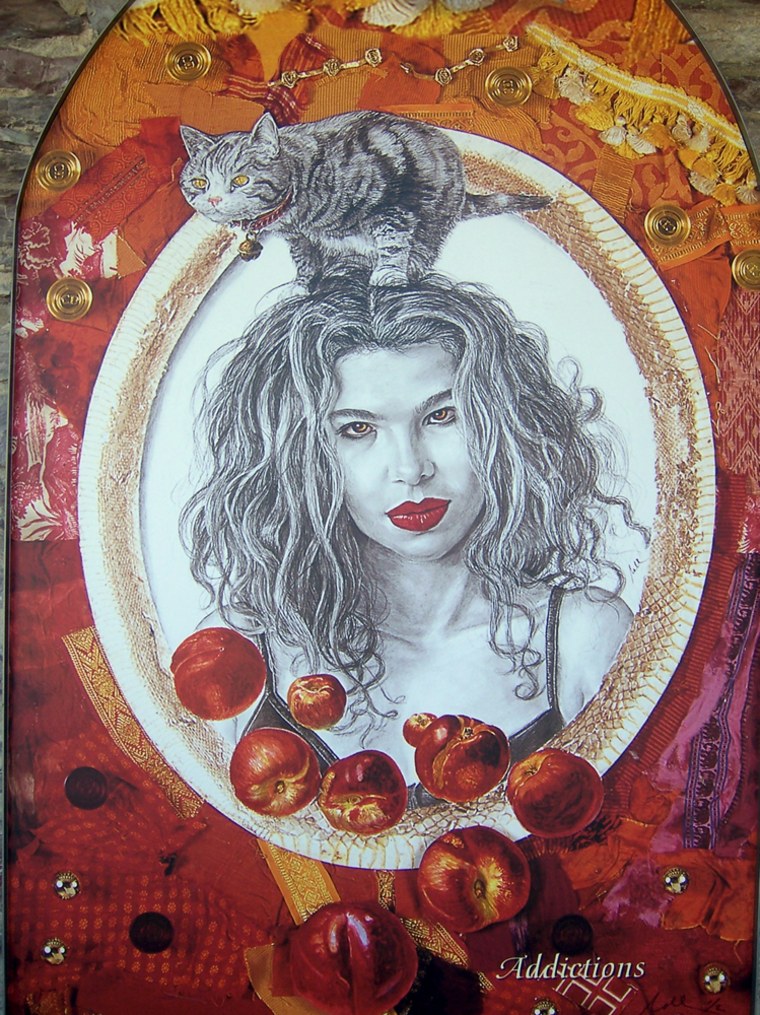 "The Franciscan monks see this as a way of reinforcing St. Francis' message of piety and humility in the face of our own weaknesses," explains Nall. "Our modern culture has made the public think that vices are normal. St. Francis taught us to face these things head on."
Once inside the cathedral, the scene changes dramatically. Tourists mingle with religious pilgrims in viewing the tomb of St. Francis and other Medieval luminaries. The historic frescoes of Giotto and Cimabue also attract millions of visitors annually to the Basilica, and these are undisturbed by Nall's work.
In the nearby city of Pietrasanta, the artist was given permission to actually redecorate the interior of a cathedral. Two massive icons are draped over the structure's façade, and inside Nall has juxtaposed his own work with centuries old religious paintings. The result is striking, especially when Nall's very modern icons are hung directly over the ancient artwork. 
A third installation of the 52 icons can be found in Monaco, where Nall enjoys cordial relations with the globetrotting Prince Albert II. The prince invited Nall to install his work on the grounds of the country's main cathedral. A few pieces are also on display inside, where the late Princess Grace was laid to rest. It is an honor afforded to very few artists, and Nall seems humbled by it.
"Your work is an exorcism of what you have lived through," he says. "I have lived through every one of these icons, and by putting them up in the churches we are saying that people are strong enough to get through even the darkest hours."
Violata Pax continues in Assisi through September 15, In Pietrasanta through September 3 and Nall's work is displayed inside the Monaco Cathedral indefinitely.