/ Source: The Associated Press
On a narrow street in lower Manhattan's financial district, Godvell Merilus pulls his UPS truck alongside a curb and parks illegally.
Like the nearby Poland Spring and FedEx drivers, Merilus doesn't have a choice. There are no legal spaces, and he has a demanding schedule to keep, delivering hundreds of packages to corporations such as Goldman Sachs and Citibank.
Then the inevitable comes wrapped in a blaze-orange envelope: Merilus gets a $115 parking ticket, one of four he receives this day.
"It's automatic," said Merilus, 34. "There is not a single day I don't get a summons."
UPS, FedEx and other commercial delivery companies pay a steep price for doing business in New York City, getting an average of 7,000 parking tickets every day and paying more than $102 million in fines in the city's latest budget year.
Atlanta-based UPS has a fleet of 1,000 trucks and receives about 15,000 tickets a month here. The company is the biggest offender in the city, paying $18.7 million in parking violations for the fiscal year ending June 30, according to city data. Memphis-based FedEx was second with $8.2 million.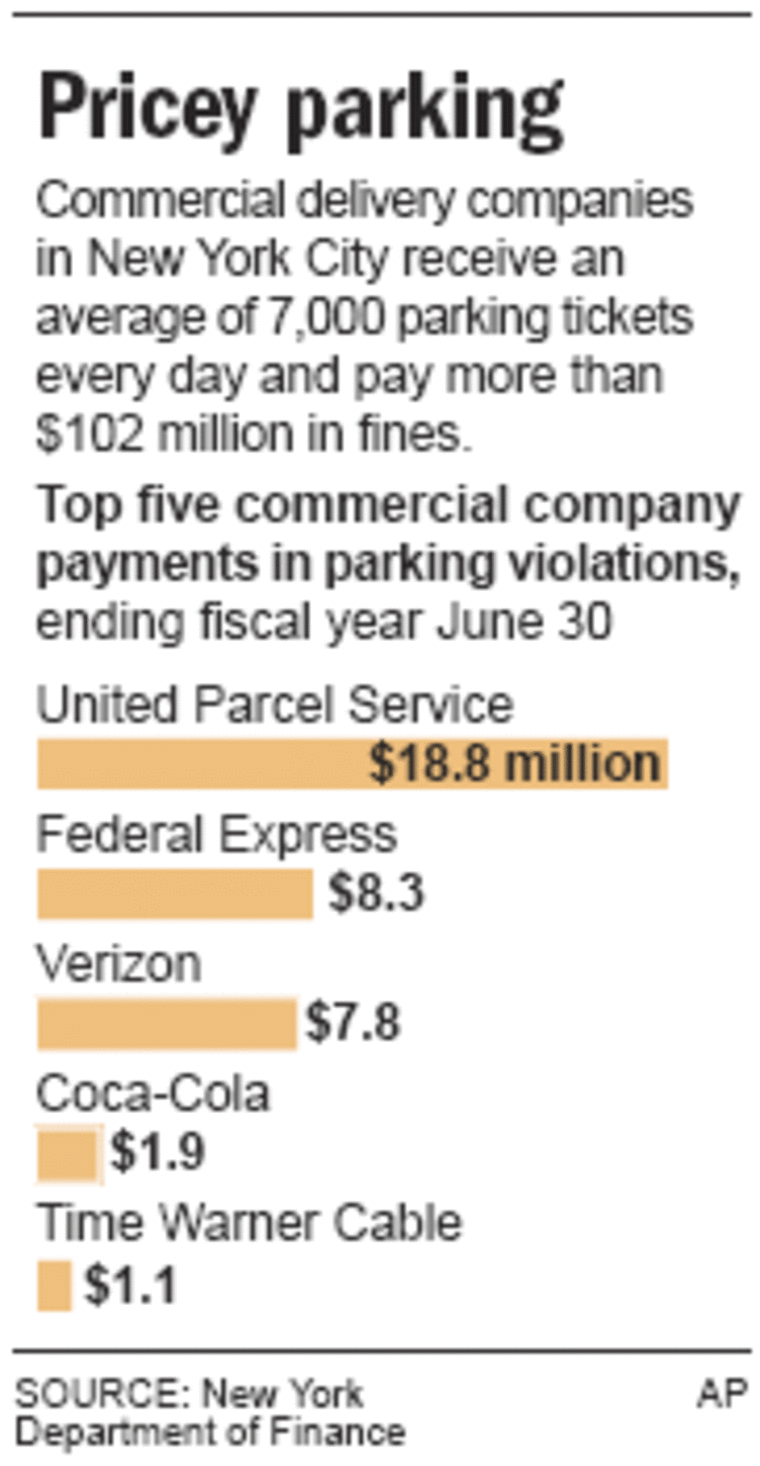 "We receive by far more parking fines in New York City than anywhere else in the world," UPS spokeswoman Diane Hatcher said. "Simply stated, we don't have the same level of difficulty with finding available parking spaces or loading zones anywhere else."
A bureaucratic nightmare
Dealing with all the parking violations turned into such a bureaucratic nightmare for the city that it created a program that reduces or dismisses the tickets in exchange for a company waiving its right to contest them. The program has eliminated 770,000 ticket hearings and saved $1 million in administrative costs per year since it was started two years ago.
The companies are also saving cash, although their annual New York City parking tab is still high because not every type of ticket is covered under the program.
"It would be better if they didn't give parking tickets, but I guess that's unreasonable," Jonathan Afromsky, vice president of Knickerbocker Meats Inc. in the Bronx.
The ticket program started to take shape after the Sept. 11 terrorist attacks when city department heads were asked to make tough budget cuts.
In the finance department, the job fell to Commissioner Martha Stark. The department oversees the collection of parking fines, and one of the areas Stark targeted was the administrative courts that handle parking tickets.
A go-getter who talks bluntly, Stark didn't take long to find some glaring inefficiencies — not exactly shocking for a city that issues about 10 million parking tickets a year. Two million of those tickets are contested, about half of them by commercial delivery companies like FedEx and UPS.
What Stark realized was that many contested tickets issued to commercial trucks were dismissible as long as they were engaged in "expeditious delivery," meaning 30 minutes or less to get the job done.
Courts bogged down by backlog
The problem: To get the violations tossed, the companies had to either send an employee or hire a ticket broker to argue their case in front of an administrative law judge, a headache that created a backlog of tickets, bogged down the courts and cost the city a small fortune.
Stark said 200 administrative law judges spent half their time hearing commercial parking cases that otherwise would be tossed out under the expeditious delivery rule. Violations were also taking up to a year in some cases to settle. Tickets on average now take anywhere from a month or two to get resolved.
"It struck us as a huge waste of time for the companies ... and for our staff," Stark said. "It was just unacceptable."
Under the program, the type of violation determines the ticket's outcome. For example, double-parking in some parts of the city is a violation that can be erased completely for commercial vehicles. Violations for blocking a crosswalk or a bike lane can only be reduced by about 15 percent. Fines for blocking a driveway can be knocked down by 75 percent.
To date, 312 companies are enrolled in the program, including heavyweights like UPS, FedEx, Verizon, Coca-Cola and Time Warner Cable, which are the city's biggest commercial offenders.
Plenty of companies — both big and small — feel the endeavor is a success. Stark told the City Council that Verizon had saved $750,000. Joseph Troiano, president and owner of Bronx Butter & Eggs Inc., said his company wasted about 15 hours a week fighting tickets.
New program saves time and money
"It is saving us time, and time is money," he said.
Troiano has six delivery vans and says the program has reduced his parking fines by about $5,000 a year.
Still, there are critics.
Lynn Landsberger, marketing director of parkingticket.com, which helps people get out of tickets, said the city's efforts were "smoke and mirrors." She said the city is writing more tickets for violations that the delivery companies can't get dismissed.
Stark rejected those claims. Parking ticket revenue makes up a mere 3 percent of the $18.5 billion the finance department collects each a year.
Merilus, who has been driving his UPS route in the financial district for 11 years, is always on the lookout for open spots but can't lose precious minutes searching for ones.
But that doesn't mean he has a nonchalant attitude when it comes to parking tickets. When officers start writing tickets, the affable Merilus tries to persuade them otherwise.
If his company wasn't getting reams of tickets every day, Merilus says, "maybe I'd get a bonus instead of a turkey."