/ Source: The Associated Press
Interior Secretary Dirk Kempthorne has been traveling along Alaska's North Slope, inspecting the BP pipeline corrosion damage and talking up new drilling in the National Petroleum Reserve-Alaska, an area adjacent to the existing wells in Prudhoe Bay.
Kempthorne got his first look Wednesday at the corrosion that shut down some North Slope oil production, but said the problems should not prevent new drilling in the environmentally sensitive reserve.
On a three-day visit to Alaska's oil fields, Kempthorne toured an oil processing facility operated by ConocoPhillips 60 miles west of Prudhoe Bay, where he was told its practice is to run pipeline "pig" tests to guard against corrosion every two years.
BP had conducted only one "pig" test of its pipeline — in which a device is inserted into the pipe to gauge wall thickness. That was back in 1998 and it was only a partial test. Instead, the British-based petroleum giant had used what it has since acknowledged is less reliable ultrasound testing.
ConocoPhillips' Alpine field is the most modern on the North Slope and uses directional drilling to limit the surface footprint of its drilling wells. Also, while the Prudhoe Bay pipes are 30 years old, those linking the Alpine field to Prudhoe are only six to seven years old.
ConocoPhillips, co-owner of the Alpine field with Anadarko Petroleum Corp., plans aggressive exploration on the North Slope, holding significant leases in the petroleum reserve, including one on the verge of production.
"We are going to be active on the exploration side," said George Storaker, vice president for North Slope operations for ConocoPhillips Alaska Inc. He said the Alpine field, which produced 130,000 barrels a day, "is on the decline" and new resources must be developed.
Lake area controversial
ConocoPhillips has its eye on the petroleum reserve, an area the government set aside in 1923 for energy development, including the potential 2 billion barrels of oil beneath an environmentally sensitive area near Lake Teshekpuk.
Environmentalists want to keep the area off limits to oil companies. Prudhoe Bay sits between the reserve and the Arctic National Wildlife Refuge, another area that the Bush administration has sought to open up but which Congress has so far refused to go along with.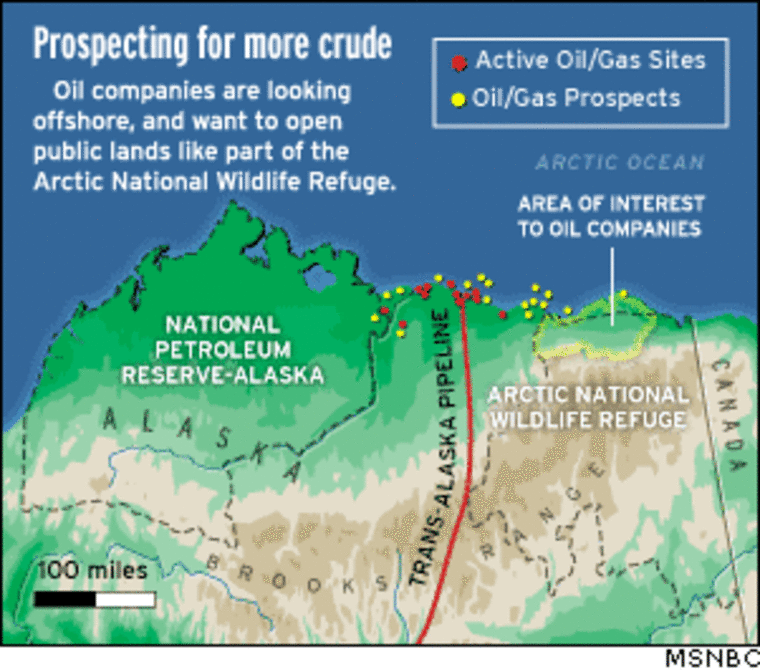 Kempthorne on Tuesday took a helicopter ride over the lake area that has become the focus of a new dispute over Alaska oil drilling. He said afterward that he's convinced a restricted drilling plan can accommodate energy development and wildlife protection.
"We're set to go forward," said Kempthorne, whose department will sell oil leases to nearly 500,000 acres north and east of Lake Teshekpuk late next month. It will likely be a decade before oil is actually taken from the area.
Kempthorne said his helicopter trip over the lagoons and marshland that surround the lake gave him a clearer picture of how drilling would be restricted along corridors used by caribou and by buffer zones around geese molting areas.
Henri Bisson, Alaska director for the Interior Department's Bureau of Land Management, said only 300 acres within areas that range between 45,000 and 65,000 acres would be made available for drilling platforms. "It is a minuscule footprint," said Bisson, who accompanied Kempthorne on the helicopter tour.
But conservationists and some members of Congress have urged Kempthorne to postpone the leasing. Even some local North Slope officials, whose communities have financially benefited from oil development, express reservations about opening the Lake Teshekpuk area to oil leasing.
Local mayor concerned
North Slope Borough Mayor Edward Itta contends "the risks outweigh the benefits" if drilling interferes with subsistence hunting in the region and that the lake area "should remain off limits."
Itta, who hosted Kempthorne on Tuesday, remains skeptical of the leasing plan, but has softened his opposition after being assured that the borough would participate in future mitigation efforts as development gets closer.
Kempthorne said environmental reviews will be part of the process that leads to actual oil development.
Environmentalists argue that BP's problems demonstrate the potential risks associated with oil drilling and shipment and that there are certain areas such as the Lake Teshekpuk region that should be declared off limits. The Interior Department during the Clinton administration proposed a broad leasing plan for the reserve, but excluded the lake area.
Since then, a lot has changed, drilling advocates argue.
"Look at what the price of oil is right now," said Bisson. "We're talking about 2 billion-plus barrels of oil that with biological sensitivity can be developed. You can't just walk away from it."