While other parts of Iraq remain mired in unrest, the northern region known as Kurdistan is touting itself as an oasis and aggressively courting businesses and tourists.
The push for development includes a Western-style advertising strategy with ads on cable TV, in radio and magazines, and a new investment law approved by the region's National Assembly to attract money from foreign investors. The region's economy already is one of the strongest in the Middle East.
But the semi-autonomous ethnic enclave — the ads call it "the other Iraq," — is faced with realities that could undermine its aspirations.
Kurdish terrorist groups with separatist goals and a deadly history have taken responsibility for recent bombings. That fact, tied to the violence in greater Iraq and a government with a reputation for corruption, has dampened investment enthusiasm.
Full-court press
The U.S. ad campaign, which has a counterpart in Europe, is underwritten by the Kurdistan Development Corporation, with offices in London, Berlin and Arbil, in Iraqi Kurdistan. It emphasizes a region ready for economic development.
In a television commercial, people of all ages are seen building a community — planting trees, driving bulldozers, working in a laboratory — in images meant to convey a model of modernity, an area bustling with industry.
"See the promise," intones the ad's narrator. "Share the dream," says a young girl, who walks toward the viewer bearing a bright, glowing globe.
On a companion Web site, investors and tourists are invited to "a place where the universities, markets, cafes and fair grounds buzz with progress and prosperity."
Bayan Rahman, chairwoman of the corporation, said the ad campaign's purpose was "to raise awareness of the Kurdistan region among the grassroots of America, to make people aware that the Kurdistan region exists — some people still mix us up with Kyrgyzstan and Kazahkstan — and that the region is peaceful and stable, and we are rebuilding."
"There's a misperception of what northern Iraq is," said Sal Russo, president of the Russo, Marsh & Rogers ad agency, which created the ads. "This is going to be a long-term project, to educate Americans to the realities of the region."
Business and tourism
Under the new investment law, foreign investors have the same rights as Iraqi investors, with full ownership of their projects. Companies may transfer profits or income abroad without having to pay taxes or customs.

The law also gives foreign investors major incentives, including exemptions from all noncustoms taxes and duties for 10 years. Imported equipment, machinery, tools, parts and other expenses are now largely exempt from taxes.
Iraqi Kurdistan also hopes to increase tourism to its historical attractions — museums, castles, mosques and other architectural sites, some dating to the 12th century.
'An emerging market'
Several U.S. companies have paid a visit, including Ford, General Motors, Cummins, Motorola, Federal Express and DaimlerChrysler. Investors from the Middle East, including the United Arab Emirates, Kuwait and Lebanon, already are in the region. The leading British trade association, representing engineering, healthcare and oil production companies, also has visited.
The oil-rich north, the heart of Iraqi Kurdistan, is certainly an incentive for investment. The Kurdish government estimates the region has reserves of 45 billion barrels of oil, and at least 100 trillion cubic feet of natural gas. But some U.S. oil companies have been reluctant to invest in refineries there because of fears of sabotage or injuries to their workers.
"We are interested and they are interested," Shell Oil Co. president John Hofmeister said in July, of Shell's investment in the region, depending on safety for its employees. "We need those conditions in place to take it to the next level,"  he said. "It's too soon to make a judgment on how close we are. I suspect we could be a few years away."
"The Kurdistan region is secure," Rahman insists. "It doesn't mean we're immune from terrorist attacks but in terms of all-out civil war, there's no insurgency, there's no terrorism."
"Property prices are going up. People who invested a few years ago are doing very well," said Rahman, who is based in Iraqi Kurdistan. "Today we have five universities and soon we'll have six. Compare that with 1991, when we had one."
"People recognize that Kurdistan represents an emerging market," she said. "There are risks that go with that."
'A virtual oasis,' or not
Americans, Russo added, "haven't heard the story, the heroic story, of Iraqi Kurdistan. It's a virtual oasis in the middle of an area with pretty nasty neighbors."
But other observers don't buy such rosy scenarios. For them, the main obstacle to more U.S. investors is Iraqi Kurdistan's government and its history of corruption.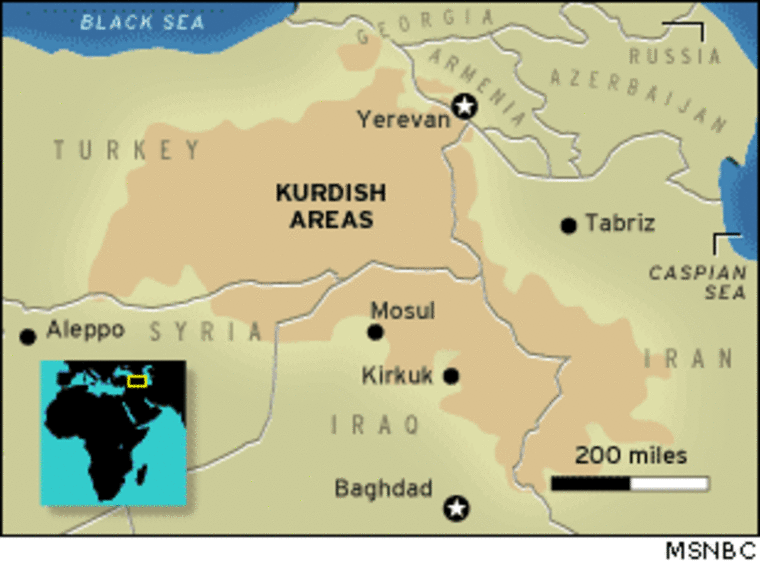 The region's government is controlled by the Barzani family, which includes President Massoud Barzani, who leads the ruling Iraqi Kurdistan Democratic Party, and Prime Minister Nechirvan Barzani. Both are descendants of Mustafa Barzani, who founded the party in 1946.
The rulers have been accused of using murder, torture and intimidation to solidify its hold on power. In 2005, mobs believed to be KDP sympathizers stormed the offices of another rival, the Kurdistan Islamic Union, killing some of that group's members.
Last October, the KDP's intelligence service, the Parastin, arrested and imprisoned a Kurdish journalist for writing articles critical of the government. The Parastin has also been blamed for arrests of other scholars and intellectuals for criticizing the Barzani dynasty.
On Sept. 1, Massoud Barzani banned all government offices from flying the Iraqi tricolor flag.
'The elephant in the room'
"In a lot of ways it's like a Mafia-run state," said Michael Rubin, a Middle East scholar with the American Enterprise Institute in Washington.
"Corruption is a huge problem in Kurdistan — it's the elephant in the room," he said. "That doesn't mean that foreign investment won't work out. Investors want a return on their money. Big businesses will want some protection from shenaningans in the ruling family. With foreign investments, the more the better. But there are still unresolved questions about the rule of law."
"It's sort of like investing in Chicago in the 1930's," Rubin said, comparing the region to the American city where organized crime once ran rampant. "It's not a capitalist paradise yet."