/ Source: The Associated Press
American journalist Paul Salopek returned home to New Mexico on Sunday, a day after being freed from prison in Sudan's war-torn Darfur region where he had been held for more than a month on espionage charges.
The Chicago Tribune journalist, who lives in Columbus, N.M., wore a slight smile as he got off a plane at the Albuquerque airport and later got big hugs from his wife and one of his editors.
Salopek, 44, was on assignment for National Geographic magazine when he was arrested Aug. 6 and accused of passing information illegally, writing "false news" and entering the African country without a visa.
Salopek said at a news conference that he initially intended only to travel to the Sudan-Chad border region, but made a last-minute decision to enter Darfur. He and his driver and interpreter were arrested within hours of entering Darfur, he said.
Salopek was accompanied by Gov. Bill Richardson, who went to Sudan on Friday to meet with President Omar al-Bashir and persuade him to release the journalist and his colleagues.
Salopek's Chadian driver, Idriss Abdulraham Anu, and his interpreter, Suleiman Abakar Moussa, also were released. They were en route to Chad on Sunday, said Don Belt, a senior editor at National Geographic.
Salopek's wife, Linda Lynch, and Chicago Tribune Editor Ann Marie Lipinski traveled with him from Darfur to New Mexico. Belt met the group in Albuquerque.
Lynch, who held her husband's hand during a news conference and smiled often at him, said she had been in the position of having to speak for him during his captivity.
"Today, to be able to watch him speak and be with him is inexpressibly joyful for me," Lynch said.
A judge in the North Darfur capital of el-Fasher released Salopek and his assistants after a 13-minute hearing Saturday.
'Conditions were good'
While in prison, Salopek said at the news conference, he saw daily protests against the United States and the United Nations.
However, "generally, the conditions were good" at the prison where all three were held in the same cell, he said. Families of inmates typically bring food to the jail, Salopek said. His group survived on assida, a starch-based porridge with red sauce and goat meat, that prison guards shared with them.
"I actually liked it," he said. "It was healthier than a lot of the junk food that I normally eat."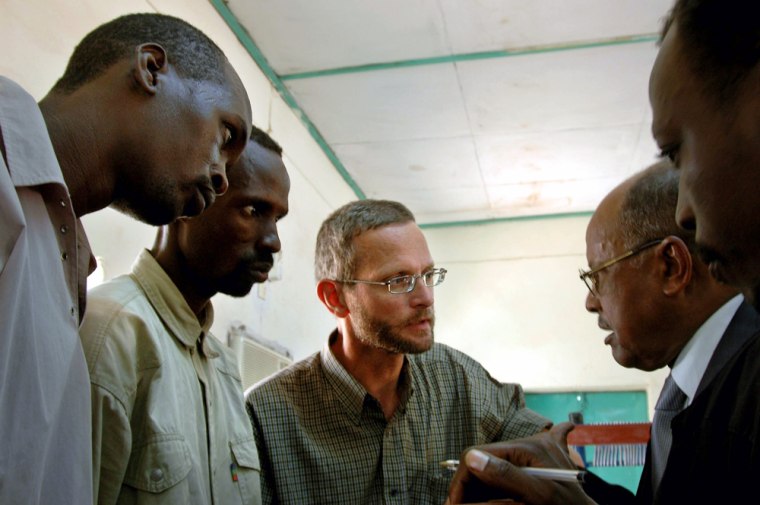 Salopek said he passed the time by playing chess with one guard and practicing Arabic with others, who wanted to practice their English with him.
Richardson — considered a possible contender for the Democratic nomination for president in 2008 — is a former congressman, U.N. ambassador and energy secretary during the Clinton administration.
Richardson has had a relationship with President al-Bashir and Sudan's ambassador to the United States, Khadir Haroun Ahmed, which dates back to 1996, the governor's office said. That year, Richardson helped get three Red Cross workers, including an Albuquerque pilot, released from Marxist rebels in Sudan.
The governor said Sunday that al-Bashir agreed to Salopek's release after a 40-minute conversation. "I think a good part of it was the relationship we had," Richardson said.
Salopek, who won Pulitzer Prizes in 2001 and in 1998, was working on an article about the people, culture and history of the sub-Saharan region known as the Sahel at the time of his arrest.
In his hometown of Columbus, in southwest New Mexico on the Mexican border, many of the 2,000 residents placed yellow ribbons on their front doors, the bank and public buildings in support of Salopek's release, said Martha Skinner, a former Columbus mayor.
Salopek said that after he visits Columbus, he plans to "make rounds in Chicago and Washington to rack up an enormous beer tab."