/ Source: The Associated Press
For the first time in decades, the Phoenix area went an entire summer without a single child drowning in a swimming pool — a remarkable feat in this often-broiling desert city full of backyard places in which to take a dip.
Swimming pool accidents are typically the biggest killer of children in Phoenix and its suburbs, claiming more lives than even car crashes. Last year, 22 children drowned, most of them in the summer, many of them after falling in. That is about average for the sprawling metropolitan area of 3.6 million people.
But since May 14, not one child has drowned in a pool, according to the Drowning Prevention Coalition of Central Arizona, a group run by parents and rescue workers. No one can seem to remember the last time Phoenix had a zero-drowning summer.
"Knock on wood. It's fantastic," said John Harrington, the group's president.
Preventive measures, and some luck
The achievement is being attributed to a number of preventive measures, many of them promoted by parents like Harrington who lost children to accidental drownings: a 1991 Arizona law that requires fences around pools; a Phoenix Fire Department program that has been providing free fences for the past three years; CPR and pool safety classes now offered in many cities; and public service campaigns that have made "Watch your kids around water" a mantra for parents.
"Good fortune has to be part of it," Phoenix Fire Chief Bob Khan said. "We've had a lot of pool submersions this year where people have gotten to them in time."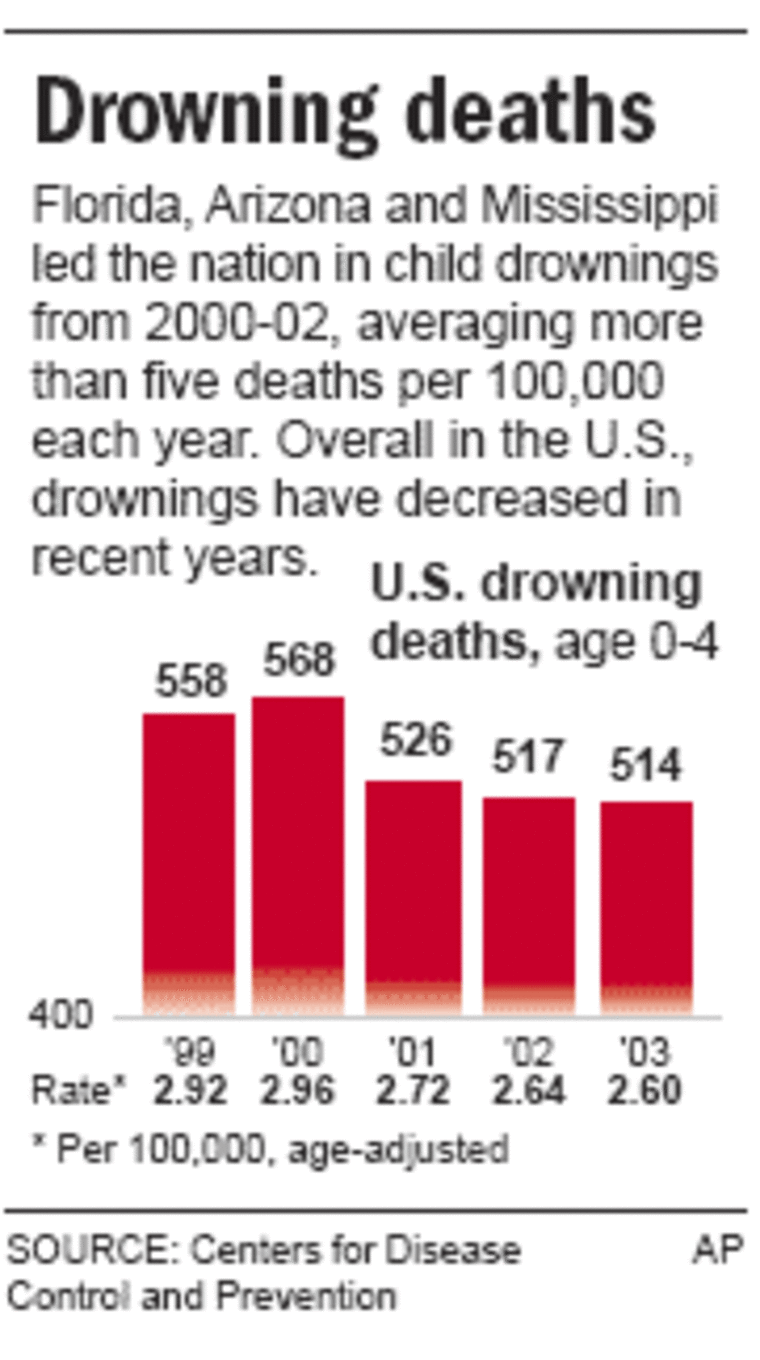 In a metropolitan area where the air sizzles from spring often until Halloween, so many youngsters have drowned over the years that police dispatchers developed a special whistle to alert rescue crews over the radio.
Scottsdale Fire Capt. Jim Novotny, who has been pulling kids from backyard pools for 24 years, got to know that trilling sound well, and recalled that in some years, there were multiple drowning calls in an hour.
"It was getting out of control," Novotny said. "You're just throwing your arms up. What can we do to make people more safe around water?"
For one man, it's personal
Harrington, a hospital administrator, helped found the coalition after his 18-month-old son Rex fell into the family pool and died in 1986.
"The baby sitter took my daughter in the house to get something to eat and left Rex out by the pool. By the time she got back out there, he was floating in the pool," said Harrington, 51. "It was the worst thing in my life. It consumed me. During that year, as typical with families, my wife developed a drug and alcohol problem. Then we got divorced."
Harrington said he couldn't stop asking questions about how he could have better protected his family: "Maybe we should have put a fence in. Maybe we should have done a better job picking a baby sitter. Should we have Rex take swim lessons?"
He helped organize consumer product safety officials, firefighters and emergency workers, and the coalition lobbied lawmakers and helped pass a rare state law requiring pool fences for households with young children.
It also helped develop safety products — including motion sensors that sound an alarm when someone falls into a pool — and works to educate people about pool safety.
Warm-weather states lead
Not surprisingly, warm states lead the nation in drownings: Florida, Arizona, Mississippi averaged more than five deaths per 100,000 people each year from 2000 to 2002, according to Dr. Tim Flood, a state Department of Health Services statistician who works with the coalition.
Without fail, Arizona ranks each year among the top states in per capita drownings among children 4 and under, Flood said.
"I've never seen a summer where we've not had several deaths in pools," Flood said. "If indeed we've gone through the whole summer without a pediatric death, that's very remarkable. Boy, I'd love to have this happen again."