/ Source: The Associated Press
Rep. Bob Ney, R-Ohio, pleaded guilty Friday to making false statements and conspiracy to commit fraud and violating post-employment restrictions for former congressional aides.
Ney abandonded months of defiant denials to admit guilt in the congressional corruption probe spawned by disgraced lobbyist Jack Abramoff.
Ney becomes the first lawmaker to admit wrongdoing in the election-year investigation.
Change of direction
Ney had consistently denied any wrongdoing in the investigation, an insistence that he maintained even after his former chief of staff pleaded guilty in May. The aide, Neil Volz, confessed to conspiring to corrupt the congressman and others with trips and other aid. Volz became a business partner of Abramoff after leaving the congressional payroll.
Ney had a unique power perch in the House when the year dawned, as chairman of the committee with jurisdiction over the internal workings of the 435-member House. Speaker Dennis Hastert pressured Ney into surrendering his committee chairmanship earlier this year as concern rippled through the GOP ranks about the Abramoff scandal.
Still, as recently as early summer, Ney said he intended to seek re-election in the sprawling, rural district in eastern Ohio he has represented since 1994. He changed his mind at the prodding of party leaders who feared the loss of his seat in November if he remained on the ballot.
Scandal has produced other confessions
While Ney would become the first member of Congress to plead guilty in the probe, a second lawmaker, Rep. William Jefferson, D-La., is at the center of a separate investigation involving alleged bribery. He has not been charged and denies all wrongdoing.
In addition to Abramoff and Volz, the scandal has produced guilty pleas by two former congressional aides to former House Majority Leader Tom DeLay. DeLay resigned from Congress earlier in the year. He has not been charged in the federal investigation, but is under indictment on state charges in Texas in a different case. He denied all wrongdoing.
Prosecutors also won a conviction in the Abramoff case against former White House official David Safavian, formerly the Bush administration's top procurement official.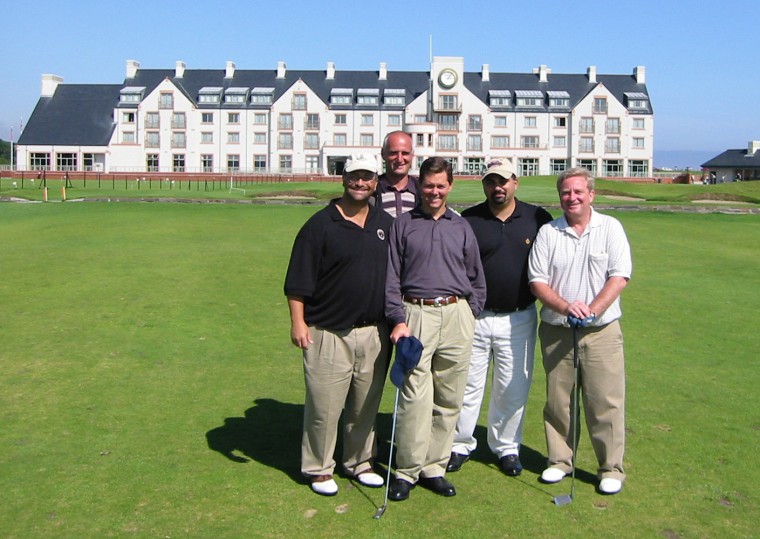 At Safavian's recent trial, prosecutors introduced a photograph of Ney and Abramoff standing next to a private jet that whisked them and other members to a golf outing in Scotland. Also in the photo were two of Ney's aides who went on the weeklong Abramoff-organized junket.
String of alleged favors
When Volz pleaded guilty in May, he listed 16 actions he said his old boss had taken on behalf of Abramoff's clients from January 2000 through April 2004. During that period, Abramoff and his lobbying team showered Ney with campaign donations, trips, meals at Abramoff's restaurant and tickets to sporting events and concerts.
In 2000, Ney read remarks into the Congressional Record helpful to Abramoff, who was trying to acquire a Florida casino cruise-ship company.
In 2002, Abramoff and Michael Scanlon, a former DeLay aide who has pleaded guilty in the scandal, promised an Indian tribe that Ney would champion legislation to reopen a tribal casino. When evidence surfaced that Abramoff had bilked the Indian tribe, Ney said, "How did I know what they were charging their clients?"
Ney said he supported the provision to help the Tigua Indian tribe of Texas reopen its casino after Abramoff told him that Sen. Christopher J. Dodd, D-Conn., supported the effort, which Dodd said he had no knowledge of. Ney said the Scotland golf trip had nothing to do with the tribal legislation.
Ney also met with Abramoff about a wireless contract for House office buildings, then awarded the contract to the company the lobbyist represented. The congressman said the award was based on merit through open competition.
Ney said he had been duped into helping Abramoff on both the tribal casino and the Florida deal, and that he was duped again about who paid for the Scotland trip. Abramoff denied misleading Ney.