/ Source: msnbc.com news services
Gov. Arnold Schwarzenegger on Wednesday signed into law a sweeping global warming initiative that imposes the nation's first cap on greenhouse gas emissions, saying the effort kicks off "a bold new era of environmental protection."
Standing on picturesque Treasure Island with San Francisco's skyline in the background, Schwarzenegger called the fight against global warming one of the most important issues of modern times.
"We simply must do everything we can in our power to slow down global warming before it is too late," Schwarzenegger said during an address before signing the bill.
Mayor Gavin Newsom and New York Gov. George Pataki, as well as Democratic legislators, joined Schwarzenegger for the ceremony. British Prime Minister Tony Blair, who struck a deal with Schwarzenegger over the summer to develop clean technologies, joined the ceremony via video link.
Blair called the bill-signing "a proud day for political leadership" and "a historic day for the rest of the world, as well."
California's efforts on global warming have been in the spotlight since Schwarzenegger and the state's legislative Democrats reached an accord last month on the Democrat-authored bill to cut greenhouse gases.
The negotiations culminated in the last week of the legislative session, handing the Republican governor a key victory during an election year in which he has sought to portray himself as a friend to the environment.
On Wednesday, Schwarzenegger called the bill signing a historic occasion.
"It will begin a bold new era of environmental protection in California that will change the course of history," he said.
He expected other states and even the Bush administration, which critics say has done little to curb the emissions that most scientists blame for warming the Earth, to follow.
"I'm convinced of that ... because nothing is more important than protecting our planet," he said.
At odds with Bush
California's Global Warming Solutions Act aims to cut greenhouse gases in the state to 1990 levels, or by about 25 percent, by 2020.
The move comes two years after the state imposed tight regulations on automobile tailpipe emissions, an initiative that is being challenged in federal court by automakers.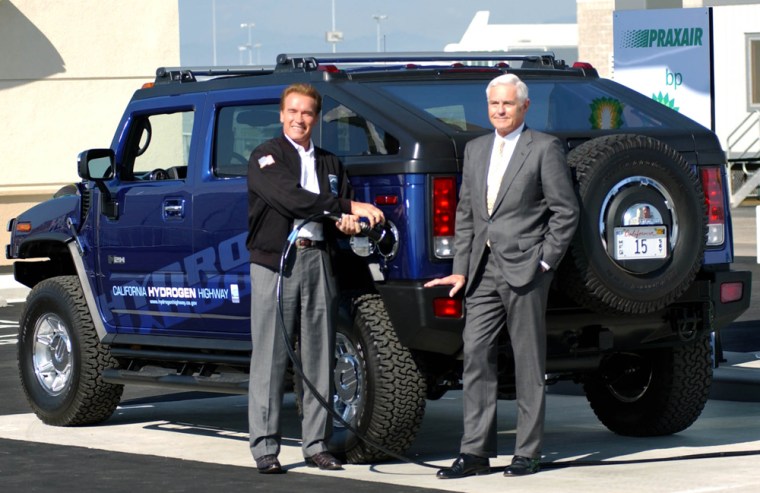 It also reflects the division between the state's celebrity Republican governor and the Republican administration of President Bush, who opposes mandatory caps and instead promotes voluntary steps and technology to reduce or capture emissions.
Schwarzenegger on Tuesday said the state will push for further industrial reductions and initiatives such as placing greater emphasis on renewable energy and hydrogen-fueled cars that reduce carbon emissions.
"We are trying to bring other people in and inspire them and work with them," he said in a telephone interview with The Associated Press. "We want to be in the forefront. California has always been known for that."
Environment and politics
Schwarzenegger's endorsement of the global warming issue has helped burnish his environmental credentials during a year in which he faces re-election against state treasurer Phil Angelides, the Democratic nominee who also has embraced the state cap.
A nonpartisan Public Policy Institute of California poll released Tuesday had Schwarzenegger leading Angelides 48 percent to 31 percent. The poll, a telephone survey of 1,091 likely voters conducted Sept. 13-20, has a margin of error of plus or minus 3 percentage points.
Schwarzenegger, a bodybuilder-turned-actor before becoming governor, used a personal metaphor to frame the goal of cutting the state's emissions to 1990 levels by 2020.
"In fitness, the field I come from, it's all part of goals. You step on the scales and say, 'I weigh 220 pounds; I want to get my body weight down to 200. Here's the plan and how to do it, and I'm going to check every day if I get there,"' Schwarzenegger said. "That's what we're trying to do here with the emissions (of) greenhouse gases."
The industrial emissions cap deal hammered out by Schwarzenegger and the state's legislative Democrats has been praised by environmentalists, but business leaders have warned that it will increase their costs and force them to scale back their California operations.
Schwarzenegger dismissed the criticism, citing a study by the University of California at Berkeley that estimates 89,000 jobs will be created as the state weans itself from fossil fuels.
"When you set goals, it makes other industries be innovative. They end up being innovative and creating new ways of solving problems, and that's what this is all about," Schwarzenegger said. "We feel very strongly we can do that and add jobs and make industries boom."
Many scientists believe greenhouse gases such as carbon dioxide, methane and nitrous oxide are trapping heat in the atmosphere, leading to a warming of the Earth. In turn, that threatens to alter weather patterns, shrink wildlife habitat and raise sea levels.
In California, the world's 12th largest producer of greenhouses gases, state reports have predicted that warming could lead to earlier melting of the Sierra snowpack, flooding in the Central Valley and the San Francisco Bay area, and changes in growing seasons for the country's largest agricultural producer. Climate change also could threaten the state's water supply.
Other plans and obstacles
If re-elected, Schwarzenegger said he would seek legislation to protect the state's coastline in the face of rising ocean levels. He also wants to shore up the state's vulnerable drinking water supplies by building more reservoirs.
But California's global warming strategy already faces legal hurdles. Federal lawsuits related to greenhouse gas issues involving California, Vermont and Massachusetts could threaten California's ability to meet its goals.
Earlier this week, a federal judge in Fresno ruled that a coalition of automakers could pursue its lawsuit against the state for forcing them to cut tailpipe emissions.
Even so, Massachusetts and 11 other states, including California, continue to challenge the Bush administration's decision not to regulate heat-trapping carbon dioxide as a pollutant. The case is before the U.S. Supreme Court.
"That is the idea — to let enough states join the movement that eventually the federal government will say, 'I think we should also join here.' I have great hope for that," Schwarzenegger said.
Three bills become law
On Tuesday, Schwarzenegger signed three bills also aimed at curtailing pollution contributing to global warming.
One of the bills requires California's investor-owned utilities to generate 20 percent of their electricity from renewable sources by 2010, instead of 2017 as previously required by state law.
The second bill requires the California Energy Commission to draft studies for capturing and storing carbon dioxide produced by industry, and the third bill would allow the state to consider making the acquisition of forest land a priority to help capture carbon dioxide.
"The science is clear. The global warming debate is over," Schwarzenegger said in a statement.