NBC News has obtained new images of Sept. 11 hijackers Mohammed Atta and Ziad Jarrah delivering what is apparently their last will and testament in Afghanistan on Jan. 18, 2000, as well as images of a rogue's gallery of other terrorists and senior al-Qaida leaders listening to a speech days earlier by Osama bin Laden at his Tarnak Farms compound in Afghanistan on Jan. 8, 2000.
The images were taken from a videotape the U.S. military recovered from an al-Qaida compound after the invasion of Afghanistan in late 2001.
Later Sunday, London's Sunday Times newspaper Web site posted five silent clips from the video. In what appears to be Atta's martyrdom tape, he is seen smiling into the camera and then reading a prepared speech in Arabic with a large rifle standing next to him. He has a beard and is wearing a zip-up sweater as he leans against a white background.
Jarrah, who flew the United flight 93 which crashed in Pennsylvania, is featured in a separate clip and seen talking into the camera as he leans against a white wall.
The newspaper quoted a "U.S. source" who was not identified as saying that lip readers had been unable to decipher what the men were saying.
The two men were also videoed talking together as they sit on a floor and discuss several handwritten sheets in Arabic. The Times said the footage was the first to show Atta and Jarrah together, and helped fill in a gap in the chronology of Atta's life.
In another clip, a group of men are seen sitting on the ground, laughing and talking. Several minutes later, bin Laden walks to the front of the group and gives a speech.

'A who's-who of al-Qaida'
The U.S. government's frame-by-frame analysis of the videotape identifies hijackers Atta and Jarrah in the large crowd at bin Laden's feet, along with Sept. 11 planner Ramzi Binalshibh. U.S. government analysts also identified al-Qaida commanders Abu Faraj al Libi and Saif al Adl in the crowd at bin Laden's Tarnak Farms compound on that same day, Jan. 8, 2000, according to the slides.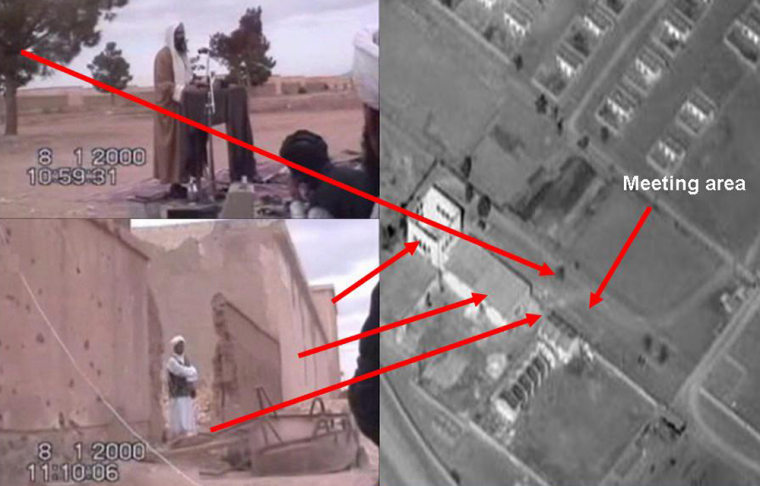 "The photos are a who's-who of al-Qaida, showing the breadth of the terror network and the long list of those responsible for recruiting, training, and indoctrinating the Sept. 11 hijackers," said NBC News terrorism analyst Evan Kohlmann, who helped NBC News obtain the photos.

Also seen in the group listening to bin Laden is Fahid Mohammed Ally Msalam, who was indicted for the 1998 East Africa embassy bombings.
Earlier, The Times reported that it obtained a copy of the videotape that is the original source for these still photos. The videotape was recorded without any audio, and FBI and Pentagon officials tell NBC News that they used Arabic linguists to try to lip-read the tape — especially the martyrdom speeches by Atta and Jarrah. The lip-reading effort was largely fruitless, the officials say.
Until now, investigators had not known where he had been in early 2000, but the tape shows he was in Afghanistan at bin Laden's Tarnak Farm hideout, the paper said.
The Sunday Times said it had obtained the video "through a previously tested channel" but gave no further details. NBC News filed a Freedom of Information Act request for the videotapes early this year, but the Pentagon has not yet turned them over.
'Saving it for a special occasion'
The Virginia-based IntelCenter, which monitors terrorism communications, said the video was likely raw footage that was to be used in a future video produced by al-Qaida's media arm, as-Sahab.
It pointed to a similar video released on the eve of the fifth anniversary of the Sept. 11 attacks this year, which was titled "Knowledge is For Acting Upon: The Manhattan Raid" and was stamped with the as-Sahab emblem.
That video showed bin Laden meeting with colleagues in a mountain camp believed to be in Afghanistan, and it included the last testament of two other Sept. 11 hijackers, Wail al-Shehri and Hamza al-Ghamdi.
All previously released 9/11 hijacker last wills have been released in this format, according to IntelCenter.
"A few years ago Osama bin Laden was asked about when he would release the last will of Mohammed Atta and he said that he was saving it for a special occasion. It is highly unlikely that al-Qaida wanted the material to be released in this manner and it is not consistent with any previous release," IntelCenter chief Ben Venzke said in an e-mailed statement, The Associated Press reported.