/ Source: The Associated Press
For about five years in the 1990s, the cigar industry luxuriated in a wild sales boom when celebrities and trendy 20-somethings decided that puffing imported, hand-rolled stogies was The Next Big Thing.
The bubble burst when the supply of quality tobacco couldn't keep up with demand. The market became flooded with inferior but pricey cigars hastily rolled with lower grade tobacco, as many of the poseurs and neophytes moved on to something else.
In the years since, the industry has enjoyed a quiet, steady climb. The bad product is mostly gone, the market settled and refined tobacco growing methods make "sticks" from the Dominican Republic, Nicaragua and Honduras every bit as good as those storied but forbidden Cuban stogies.
Cigars aren't selling like it's 1997, but nobody is complaining. Last year's sales were still more than triple the early 1990s pre-boom numbers, even though new laws keep adding places where smokers can't light up.
"There's never been a better time to be a cigar connoisseur," said David "Cigar Dave" Zeplowitz, whose Tampa-based radio show celebrating good smokes is heard in more than 100 markets and on satellite stations. "The cigar industry is vibrant, it's healthy, even though there are more restrictions on peoples' right to enjoy a cigar than ever before."
Norman Sharp, president of the Washington-based Cigar Association of America, said it's hard to tell how many people smoke cigars because for many it's just an occasional hobby. The industry tracks trends by looking at how many cigars are imported into the United States each year.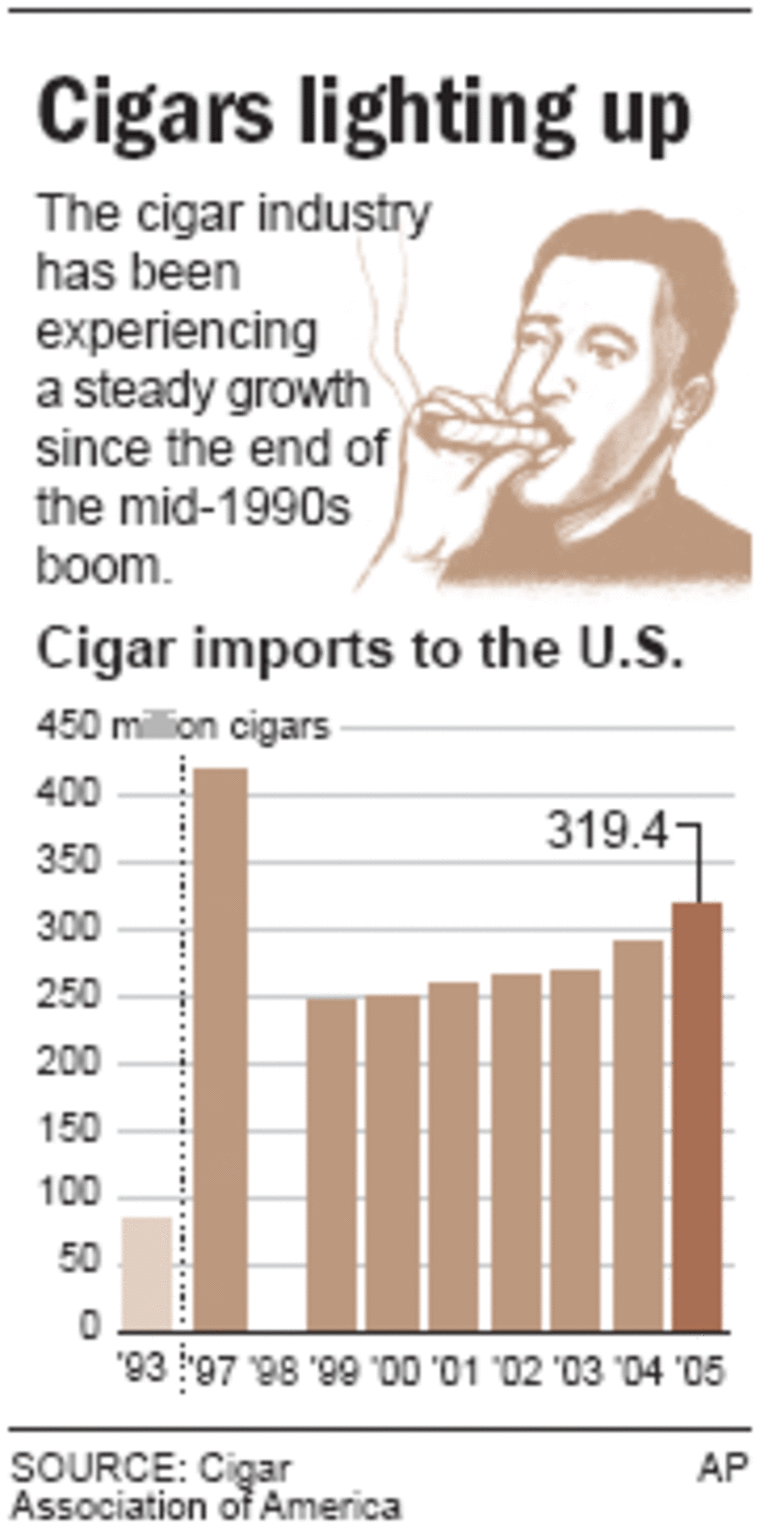 At the height of the boom in 1997, imports peaked at 417.8 million cigars, nearly five times more than in 1993, according to the cigar association.
After dropping to 248 million in 1999, the numbers started another upward turn. In 2005, imports had climbed to 319.4 million cigars, with another slight bump expected this year.
'More manageable growth'
"The increases are much more manageable than in the days of the boom when there was almost a craze aspect to it," Sharp said. "What we're seeing is much more manageable growth."
Cooper Gardiner, vice president of marketing for the General Cigar Co., the largest manufacturer of imported, handmade cigars in the United States, said there aren't huge numbers of new smokers like during the '90s, but he expects the industry to keep growing by a few percentage points a year if the tobacco supply can keep up.
"I think most people are happy," said Gardiner, whose company produces such popular brands as Cohiba, Macanudo, Punch and Hoyo de Monterrey. Another leader in the handmade cigar market, Fort Lauderdale-based Altadis USA, manufactures Don Diego, H. Upmann, Montecristo, Romeo y Julieta and other brands.
Zeplowitz said the cigar boom — he prefers to call it a "renaissance" — was so good for business because it introduced a lot of people to cigars who continued to smoke after others moved on.
Sharp said the boom also "spruced up" the cigar industry. Younger people were smoking, new makers entered the fray, a greater selection of sizes and shapes was introduced and packaging got more provocative, updating a fuddy-duddy image.
Profits generated during the boom allowed manufacturers to pay for new farming technology and other advances, resulting in superior cigars on the shelves today, said Gary Bahrenfus, manager of the landmark Edwards Pipe & Tobacco shop in Tampa.
"The product that we're smoking today is second to none," Bahrenfus said. "It's the very best tobacco that's ever been grown. It's got the most flavor, it's got the right texture. When you pick up a cigar, there's not a bad cigar."
Fine, hand-rolled cigars are readily available in the $3-to-$7 range, and "super premiums" and limited edition sticks can run $15 and up. Retailers say the average smoker of premium cigars lights up one to three a week.
The renewed interest in good smokes resonates in Tampa, whose early growth was spurred by the cigar industry when Cuban manufacturers began relocating here in the 1880s to escape political and labor unrest in their native land.
The big players
The east Tampa community — dubbed Ybor City after cigar magnate Vincent Martinez-Ybor — grew to more than 250 cigar factories with 30,000 employees. For 50 years the city was the cigar capital of the world.
Several notable cigar concerns still call Tampa home, including the Oliva Tobacco Co. — supplier of a good chunk of tobacco used in premium cigars sold around the world — and mail-order company Thompson Cigar, one of the largest cigar retailers in the United States.
Ybor City, now revitalized as an entertainment and tourist district, features specialty shops luring would-be smokers with artisans rolling cigars on the premises.
More cigars are being smoked these days, even as health officials warn against it. Cigar smokers who don't inhale are at a lower risk for lung cancer or heart disease but are still susceptible to cancers of the mouth, tongue and throat.
Zeplowitz, whose radio show also celebrates "cigar lifestyle" accouterments like good steaks, martinis and fine wines, doesn't want to hear it. He rails against the "pleasure police" and others who try to restrict his right to enjoy a good smoke.
"It's just like every other luxury product," he said. "People are enjoying them more than ever, but they are enjoying them in moderation."