/ Source: The Associated Press
Internet search leader Google is snapping up YouTube for $1.65 billion, brushing aside copyright concerns to seize a starring role in the online video revolution.
The all-stock deal announced Monday unites one of the Internet's marquee companies with one of its rapidly rising stars. It came just a few hours after YouTube unveiled three separate agreements with media companies to counter the threat of copyright-infringement lawsuits.
The price makes YouTube Inc., a still-unprofitable startup, by far the most expensive purchase made by Google during its eight-year history. Last year, Google spent $130.5 million buying a total of 15 small companies.
Although some cynics have questioned YouTube's staying power, Google is betting that the popular video-sharing site will provide it an increasingly lucrative marketing hub as more viewers and advertisers migrate from television to the Internet.
"This is the next step in the evolution of the Internet," Google Chief Executive Officer Eric Schmidt said during a conference call Monday.
YouTube will continue to retain its brand, its new headquarters in San Bruno and all 67 employees, including co-founders Chad Hurley and Steve Chen. Meanwhile, Google will continue to run a less popular video service on its own site.
The deal is expected to close before the end of the year.
"I'm confident that with this partnership we'll have the flexibility and resources needed to pursue our goal of building the next-generation platform for serving media worldwide," said Hurley, YouTube's 29-year-old CEO.
Schmidt thinks so highly of Hurley and Chen, 27, that he compared them to Google's now 33-year-old co-founders, Sergey Brin and Larry Page.
Brin sees the similarities too. "It's hard to imagine a better fit with another company," Brin said during Monday's conference call. "This really reminds me of Google just a few short years ago."
The two companies even share a common financial bond: Sequoia Capital, an early Google investor that owns a roughly 30 percent stake in YouTube. Menlo Park-based Sequoia remains a major Google shareholder and retains a seat on the company's board — factors that might have helped the deal come together after just a week of negotiation.
YouTube has drawn less flattering comparisons to the original Napster, the once-popular music sharing service that was buried in an avalanche of copyright infringement lawsuits filed by incensed music companies and artists.
While most videos posted on YouTube are homemade, the site also features volumes of copyrighted material — a problem that has caused some critics to predict the startup eventually would be sued into oblivion.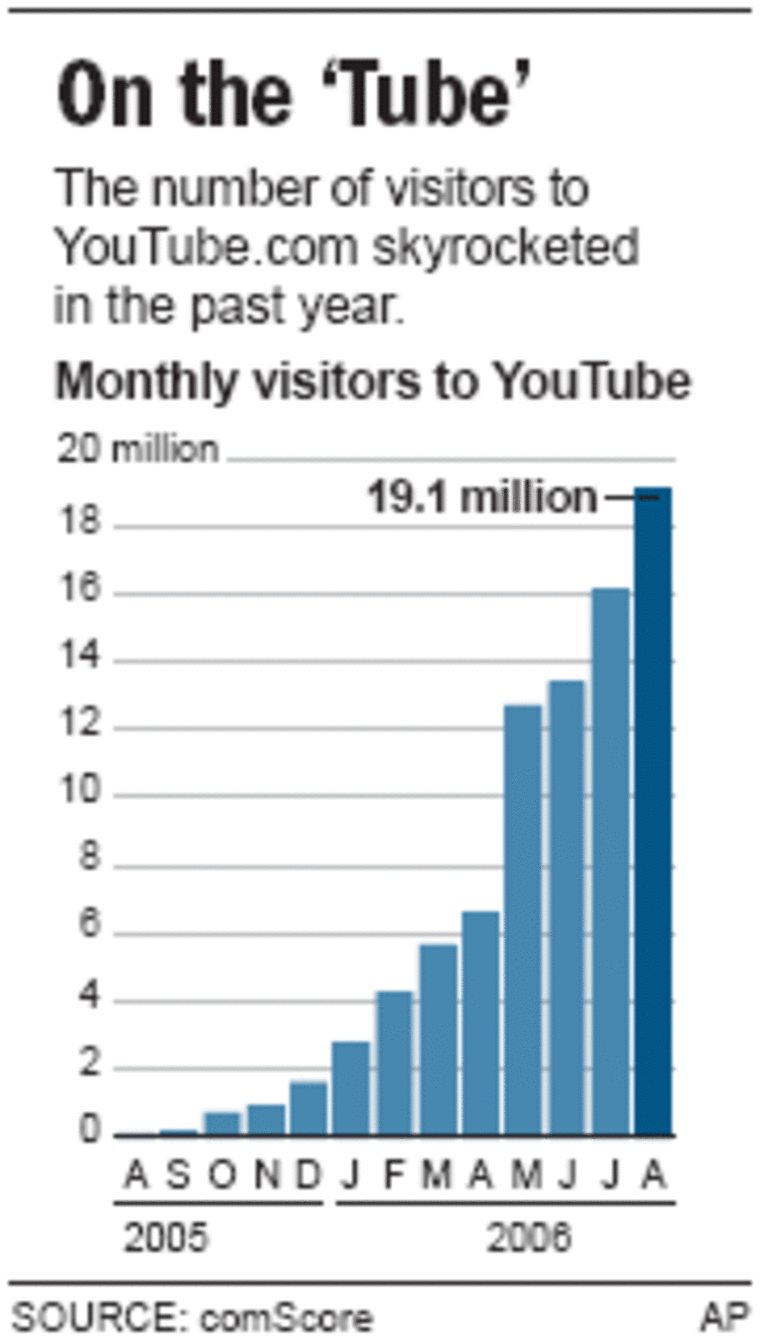 But Hurley and Chen have spent months cozying up with major media executives in an effort to convince them that YouTube could help them make more money by helping them connect with the growing number of people who spend most of their free time on the Internet.
As its negotiations with Google appeared to be near fruition, YouTube on Monday announced new partnerships with Universal Music Group, CBS Corp. and Sony BMG Music Entertainment. Those alliances followed a similar arrangement announced last month with Warner Music Group Inc.
The truce with Universal represented a particularly significant breakthrough because the world's largest record company had threatened to sue YouTube for copyright infringement less than a month ago.
While Google has been hauling away huge profits from the booming search market, it hasn't been able to become a major player in online video.
That should change now, predicted Forrester Research analyst Charlene Li. "This gives Google the video play they have been looking for and gives them a great opportunity to redefine how advertising is done," she said.
Investors applauded the possible acquisition as Google Inc. shares climbed $8.50 to close at $429 on the Nasdaq Stock Market, then added another $3.11 in extended trading.
Several other suitors, including Microsoft Corp., Yahoo Inc. and News Corp., reportedly have discussed a possible YouTube purchase in recent weeks.
(MSNBC.com is a joint venture of Microsoft and NBC Universal News.)
"This deal looks pretty compelling for Google," said Standard & Poor's analyst Scott Kessler. "Google has been doing a lot of things right, but they are not sitting on their laurels."
Google's YouTube coup may intensify the pressure on Yahoo to make its own splash by buying Facebook.com, the Internet's second most popular social-networking site. Yahoo has reportedly offered as much as $1 billion for Palo Alto-based Facebook during months of sporadic talks.
"Yahoo really needs to step up and do something," said Roger Aguinaldo, an investment banker who also publishes a dealmaking newsletter called the M&A Advisor. "They are becoming less relevant and looking less innovative with each passing day."
Selling to Mountain View-based Google will give YouTube more technological muscle and advertising know-how, as well as generate a staggering windfall for a company that was running on credit card debt just 20 months ago.
To conserve money as it subsisted on $11.5 million in venture capital, YouTube had been based in an austere office above a San Mateo pizzeria until recently moving to more spacious quarters in a neighboring city.
Since the company started in Hurley's garage in February 2005, YouTube has blossomed into a cultural touchstone that shows more than 100 million video clips per day. The video library is eclectic, featuring everything from teenagers goofing off in their rooms to William Shatner singing "Rocket Man" during a 1970s TV show. Most clips are submitted by users.
YouTube's worldwide audience was 72.1 million by August, up from 2.8 million a year earlier, according to comScore Media Metrix.
Li and Kessler expect even more media companies will be lining up to do business with YouTube now that Google owns it.
"It's going to be like, 'You can either fight us or you can make money with us,"' Li predicted.