On a gorgeous August morning, Tom Stempien eases his boat along the canal behind his lakefront home. His wife Carol stays behind — unable to bear the thought of ever venturing onto the water again.
One year after their youngest daughter disappeared on a boating trip, the Stempiens no longer find any joy on this lake they once loved.  They're selling their boat and all they want now is to find out what went wrong.
Tom Stempien, Lana Stempien's father: I'm gonna find out the truth, and believe me, trust me, I'm gonna do it.
Was it an accident? Or was it murder?  Do the elusive clues still lie somewhere beneath these waters, beyond the scope of police divers?
It's a tragedy that revolves around a vibrant young beauty in the prime of her life.
Dick Bell, owner of one of Lana's favorite bars: She was stunning. Absolutely beautiful. She lit up the roomAndrew Jarvis, Lana's friend: She had a real effervescent personality. You wouldn't forget her, that's for sure
There was just something about Lana Stempien. The tall blonde started modeling after high school, and spent 6 years traveling the country as an autoshow model.
But Lana always had ambitions to do more—and went on to become the first lawyer in her family, with a successful career as an attorney for the city of Detroit.
Chris Hansen, Dateline correspondent: How did men react when she'd walk into a place?Tammy Swanson, Lana's cousin: Oh, they'd fall all over her. I don't think she ever paid for a drink when we had gone out.
Still, Tammy Swanson, Lana's first cousin and one of her best friends, says Lana's charm wasn't really about beauty or brains— it had more to do with her radiant, free spirit, one that frequently caused her to unabashedly burst into song.
Hansen: And what kind of singer was she?Swanson: Terrible! (laughs). It would be off-key, never on key. It didn't matter. She would get everybody, wherever we were—dancing and singing.
At 35 years old, Lana still seemed to be having too much fun to settle down, but two years ago when she started dating Chuck Rutherford, there were signs that might change.
The 34-year-old attorney, who was the son of a prominent Michigan lawyer, had worked at the Detroit prosecutor's office, then gone on to start his own practice.
Hansen: What was your first impression when you met Chuck?Tom Stempien, Lana's father: I liked him, yeah. I thought he was a pretty good guy.Hansen:  Fathers have a sixth sense when it comes to guys dating their daughter. You know, when somebody is full of it.Tom Stempien: Right.Hansen: Did you sense any of that about Chuck?Tom Stempien: No, no I didn't.
After dating for a year, the young couple moved in together, sharing a s modest suburban house.
And even casual observers like Dick Bell, who owned a favorite after work haunt of Lana's, could see Chuck was smitten.
Bell: He was fawning all over her and very attentive to her. It was kind of close that way.
Pat Koczara, Lana's aunt and godmother, remembers an especially tender moment at her daughter's wedding in Bermuda.
Pat Koczara, Lana's aunt and godmother: All of a sudden, he came up to me and he said, "I really love your niece."  And I just thought that was so sweet because I think I just met him.
Loving Lana also meant loving the water. Tom Stempien is a former U.S Coast Guard officer and his daughters were always water babies. Lana was water skiing at the age of three, and skillfully navigating a boat before she was a teen.
Tom Stempien: When she was I'd say ten years old, I used to let her drive the boat like out in the middle of the lake.Hansen:  At 10 years old?Tom Stempien:  At ten years old.Hansen: She had a knack for it?Tom Stempien: Oh yeah. At times I said 'You're so good with this boat, you ought to join the Coast Guard!  (laughs)
Four years ago, Lana purchased a 27-foot Wellcraft cabin cruiser she named "Sea's Life."  Though Chuck wasn't a boater himself, he seemed happy to spend time on the boat, and was even learning to drive it.  During their romance, the couple took "Sea's Life" out almost every weekend, and last August, they decided to take a romantic boating vacation on Lake Huron.
On Wednesday, August 10th, 2005  Lana launched her boat from her parent's house here in Belle River, Canada,  across from Detroit  — something the experienced skipper had done hundreds of times before. She and Chuck were heading to Mackinac Island, a summer destination in northern Michigan.
But what started as a fun adventure would soon turn into a mystery, an investigation and a list of unanswered questions.
The two day trip was to take Lana and Chuck up the St. Clair River and into the vast waters of Lake Huron. From there, they would pass Michigan's thumb area, then stick close to the state's eastern shore all the way up to the straits of Mackinac.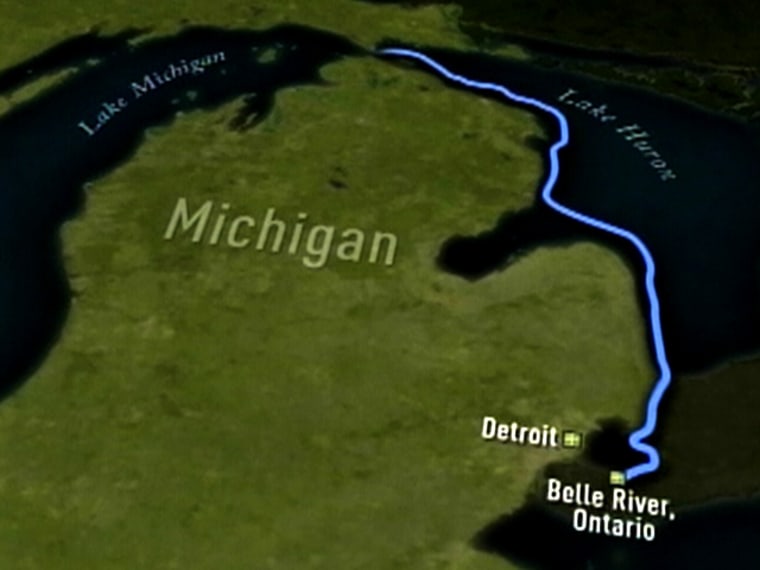 Hansen: Did you have any concerns about her taking the boat up to Mackinac Island?Tom Stempien: No, no.Hansen: That's a big trip though, in big water.Tom Stempien: Yeah, right.Hansen: You have some big seas up there.Tom Stempien: Yeah, I figured she could handle it.
At 9 a.m. that day, Tom walked his daughter and Chuck out to the canal where she kept her boat and hugged them both goodbye.
Tom Stempien: Chuck said to me 'Well, wherever we stop at night, I'll give you a call.'  I said 'I wish you would.'
Urging his daughter to be careful, the former coast guard officer couldn't resist asking if she had all her life safety cushions on board.
Tom Stempien: "You and Chuck know what to do with those if you ever run into a problem'. You got all the safety equipment on the boat: flare gun, GPS , ship to shore radio— use it." She just smiled and said "I know dad."
As Tom Stempien watched his daughter pull out, the smiling skipper turned to make her dad one last promise.
Tom Stempien: "Dad, I'll be back Tuesday," cause I was having an operation.Hansen: You were going to have heart surgery, and she wanted to make sure she was gonna be back to be present for that?Tom Stempien: Right.
Sadly, it was a promise Lana wouldn't be able to keep.
Tom Stempien, Lana's father: We kept calling and calling and calling on her cell phone, calling Chuck's phone.
It was Friday, August 12th and for the first time since his daughter Lana and her boyfriend Chuck Rutherford had set out on a boating trip, Tom Stempien felt the deep pangs of parental worry. It had been almost 24 hours since he'd heard from his daughter.
Tom Stempien: I said, "We better call the Coast Guard, something's wrong."
Until then, Lana's dad had no reason to be concerned. Just as they'd promised, Lana and Chuck had been checking in with her parents every day. 
On Wednesday, they called from a marina in Oscoda, where they'd stopped to tie up for the night.
And on Thursday, Lana called home just before noon.
Tom Stempien: She says "Everything's going good, dad." I should be up in Mackinac in about two or three hours." I said "Good." I said "Boy, you're making good time."
It would be the last time Tom Stempien talked to his daughter.
As he'd later learn, half an hour after making that call, Lana and Chuck stopped here in Presque Isle to gas up. 
And at 1:44 p.m., the last time anyone in Lana's family would hear from her, she made a chatty, 14-minute call to her Aunt Pat in Florida.
Pat Koczara, Lana's aunt and godmother: She was in very good spirits. I didn't hear anything wrong in her voice.
But sometime between that phone call and 10 o'clock Friday morning, something did go terribly wrong.
Boater Tom Behan was on the lake that morning, struggling against the powerful winds and high waves that had come in with a late night storm—and he was stunned to spot a boat much smaller than his battling the turbulent water.
Tom Behan, boater on the lake that morning: The boat was bobbing around like a cork.  I made a remark that "boy, that guy, there's a brave soul out here in that size boat in a five foot sea." I said, "I think the boat's in trouble!"
Behan called the Coast Guard. 
Jim Renkes, St. Ignace Coast Guard: We tried to use our loud hailer to see if we could get any sign of people on board the boat. The boat was empty. There was nobody on it.
It was "Sea's Life"—Lana's boat.
And not only was her boat abandoned, it was way off course , the engine idling in neutral, the stereo still playing, just adrift in the middle of the lake.
Renkes: That's where we found the boat: in just open water.
When Lana's dad got the news, his heart sank.
Tom Stempien: Oh. I says "You found the boat and nobody on it? Oh my god, I used to tell her 'don't leave the vessel unless it's on fire or it's sinking.'"
What had happened to Lana and Chuck?  The Coast Guard launched a massive search and rescue effort that spanned some 1600 square miles, but 26 hours later, they called off the search: there was no sign of the missing couple anywhere.
Lana's cousin Tammy got the call from another cousin.
Tammy Swanson, Lana's cousin: She didn't even say hello. She just said "Lana's missing."Chris Hansen, Dateline correspondent: Lana's missing?Swanson:  Right. I said, "I just left her a message. What do you mean 'she's missing'?"
Stunned, Lana's large, close-knit family jumped into action. Within hours they had converged from all over the state  ... plastering the area with these flyers and combing the lake in rented airplanes, helicopters, even jet skis.
Hansen: At first did you hold out hope that maybe Lana and Chuck would be found alive?Chris Crowley, Lana's cousin: Oh that's all we were thinking about. We were completely thinking search and rescue.Hansen: You figured they were clinging onto some life jacket, life ring…Crowley:  Absolutely.Swanson: We figured, 'They had to be out there somewhere. They've gotta be on an island somewhere.'
Detective Sergeant Robin Sexton of the Michigan State Police had a missing persons case on his hands  and after inspecting Lana's boat with three other troopers, there were very few clues about why the young couple had seemingly vanished.
Hansen: Was there anything on board the boat that indicated foul play?Detective Sergeant Robin Sexton, Michigan State Police: Nothing. It appeared that somebody just walked off the boat. There was nothing untoward or unusual about the boat condition at allHansen: Any signs of a struggle?Det. Sexton: Nothing.Hansen: Obvious signs of blood?Det. Sexton: Nothing. No damage to the boat, things that may have been considered of value were still there. Money was in the wallet. Clothes were laying on the deck.  [There was] nothing unusual. The natural assumption is they drowned.
Could the couple simply have gone for a swim and somehow drifted dangerously far from the boat? 
The mere suggestion makes Tom Stempien bristle.
Tom Stempien: There is no way that she just jumped off that boat. I know that for a fact. Lana knew, the first thing you do is throw the anchor out, then you jump in the water. But you don't jump in the water and then swim after the boat.
Whatever went wrong, Lana's family was convinced it didn't start with a casual dip in the lake.
The day before "Sea's Life" was discovered, the water in Lake Huron had only been about 65 degrees. Another boater remembers the couple was bundled up in sweatshirts when they pulled out of the marina that morning. And, when Lana called her aunt a few hours later, she hardly sounded like she was ready to dive in for a swim.
Pat Koczara, Lana's aunt: She said 'We were hoping to get an early start, we wanted to avoid the rough water.' She says 'but it didn't work out that way.' So I got the impression that the water was very rough.
What's more, when "Sea's Life" was found, the swim ladder was still up—not down as you'd expect it to be if someone had gone for a swim.
But if the couple had somehow ended up in the water, Lana's family held onto the hope that their strong swimming skills would keep them alive.
Koczara: Both her and Chuck were excellent swimmers. At the wedding in Bermuda, we watched them tread water for maybe 20 minutes to 30 minutes and I had that in my mind.
By August 16th, that hope began to fade.  It was Tuesday, the day Lana had promised her dad she'd be home, the day she planned to be by his side as he underwent heart surgery.
Swanson: She wouldn't have missed it. If she was somewhere, she would've made that phone call saying "I'm okay."  She didn't call.
Then, on August 24th, exactly two weeks after Lana and Chuck set out on their trip, Beverly Wheaton spotted a strange shape on this rocky shoal.
Beverly Wheaton: I was sitting at the picnic table and looking out and saw something—an object that seemed out of place.
It was Lana. 
Tom Stempien: That was… that was a shocker. Crowley: We were crushed. We were convinced that we'd find her and we were gonna find her alive.Swanson: Nobody could stop crying. There was a sense of "She's home." We could have a funeral for her. We could try and grieve for her. We could put her to rest.Hansen: But it must have been just profoundly sad to have this reality hit home.Swanson: She's really gone. She's really not coming home.
When Lana Stempien's body was discovered, she was wearing nothing but a necklace, a ring and her treasured Omega watch. 
Chris Hansen, Dateline correspondent: Did it disturb you that she was found unclothed?Tammy Swanson, Lana's cousin: Very disturbing. Why was she naked? 
Were Lana and her boyfriend Chuck just enjoying a romantic skinny dip when something went tragically wrong?   
Detective Robin Sexton calls it a plausible theory, but it's another theory Lana's family angrily rejects.
Tom Stempien, Lana's father: Sexton said to me 'Well, you know, people go skinny dipping.' I said, '68 degree water?' I said, 'I don't think so.'Hansen:  But they wouldn't be the first couple in the history of boating to go for a skinny dip and have the boat get away from them.Tom Stempien: If Lana would have went skinny dipping, she would have thrown the anchor out.And on the bow, all she had to do is pull a pin and the anchor would have gone down in the water.
Then there's Lana's jewelry: her family insists she always removed it before swimming and habitually put it in exactly the same place.
Swanson: She would have put her rings through the watch clasp and put it through the steering wheel.Hansen: She did the same thing every time?Swanson: Yes.Hansen: Took the rings off, took the watch off, put it on the steering wheel.Swanson: So why was her jewelry still on?
What's more, Lana's Omega watch, which sells for $1,500, was a treasured gift from an old boyfriend. And, she'd just spent $300 to have it cleaned and re-sealed.
Swanson: It was a very precious piece of jewelry to her.Hansen: Does it make sense to you that she would go into the water voluntarily with this prized possession?Chris Crowley, Lana's cousin: Not at all, she wouldn't do it.
But what about drinking?  Police found an empty bottle of vodka on Lana's boat, raising the question of whether the young couple had just been partying too much and become careless.
Tom Stempien says as much as his fun-loving daughter was known to enjoy a good party and a few drinks, she never had a drink until she was safely on shore.
Tom Stempien: No. she would never drink when she was running the boat. Never.
It would be months before a toxicology report would reveal what, if anything, was in Lana's system. But the initial state autopsy concluded the cause of Lana's death was drowning—and with no obvious signs of trauma, the official report lists the manner of death as "accident."
Det. Robin Sexton, Michigan State Police: It gives appearance of being a boating accident. We have questions, but right now, there is no definitive evidence that there's foul play involved here.Hansen: Can you rule out foul play?Det. Sexton: No, we cannot.
Without hard evidence, Detective Sexton has always cautioned that any talk of foul play is pure speculation. But Lana's father has always believed there's something suspicious about his daughter's death.
Hansen: Did you think foul play right from the get go?Tom Stempien: Oh yeah, oh yeah. I personally don't think it was just an accident.
One person who agrees is Jack Cote, an attorney who specializes in maritime mysteries and is working with the Stempien family.
Jack Cote, attorney working with the Stempien family: The possibility of foul play in my mind is at least 50/50 if not higher.Hansen: The autopsy showed no obvious signs of trauma. Does that rule out foul play?Cote: No. because you can have an absence of trauma and still drown.Hansen: Pushed overboard?Cote: Yes.
Both Cote and Lana's family believe one of the most intriguing clues is Lana's size 8 and a half New Balance running shoe, found lying on her boat with a knob from the boat's GPS bracket strangely wedged in the sole.
Swanson: That was very odd. The Coast Guard told us that the only way that the knob could have been embedded in her shoe was with force.Hansen: Does that indicate to you that there was some sort of struggle on board this boat?Swanson: That there was something.Hansen: Something out of the ordinary.Swanson: Something out of the ordinary, something happened.
Then there are the mysterious fenders, which boaters use for protection when they tie up to a dock or another boat.
Tom Behan, the boater who called the Coast Guard after spotting "Sea's Life," was disturbed by a pair of blue fenders, oddly tied together dragging from a line behind Lana's boat.
Tom Behan, saw "Sea's Life": Probably 30 to 50 feet away from the boat—which was immediate suspect to me. Why is this line hanging off the back of the boat?  As a safe boater, you don't ever allow that to happen.
The fenders are especially troubling to Lana's family because they say hers were white. She never owned any blue ones.
Hansen: How can you be so sure that she didn't purchase these?Swanson:  'Cause I myself called different marine stores and have printouts of what she purchased, and that was not something she'd ever purchased.Hansen:  No blue fenders?   Swanson: No.Cote: If they didn't buy them, who tied to them to their boat? The only explanation is some third party.
Was another boat tied up to "Sea's Life"? And if it was, who was on it—and why were they there?
Cote: The possibility of foul play is very high on the agenda.
What's even more disturbing to Lana's family is her GPS.  At 1:22 a.m., some 12 hours after anyone heard from Lana and Chuck --  police say someone appears to have activated the tracking device.
Det. Sexton: We had no idea what was going on. It appeared the track started at that time in the morning for no apparent reason.Crowley: It's very puzzling, very peculiar for no-one to have seen them and for nearly 12 hours to go by, and then for the GPS to be turned on is just not explainable.
Was someone on board Lana's boat in the middle of the night, tampering with the tracking device in the darkness?
Adding to the mystery, Dateline has learned that part of the memory on the GPS was suspiciously blank.  Because it's difficult to accidentally erase information, experts say that could mean someone intentionally deleted the data—perhaps in an effort to cover the boat's whereabouts.
Hansen: It's possible that somebody was messing around with this GPS, deleting information ?Det. Sexton: I guess it's possible.
Detective Sexton, who had the GPS analyzed by the FBI, says he isn't prepared to make any conclusions about it. 
But Andrew Jarvis, a friend of Lana's who worked with her in the Detroit law department, and is now the Stempien's attorney, believes the missing information is highly suspect.
Andrew Jarvis, Lana's friend, now-Stempien family attorney: To me that GPS unit is the key to what happened.
Jarvis asked a technician who's made minor repairs on Lana's GPS in the past to analyze the data from Lana and Chuck's trip  and says the technician concluded there's only one way to explain the missing data.
Jarvis: There is no other explanation other than somebody physically erased that information—somebody who didn't want anybody to know where that boat had been.
But who would do that, and why?  Why was the knob embedded in Lana's shoe? Where did those blue fenders come from?
And why was Lana naked except for the jewelry she always took off before swimming?
Lingering— and disturbing— questions.
It was a deepening mystery with one particularly troubling question:  Where was Chuck?
Three months after Lana and Chuck disappeared, there was a surprising development:  Lana's toxicology report revealed she had an elevated level of carbon monoxide in her system when she drowned.
Exhaust from boat engines contains the highly toxic, odorless gas.
Despite all the troubling questions surrounding her death, could this be the answer?  Was the couple simply swimming dangerously close to her boat's exhaust?
Tom Stempien, Lana's father: That was BS.Tammy Swanson, Lana's cousin: I don't know who would swim with the motor running. You shut if off.Hansen: So if she was in the water voluntarily, she would have shut the boat off.Swanson: Absolutely.
Could carbon monoxide have somehow leaked into the boat's cabin, overcoming the couple?
Lana's family says if her boat was releasing dangerous levels of odorless gas, they would know.  After police returned "Sea's Life" to them, they actually used it to search the lake.
Hansen: Did anybody feel dizzy, sick, nauseous?Chris Crowley, Lana's cousin:  No. We didn't experience any problems and some of my cousins and friends spent days on the boat.
The toxicology report revealed something else:  there were only negligible levels of alcohol in Lana's system, eliminating the theory that Lana and Chuck were partying and accidentally fell overboard.
For Lana's dad, it was just more reason to suspect foul play.
Tom Stempien: There's a rat in the woodpile, there's something happened here.
But if foul play was involved, who would harm two successful young attorneys enjoying a boating trip?  Speculation has run the gamut from wild theories like pirates, or a mafia hit—to the possibility the couple had a disagreement with someone on shore that somehow turned ugly.
Tom Stempien: Had an argument out there at the marina and followed them out and did away with them? I don't know.
But where was Chuck? 14 months after he and Lana disappeared, there is still no sign of him anywhere.
Jack Cote, attorney working with the Stempien family: I would have expected his body to have surfaced at about the same time and in the same general vicinity as Lana's.Hansen: Do you see it as at all strange that Lana's body is found two weeks after the incident, yet all these months later we still haven't found chuck's body?Det. Robin Sexton, Michigan police department: It is not unheard of for bodies to enter the water and never be recovered.
Michigan state police divers have scoured Lake Huron repeatedly for Chuck's body, but they say searching this vast lake, with depths of up to 300 feet, is a challenge.
Det. Sgt. Larry Schloegl, Michigan state police: You're looking at 22 miles across—  I don't think some people realize the amount of the search area that we have here.
Still, Lana's family is increasingly haunted by the question of what happened to Chuck Rutherford.
Hansen: Here we are, a year later —Tom Stempien:  No Chuck. I keep asking myself, praying to the Lord 'Where is he? Bring him to me,' you know.
Chuck's family has never spoken to the media, and has declined repeated requests by Dateline for either an interview or statement. But Detective Sexton says the family just wants privacy.
Det. Sexton: They want answers to the questions just like the Stempiens do.
Patrick Quinlan, a college buddy of Chuck's who's kept in touch with him over the years, says Chuck's friends are still in shock.
Patrick Quinlan, friend of Chuck's: It's just bizarre to have a buddy just disappear.
Bizarre... and to some people, suspicious.
But Chuck's college pal is angered by suggestions that because he's still missing, Chuck was somehow involved in Lana's death.
Hansen: Do you think there's a possibility that Chuck is still alive?Quinlan: Nah.Hansen: That he had something to do with Lana's death and somehow was able to get off the boat?Quinlan: He's not a violent, hot-tempered person.
One thing that has emerged since Chuck and Lana disappeared is that their relationship seemed to be in trouble.
Andrew Jarvis, the attorney for Lana's family, has taken sworn statements from her friends and other witnesses describing outbursts of anger and jealousy by Chuck.  In one incident at this bar, they say Chuck was so drunk and verbally abusive to Lana, he had to be forcibly escorted outside by two police officers.
And just two months before Lana disappeared, another man says he saw the couple having a violent argument outside this restaurant.  He contacted police after recognizing Lana and Chuck on television
Reggie Grimmet:  He was trying to force her into the vehicle as he was hitting her. This man was really, really out of control and crazy.
Lana's friends say she'd become frightened by Chuck's outbursts  and shortly before her fateful boating trip, she made a troubling comment after watching a television story about the murder of Laci Peterson.
Andrew Jarvis, Lana's  friend and now-Stempien laywer: "If anything happens to me or I disappear, Chuck would be a person of interest."Tom Stempien: I didn't know. Had I known before, he'd of been a "person of interest" with me, guaranteed.
Lana's dad says he only learned about Chuck's behavior after his daughter died.
Hansen: Did you ever have any indication at all that he mistreated your daughter in any way?Tom Stempien:  No.Hansen: No sense that he had a dark side?Tom Stempien:  No. If she would have told me all the things that I've heard, he never would have been on that boat.
Is it possible there was some kind of heated domestic dispute on board "Sea's Life"?
As Dateline first reported in January, the last time Lana used her phone before she disappeared, she was leaving a message for another man, a man friends say Chuck had been jealous of in the past.
And now, Dateline has obtained a recording of that message:
Lake Huron, heading to Mackinac. I'm not really, really sure what day I'm going to get to Boston, but I was in the middle of the lake when you called, so I'm calling you back. I'll be in Mackinac in probably  about an hour, so you can call me back. Bye."
Though it's a short message, Andrew Jarvis believes Chuck may have been upset when he heard Lana returning another man's call—especially if she was planning to meet up with him on an upcoming trip.
Jarvis: My opinion is that that phone call was a catalyst to something happening on that boat.Hansen: You have to wonder, if she's calling another man, does he overhear it? Is there some sort of disagreement that leads to an accident or a tragedy?Det. Sexton: I don't know. It's a possibility we'll look at it. But how would you prove that?
Tom Stempien says he's not sure what to think about his daughter's death anymore, but he now believes her boyfriend may still be alive.
Tom Stempien:  I've just heard so many stories about Chuck, you know. I gotta firmly think about maybe he is walking.Hansen: So you think that's a possibility?Tom Stempien: Yeah, could be.
But Chuck's family disagrees so strenuously, they took the case to court.
On August 3rd, just shy of the one-year anniversary of Lana and Chuck's disappearance, Charles and Patricia Rutherford made their first public comments about their son.
Patricia Rutherford, Chuck's mother (in court): I spoke with him daily, I saw him practically daily.
The Rutherfords had come to a courtroom in Northern Michigan, not far from where Lana's body was discovered, to ask that Chuck be legally declared dead.
Wendy Linehan, Rutherford's attorney: We're requesting that this honorable court determine that he died by accident or disaster.
In Michigan, five years must pass before a missing person is presumed dead, but Chuck's parents petitioned the court after dealing with a year of speculation, sometimes cruel, that their son is still alive, perhaps even involved in Lana's death.
Still, with no sign of Chuck's body, even after repeated searches by state police divers, their request came as a shock to Lana's dad.
Tom Stempien, Lana's father: I can't believe that they did it so soon. Chris Hansen, Dateline Correspondent: Why does that bother you?Tom Stempien: What proof do they have that he's dead?
Ever since Lana and Chuck disappeared, tensions between their families have escalated—and the courtroom reflected their increasingly hostile divide.
A group of Lana's cousins sat on one side of the small room, arms tightly folded, never acknowledging Chuck's stoic parents, or his younger brother John, who was seated on the other side of the room.
There was just one subpoenaed witness: Detective Robin Sexton, who wrote the sole exhibit submitted at the hearing:  a 7-page report summarizing his investigation.
Lawyer: In your opinion, is Mr. Rutherford deceased?Det. Robin Sexton, Michigan state police: I believe so. There is no indication that he is alive. We have received no credible information that he is still living.
Though he's now received numerous leads about supposed sightings of Chuck, Sexton said none has proved valid.
Det. Sexton: All of them were based on the fact that they had a dream he was there. They thought they saw him at an intersection. He kinda looked like somebody. Nothing credible.Judge Kenneth Radzibon, Presque Isle County Chief Circuit Judge: Did you have an opportunity to review all of his financial holdings?Det. Sexton:  Yes.Judge Radzibon: Has there been any transactions involving those financial holdings other than by his conservators?Det. Sexton: None.Judge Radzibon: Did you look into e-mail accounts?Det. Sexton:  Yes, there've been no transactions.
Chuck's parents, who are co-conservators of his estate, agreed they've seen no evidence their son has attempted to access his bank or email accounts.
Mr. Rutherford: No activity in the financial accounts, credit cards, banks or anything.
What's more, Patricia Rutherford said she used to talk to her son every day—but the last time they spoke was August 9th of 2005, the day before Chuck and Lana set out on their boat trip.
Lawyer: Have you heard from him since?Patricia Rutherford, Chuck's mother: No, I have not.Lawyer: Have you seen him since?Patricia Rutherford: No, I have not.Lawyer: Have you received any contact from him, be it email, cell phone messages, through a third party?Patricia Rutherford: Nothing.
But if Chuck is still alive, could he be reaching out to other people — friends, employees at his law firm, even clients? Maybe even doing it with a fake name?
Judge Radzibon: Did you look into accounts of employees or other family members as well to see if there was any type of contact that might lead you to believe that Mr. Rutherford was attempting to contact people he knows, family members, employees, through another name?Det. Sexton:  Not that. No, I have not been able to do that.
Looking surprised to learn police haven't at least pursued that possibility, the judge pressed Detective Sexton further.
Judge Radzibon: Did you or anybody else working under you on the investigative team make contact with the clients of Mr. Rutherford?Det. Sexton: No.Judge Radzibon: So nobody has bothered to call any of the clients?Det. Sexton: We have not contacted any of the clients.
Judge Radzibon:  Is there some reason why that didn't happen?Det. Sexton:  Didn't really see a need to, your honor.
But Chuck's dad, a respected Michigan attorney who maintained his son's law practice for 3 months after he went missing, says he's seen nothing in his contacts with Chuck's clients that seems remotely suspicious.
Lawyer: Anything that occasioned you to believe that your son was alive?Mr. Rutherford:  No, nothing whatsoever.Lawyer: Mr. Rutherford, do you believe that your son is deceased?Mr. Rutherford: Yes, I do.
Chuck's mom quietly answered that difficult question the same way.
Judge Radzibon:  Mrs. Rutherford, do you believe your son to be deceased at this point?Mrs. Rutherford: Unfortunately, yes.
Throughout most of the hearing, Chuck's parents remained composed, but it was finally too much for Charles senior, as he struggled to hold back tears.
Judge Radzibon:  No one in your family has had any contact with Charles?Mr. Rutherford: That's correct your honor, nobody.
Judge Radzibon:  It appears clear to the court that Charles Rutherford is deceased and is the victim of a boating accident.
It was exactly what Charles and Patricia Rutherford had hoped for—a legal declaration that their missing son is dead—something they hope will finally put to rest any suggestion that he was involved in Lana's death.
But if the Rutherfords were relieved, the Stempiens were furious.
Tom Stempien, Lana's father: How could they push this through and it wasn't even a year yet?
Lana's dad believes it's premature to draw any conclusion about Chuck—pointing to all the unresolved questions about Lana's jewelry, the knob in her shoe, the mysterious blue fenders and the missing data from her GPS—things that in his eyes just don't add up to a boating accident.
Chris Hansen, Dateline correspondent: You can't accept that at this point?Tom Stempien: No, when there's no body, I can't accept it.
As he announced his decision to declare Chuck dead, the judge did acknowledge the lingering questions surrounding the case.
Judge Radzibon: There certainly are some questions that may remain there's always things that any finder of fact wishes could be explained in greater detail, or perhaps more stones unturned.
But it is the very idea that any stone remains unturned that infuriates Tom Stempien.
Hansen: Do you believe the Michigan State police have done a thorough enough job investigating this case?Tom Stempien: No. No. They didn't do their job. They didn't follow up on all the leads. They just wanted to sweep it under the rug. They made up their mind that this is what happened, it was an accident. And forget it.
Lana's dad accuses the police of making a rush to judgment, beginning with their decision to return Lana's boat to her family the very same day they inspected it, never treating it as a potential crime scene.
Hansen: Looking back, do you wish you had kept that boat longer and processed it more thoroughly for potential evidence?Det. Robin Sexton, Michigan state police department: I don't think we would have found anything more, otherwise I wouldn't have released the boat.Hansen: Was there a fingerprint examination?Det. Sexton: The boat when we got there had been through a rainstorm. The boat was wet. Normal fingerprinting techniques do not work.Hansen: What about down below?Det. Sexton: The hatch was open. There was condensation below.Hansen: So that was compromised as well?Sexton: It made it a difficult environment to gather evidence in, yes.
Though he's well aware of the Stempien family's dissatisfaction with his investigation, Detective Sexton maintains the Michigan state police have been thorough.
Hansen: Do you feel that you and your people have followed up on every potential lead?Det. Sexton: I don't know of anything we've missed.
Sexton says his investigation will continue, as will the search for Chuck Rutherford's body.
Just as certain to continue is the ever widening divide between two families whose children once seemed happily in love.
Lana's parents say the Rutherfords still refuse to allow them into the house their daughter once shared with Chuck.
And in June, the Rutherfords ordered the Stempiens to court, demanding they return a list of Chuck's personal items,  a list that included seemingly mundane things like shampoo and a cup.
Tom Stempien: It's really hard to believe, especially after them not letting us in the house—it's just driving me up a wall.Hansen: Did you ever reach out for Mr. Rutherford and say 'Hey, look you know this has been a horrible thing for both families, let's work together on this'?Tom Stempien: I told him that. I says 'Charlie, I don't know why we're fighting amongst each other. Let's find out the truth. That's all I wanna know is what the truth is, I really wanna know the truth.'
But the truth for Lana and Chuck's families means two very different things. One grieves for a son they believe died in some kind of tragic accident... the other grieves for a daughter they suspect died as the result of foul play.
Tom Stempien: We go to the cemetery at least once or twice a week and I told her that "Lana, no matter what happens, I'm gonna find out exactly what—who did it and what happened."  I got to find out what happened out there on that boat.
Tom Stempien is convinced something conclusive will turn up ... something that will eventually ease the aching sadness he and his wife feel every time they sit outside, barely able to look at a lake that only makes them think of Lana.
Hansen: She was truly daddy's girl.Tom Stempien: (tearing up)  Yeah she was.Hansen: Around the time Lana disappeared, you had a heart procedure.Tom Stempien: Right.Hansen: Which you've since recovered from. Do you think you'll ever recover from the broken heart?Tom Stempien: Never. Nope. I miss that girl very much.
A memorial mass for Chuck Rutherford is scheduled for later this month in Detroit.