/ Source: The Associated Press
A century ago, Henry Ford's Model T was the first flexible-fuel vehicle, running on gas, ethanol or both, and the automaker foretold the future when he said fuel could be gotten from fruit, weeds, sawdust, or anything else that could be fermented.
The story, as told by Archer Daniels Midland's CEO Patricia Woertz, resonated with her audience at a national renewable energy conference here Wednesday.
Woertz, formerly head of refining at Chevron, now heads the Decatur, Ill.,-based agricultural company that is also the biggest ethanol producer in the U.S.
Count her among the converted.
"We believe we are just at the start of this new era of bioenergy," she said, acknowledging ADM began building toward that start 30 years ago. "We believe the market can and should grow larger."
Woertz was among dozens of speakers representing business, financing, government and research at the conference co-hosted by the U.S. departments of energy and agriculture.
President Bush addressed the conference Thursday, saying that, while he liked seeing the recent drop in oil prices, "it's not going to dim my enthusiasm for making sure we diversify away from oil."
Ethanol, biodiesel plants planned
One speaker after another touted renewable fuels as the new frontier, a revolution in the making that will wean the U.S. from its foreign oil addiction, create a new economy for rural America, and decrease greenhouse gas emissions tied to global warming.
Ethanol, a clear, colorless fuel made from corn, is what most often comes to mind when considering alternative fuels.
Six years ago, 54 ethanol plants produced 2 billion gallons a year. Today, 100 plants produce 5 billion gallons a year, and 44 plants are on the way, Agriculture Secretary Mike Johanns said.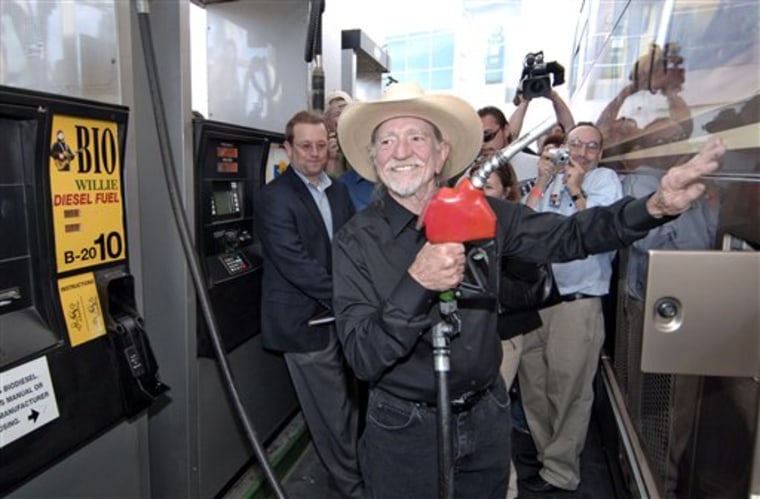 Biodiesel made from animal fat and vegetable oil also has caught on. National Biodiesel Board chief executive officer Joseph Jobe said the industry is doubling or tripling production every day. Quality fuel, that is, not French fry oil right out of the restaurant fryer, he said.
DaimlerChrysler announced Tuesday that 2007 Dodge Rams made in St. Louis will be "factory filled" with B5 biodiesel or 5 percent biodiesel fuel to help stimulate the market.
Jobe said his board recently launched a toll-free number truckers may call to get the name and location of the nearest biodiesel truck stop. Truckers, a "patriotic lot," also support family farms, Jobe said.
Ten biodiesel plants in 2000 have grown to 86 today, with 78 on line.
John Deere buys into wind
Robert Lane, chairman and chief executive officer of Deere and Co., based in Moline, Ill., said the company has formed the John Deere Wind Energy Group to help farmers harvest the wind. Deere has wind energy projects in Missouri, Texas, Minnesota and is looking at other states. It provides the capital and the glue to get the projects off the ground.
"Our goal," Lane said, "is to foster competitive renewable energy businesses.
"The U.S. can be a leader. It has reliable wind sources, capital, and entrepreneurial spirit."
Johanns said the potential for renewable fuels has never been greater and predicted the day when biomass like wood chips, pecan shells, corn stalks, switchgrass, and animal waste would replace petroleum products as America's fuel source.
"We want to buy our energy by the bushel, not the barrel," he said.
Johanns and Energy Secretary Samuel Bodman on Wednesday announced nearly $17.5 million for 17 biomass research, development and demonstration projects.
Bodman said the Energy Department sponsors research at two bioenergy research centers, which are trying to crack the technical barriers to biofuels. They are looking to convert inedible agricultural plants into ethanol and convert sunlight into fuel.
"There are lots of fresh ideas out there, and we're excited about all of them," he said.
The American Petroleum Institute's president, Red Cavaney, said it's not true that renewable fuels are a thorn in the side of the petroleum industry.
"We're experiencing demand in the global energy market," he said. "As we look forward to the next 20 to 30 years, we're going to need all the energy we can use that is economically viable.
"Ethanol, crude oil, biodiesel. It all has a bright future."