/ Source: The Associated Press
Ohio Republican Representative Bob Ney, the only member of Congress to be criminally charged in the Jack Abramoff lobbying scandal, pleaded guilty in federal court in Washington, Friday morning, to bribery charges stemming from that influence-peddling investigation
Ney now joins the rare ranks of members of Congress who have been convicted of felonies. He is expected to serve 27 months in prison based on a Justice Department recommendation.
Ney, who is not seeking re-election, said, in a statement released after today's court action, "I will be resigning from Congress. This will be done in the next few weeks."
'I accept responsibility'
Ney agreed to the Justice Department's offer to plead guilty to two counts, conspiracy to commit fraud and to making false statements. He admitted in court papers that he accepted tens of thousands of dollars worth of trips and other perks from disgraced lobbyist Abramoff and an international businessman.
Ney, who did not speak to reporters as he left the courthouse, apologized for his actions in the written statement, "I accept responsibility for my actions and I am prepared to face the consequences of what I have done... I have made mistakes of judgment and acted in ways that I am not proud of. I never intended my career in public service to end this way, and I am ashamed that it has. I never acted to enrich myself or get things I shouldn't, but over time, I allowed myself to get too comfortable with the way things have been done in Washington, D.C. for too long."
Ney acknowledged in court that he has been enrolled for the past thirty days in an alcohol treatment program.  Ney's lawyer, Mark Touhey, asked Judge Ellen S. Huvelle to consider sentencing Ney to a facility that has an alcohol rehabilitation program.
Resign or be expelled
Touhey told the judge the congressman would resign from office before sentencing on Jan. 19. Ney's term in Congress expires before then, though, at noon on Jan 3.
Ney does not automatically lose his House seat upon conviction of a felony.  The Constitution does not disqualify him from being a member of Congress, other than under the Fourteenth Amendment for certain treasonous conduct. But once a member of the House is convicted of a felony, certain potential consequences can affect their status as a member including censure and expulsion, according to a recent Congressional Research Service report titled, "Status of a Member of the House Who Has Been Indicted for or Convicted of a Felony."

House leaders called for Ney to leave Congress immediately.  In a statement, House Speaker Dennis Hastert and Majority Leader John Boehner he should be punished for the criminal actions he has acknowledged, "He betrayed his oath of office and violated the trust of those he represented in the House.  There is no place for him in this Congress.  If he chooses not to resign his office, we will move to expel him immediately as our first order of business when Congress resumes its legislative work in November."
Investigation continuing
Early this year Ney stepped down as chairman of the powerful House Administration committee. That committee announced just last week that it is investigating a wireless license agreement that Ney approved in 2002 for a company represented by Abramoff.
Salley Collins, spokeswoman for the committee, told NBC, "There are issues with the license agreement and they are being reviewed by the committee." But she said that until the investigation is resolved, there would be no comment on the specifics.
The agreement allowed Foxcom Wireless, a firm then based in Israel, to win a multimillion-dollar contract from cell phone providers to outfit House office buildings with wireless receivers.
Foxcom Wireless now operates as MobileAccess Networks based in Vienna, Va.
In the plea agreement with the Justice Department that Ney signed Sept. 13, he acknowledged that he supported the license application of Abramoff's client "from April 2001 through November 2002." That is one of the official acts Ney admitted he made to benefit Abramoff and his lobbying partners, while receiving a string of things of value from them, including trips and a golf junket to Scotland in Aug. 2002. 
Until his sentencing, Ney will be allowed to travel domestically if he informs the court's probation office. The judge has scheduled a January 19th, 2007 sentencing hearing.
Change of direction
Ney had consistently denied any wrongdoing in the investigation, an insistence that he maintained even after his former chief of staff pleaded guilty in May. The aide, Neil Volz, confessed to conspiring to corrupt the congressman and others with trips and other aid. Volz became a business partner of Abramoff after leaving the congressional payroll.
Ney had a unique power perch in the House when the year dawned, as chairman of the committee with jurisdiction over the internal workings of the 435-member House. Speaker Dennis Hastert pressured Ney into surrendering his committee chairmanship earlier this year as concern rippled through the GOP ranks about the Abramoff scandal.
Still, as recently as early summer, Ney said he intended to seek re-election in the sprawling, rural district in eastern Ohio he has represented since 1994. He changed his mind at the prodding of party leaders who feared the loss of his seat in November if he remained on the ballot.
Abramoff convenient incarceration
Just after the mid-term elections, on Nov. 15, disgraced lobbyist Jack Abramoff will report to federal prison on his own guilty pleas relating to the Florida based SunCruz casino scandal.
Prosecutors and Abramoff's lawyer, Abbe Lowell, in a joint motion, have asked a federal judge to recommend that Abramoff serve his 70-month sentence at the federal correctional facility in Cumberland, Maryland.
The request to Judge Paul Huck says that Abramoff's cooperation in the pay-to-play, influence peddling investigation is still crucial and, "will continue after he is incarcerated," according to the motion filed yesterday.
Abramoff and his partner Adam Kidan pleaded guilty to defrauding lenders of more than $60 million in the SunCruz gambling casino scandal in Florida. Abramoff, who has been sentenced to more than five-years in prison for his SunCruz plea is awaiting sentencing in the Washington influence peddling scandal. He will serve both sentences concurrently.
The court filing states that Cumberland facility is within driving distance of Washington and Mr. Abramoff's incarceration there, "will facilitate the government's access to him and, therefore, the ongoing investigation." The motion also suggests that the proximity to Washington would help prosecutors reduce costs and travel time.
Weeks ago in another court filing, prosecutors and Abramoff's lawyer, asked a Judge Huck to delay Abramoff's prison term for three-months saying reporting to jail earlier, "would significantly impede on-going investigations in which his participation is critical." The judge expressed at a hearing exasperation with the slow pace of the Washington investigation and advised attorneys not to expect any further extensions.
If there is a problem accommodation Abramoff in the Cumberland facility, an alternative was suggested in the filing, the federal correctional facility in Morgantown, West Virginia, which, "is also within driving distance of Washington, D.C.," according to the court papers.
Other confessions
While Ney became the first member of Congress to plead guilty in the probe, a second lawmaker, Rep. William Jefferson, D-La., is at the center of a separate investigation involving alleged bribery. He has not been charged and denies all wrongdoing.
In addition to Abramoff and Volz, the scandal has produced guilty pleas by two former congressional aides to former House Majority Leader Tom DeLay. DeLay resigned from Congress earlier in the year. He has not been charged in the federal investigation, but is under indictment on state charges in Texas in a different case. He denied all wrongdoing.
Prosecutors also won a conviction in the Abramoff case against former White House official David Safavian, formerly the Bush administration's top procurement official.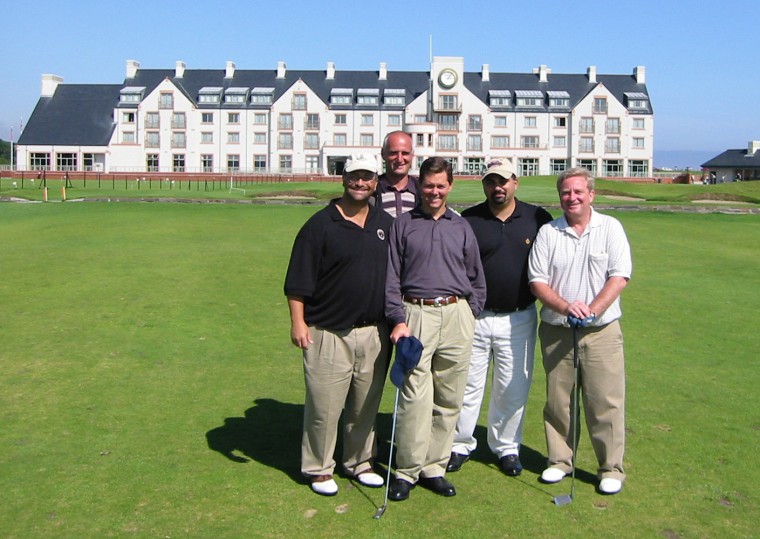 At Safavian's recent trial, prosecutors introduced a photograph of Ney and Abramoff standing next to a private jet that whisked them and other members to a golf outing in Scotland. Also in the photo were two of Ney's aides who went on the weeklong Abramoff-organized junket.
String of alleged favors
When Volz pleaded guilty in May, he listed 16 actions he said his old boss had taken on behalf of Abramoff's clients from January 2000 through April 2004. During that period, Abramoff and his lobbying team showered Ney with campaign donations, trips, meals at Abramoff's restaurant and tickets to sporting events and concerts.
In 2000, Ney read remarks into the Congressional Record helpful to Abramoff, who was trying to acquire a Florida casino cruise-ship company.
In 2002, Abramoff and Michael Scanlon, a former DeLay aide who has pleaded guilty in the scandal, promised an Indian tribe that Ney would champion legislation to reopen a tribal casino. When evidence surfaced that Abramoff had bilked the Indian tribe, Ney said, "How did I know what they were charging their clients?"
Ney said he supported the provision to help the Tigua Indian tribe of Texas reopen its casino after Abramoff told him that Sen. Christopher J. Dodd, D-Conn., supported the effort, which Dodd said he had no knowledge of. Ney said the Scotland golf trip had nothing to do with the tribal legislation.
Ney also met with Abramoff about a wireless contract for House office buildings, then awarded the contract to the company the lobbyist represented. The congressman said the award was based on merit through open competition.
Ney said he had been duped into helping Abramoff on both the tribal casino and the Florida deal, and that he was duped again about who paid for the Scotland trip. Abramoff denied misleading Ney.
NBC's Joels Seidman contributed to this report.