Updated: 2:34 p.m. PT Oct 26, 2006
Mohammed al-Qahtani, detainee No. 063, was forced to wear a bra. He had a thong placed on his head. He was massaged by a female interrogator who straddled him like a lap dancer. He was told that his mother and sisters were whores. He was told that other detainees knew he was gay. He was forced to dance with a male interrogator. He was strip-searched in front of women. He was led on a leash and forced to perform dog tricks. He was doused with water. He was prevented from praying. He was forced to watch as an interrogator squatted over his Koran.
That much is known. These details were among the findings of the U.S. Army's investigation of al-Qahtani's aggressive interrogation at Guantanamo Bay, Cuba.
But only now is a picture emerging of how the interrogation policy developed, and the battle that law enforcement agents waged, inside Guantanamo and in the offices of the Pentagon, against harsh treatment of al-Qahtani and other detainees by military intelligence interrogators.
In interviews with MSNBC.com — the first time they have spoken publicly — former senior law enforcement agents described their attempts to stop the abusive interrogations. The agents of the Pentagon's Criminal Investigation Task Force, working to build legal cases against suspected terrorists, said they objected to coercive tactics used by a separate team of intelligence interrogators soon after Guantanamo's prison camp opened in early 2002. They ultimately carried their battle up to the office of Secretary of Defense Donald H. Rumsfeld, who approved the more aggressive techniques to be used on al-Qahtani and others.
Although they believed the abusive techniques were probably illegal, the Pentagon cops said their objection was practical. They argued that abusive interrogations were not likely to produce truthful information, either for preventing more al-Qaida attacks or prosecuting terrorists.
And they described their disappointment when military prosecutors told them not to worry about making a criminal case against al-Qahtani, the suspected "20th hijacker" of Sept. 11, because what had been done to him would prevent him from ever being put on trial.
******
When Gen. Geoffrey D. Miller, the U.S. Army general in charge of detainees at Guantanamo Bay, flew to Iraq on Aug. 31, 2003, to advise on operation of a little-known prison called Abu Ghraib, his plane also carried something of a stowaway.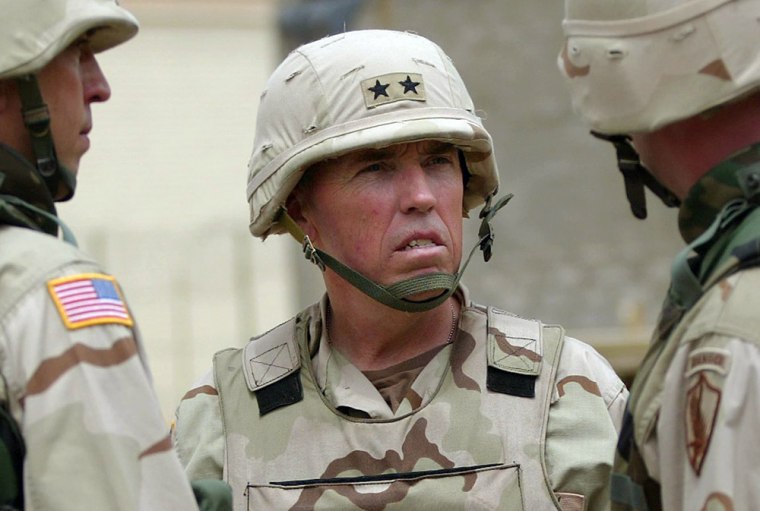 An agent of the Pentagon's Criminal Investigation Task Force went along to warn U.S. prison officials in Iraq that Gen. Miller's aggressive interrogation techniques were not the only way, that there were legal and effective ways of building rapport with detainees to get them to talk.
The task force's top cop, Mark Fallon, had sent the agent. Fallon said he feared that the Guantanamo techniques would spread.
"I wanted to tackle the general, anything to stop him from getting on that plane," Fallon said. "The best I could do was to send along a chaperone."
Gen. Miller resisted the agent, Blaine Thomas, joining his team, according to Fallon and his commander, Col. Brittain P. Mallow. He eventually relented, they said, but in Iraq he told the agent three times that he wasn't needed in meetings. So the agent made the best of his time in Iraq, meeting with the FBI.
The general, now retired, says the cops have it backward. "I'm the one who asked their guy to come" on the Abu Ghraib trip, Gen. Miller said, "and when they sent him, he was the one who decided to work with the FBI and other agencies instead of coming to the briefings. He had free and open access like everyone else."
In early April 2004, Gen. Miller left Guantanamo for a new role, running all U.S. prisons in Iraq, a few weeks before the name Abu Ghraib became well known. An Army investigation found later that Miller on his first visit had urged that military police with dogs "set the conditions" for interrogations, and that interrogators adopt "emerging strategic interrogation strategies and techniques" being used at Guantanamo.
"When the Abu Ghraib photos were released," Fallon said, "I felt a great disappointment."
"I wasn't there for the meetings with General Miller. I do not know what he told those folks over there, what techniques to employ. ... But I felt a great sense of disappointment that I was not able to effectively influence behaviors that could have contributed to Abu Ghraib."
******
At Orlando International Airport on Aug. 4, 2001, a Saudi traveler caught the eye of a Customs agent.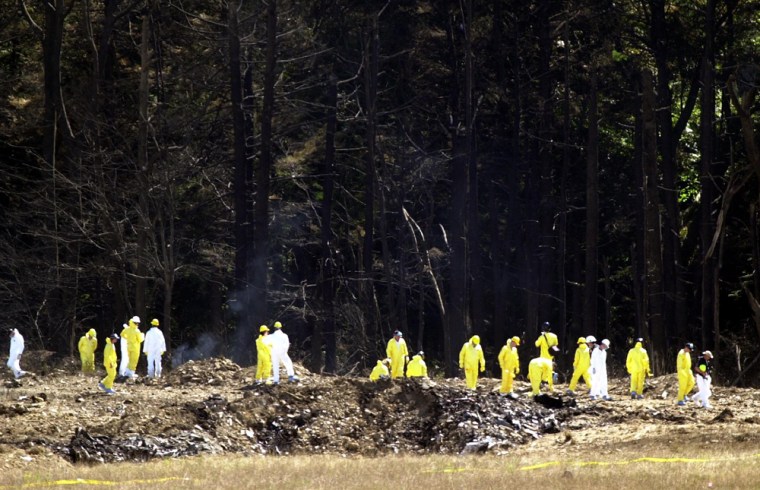 The young man had no return ticket, $2,800 in cash, and wouldn't identify the friend he said would pick him up at the airport. The Customs agent decided this was a potential illegal immigrant. Before being sent on a flight back to the Middle East, Mohammed al-Qahtani turned to the agent and said, "I'll be back."
The Pentagon has said that his friend at the airport was the Sept. 11 ringleader, Mohammed Atta, and that al-Qahtani was apparently intended to be the fifth hijacker on United Airlines Flight 93, which crashed in Pennsylvania when passengers were able to overpower the other four. Al-Qahtani, through his attorney, says he was not involved.
Al-Qahtani was captured in December 2001 on the Afghanistan-Pakistan border and shipped to the U.S. prison camp at Guantanamo Bay.
For awhile he cooperated with FBI interrogators, but by the fall of 2002, he had mostly stopped talking.
The pressure on interrogators to produce information was intense. Less than a year after the Sept. 11 attacks, al-Qaida attacks were continuing: the firebombing of a synagogue in Tunisia in April, a bomb outside the U.S. Consulate in Karachi in June.
In early September 2002, the FBI suggested another option for obtaining information from al-Qahtani, according to the leaders of the law enforcement task force, who shared an office at Guantanamo with the FBI. The plan, they said, was to send al-Qahtani temporarily or permanently to another country, such as Egypt or Jordan, where he could be interrogated with techniques that the FBI could not legally use.
The commander of the law enforcement task force, Col. Britt Mallow, and his chief investigator, Mark Fallon, say they learned of the plan from the Pentagon's Office of General Counsel, which urged them to reach a consensus with the FBI and intelligence interrogators on how to handle al-Qahtani. The cops opposed the plan, which was scrapped. A later FBI legal analysis warned that even discussing such a plan, known as "rendition," could be a crime, conspiracy to commit torture.
The FBI and Justice Department will not comment on any plan for rendition of al-Qahtani. A Pentagon spokesman, Cmdr. Jeffrey D. Gordon, said only, "There is continuous dialogue among interagency staffs about a wide variety of topics of national importance, although we do not typically discuss those talks."
If al-Qahtani wasn't going to talk with the law enforcement agents, then the military intelligence interrogators wanted their shot. By September 2002, they were developing their own interrogation plans for al-Qahtani.
By this time, law enforcement interrogators said, they had seen signs of coercive or abusive techniques being tried by the young, mostly inexperienced, military intelligence personnel: a cinder block left in the interrogation box, apparently used to hold a detainee in a stress position, called short shackling; a detainee wrapped from head to toe in duct tape. These techniques were not in the interrogation bible, the Army Field Manual.
The al-Qahtani plan went much further. The law enforcement agents began to hear a new term, SERE, an acronym for Survival, Evasion, Resistance and Escape. SERE training is provided to U.S. Special Forces and other military personnel to prepare them to withstand torture if they become prisoners of war. It includes mocking of their religious beliefs, sexual taunting, and a technique called water-boarding, which induces water through the nose to make a prisoner feel like he's drowning.
Intelligence interrogators had the idea to "reverse-engineer" SERE, to use its techniques to pry information out of the suspected al-Qaida and Taliban terrorists. Pentagon e-mails seen by MSNBC.com show that at least a half dozen military intelligence personnel from Guantanamo, including at least one medical adviser, went to Fort Bragg, N.C., on Sept. 16-20, 2002, for SERE training. It was an experiment, apparently not unlike what the CIA had been trying on the few high-value detainees kept at secret locations.
The law enforcement agents, who were collecting intelligence information but primarily focused on developing cases for Pentagon prosecutors, say they questioned whether SERE tactics would produce useful information.
"It was the latest gimmick," said Michael Gelles, the chief psychologist for the Naval Criminal Investigative Service and an adviser to the law enforcement agents at Guantanamo. "The problem was these techniques were taught to harden you against interrogation."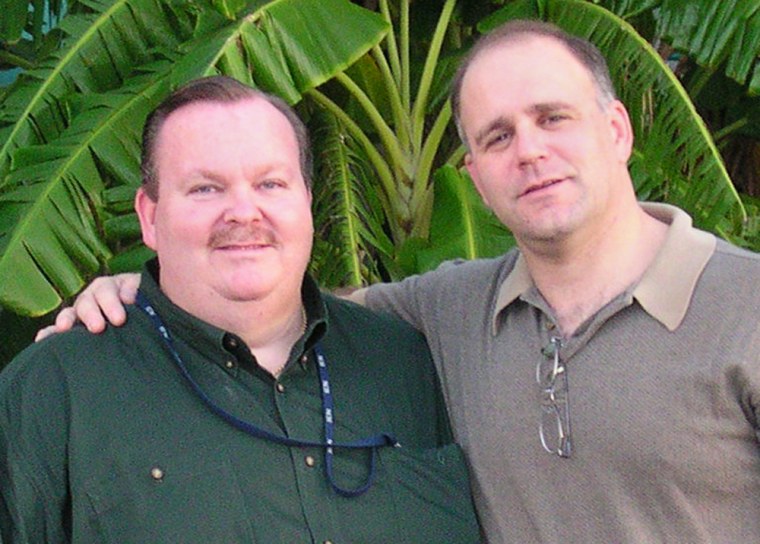 Gelles said he called Col. Morgan Banks, the director of the Psychological Applications Directorate at Fort Bragg. "I said it was nuts," Gelles recalls, "and told him we were concerned about this. He said it was used to train for resistance, and would not work as an interrogation approach. But they still teach it." That September of 2002, Col. Mallow and Fallon ordered their agents in writing not to engage in coercive interrogations, particularly using SERE techniques.
They also said they and their agents raised these concerns several times with the commander at Guantanamo, Gen. Michael E. Dunlavey, and his staff, but he "wouldn't listen at all," Col. Mallow said.
Gen. Dunlavey, a lawyer and reserve officer, now a state judge in Erie, Pa., says the law enforcement agents "are absolutely wrong."  They didn't speak up to him about any coercive interrogations, he said. Any use of the SERE techniques must have begun after he left. "Whatever happened after Gen. Miller took over, I can't tell you."
Dunlavey said he always believed that "torture is wrong," and that his views were right in line with the law enforcement views. He said couldn't comment further because he is a defendant in two lawsuits brought by detainees.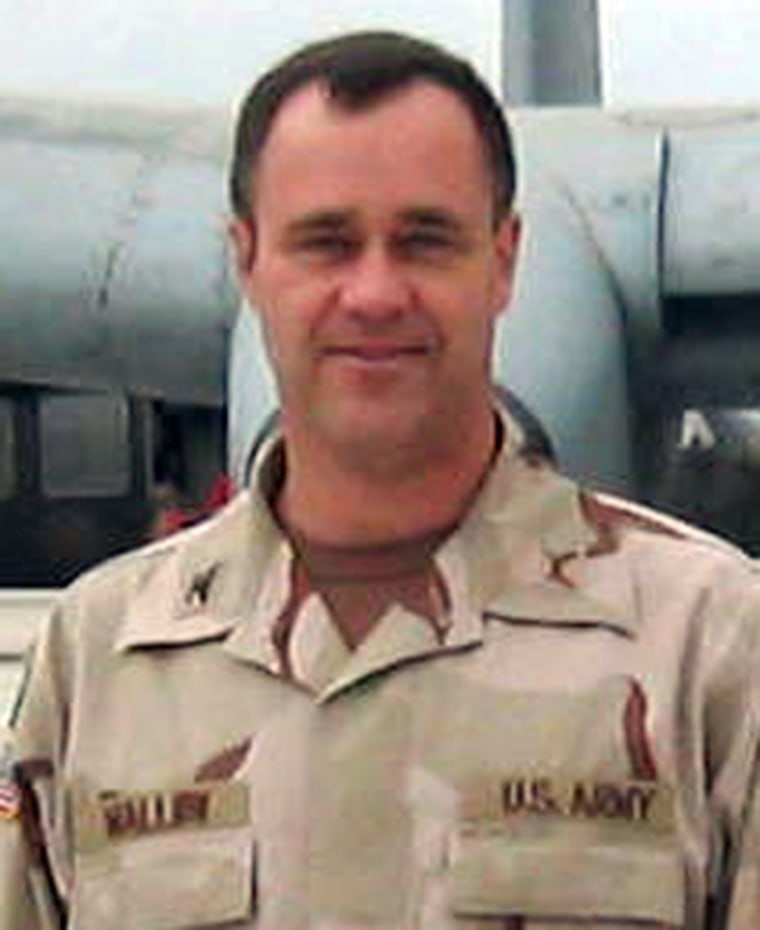 Back in the states, Col. Mallow and Fallon said, they raised the issue almost weekly in August and September 2002 with lawyers from the office of the Pentagon general counsel, William J. Haynes III, as well as senior Army officials. Mallow said he recalls clearly that one meeting was on Sept. 11, the anniversary of the attacks, because his father died that night.
The cops argued that the al-Qahtani plan not only was illegal and unreliable, but also unnecessary. Mohammed al-Qahtani was not alleged to be a leader of the Sept. 11 plot. He was not trained as a pilot. If he was involved, he was one of the "muscle" hijackers. Everything known about al-Qaida, they said, suggests that information is compartmentalized.
Mallow said the senior Pentagon lawyers were sympathetic, but had limited influence on policy areas handled by the office of the secretary of defense.
A VIP tour
Into the interrogation debate flew a group of legal VIPs from the White House, the Justice Department and the Pentagon.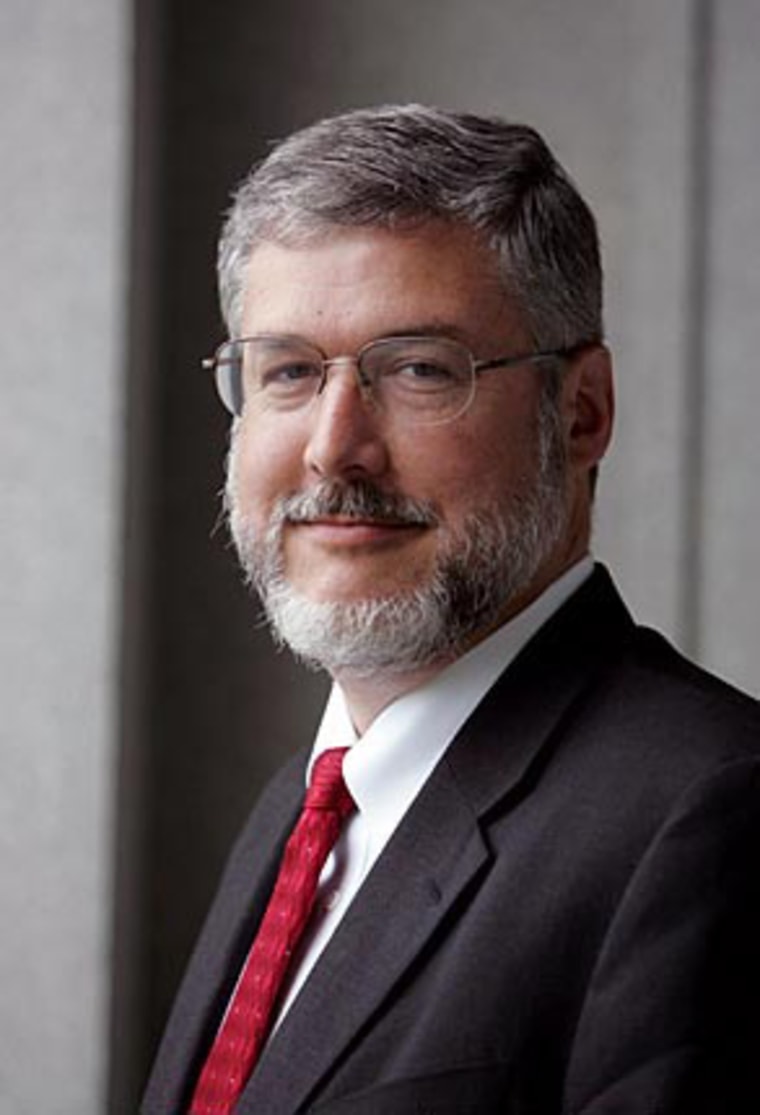 Defense Department e-mails seen by MSNBC.com show that a delegation visiting Guantanamo on Sept. 25, 2002, included Alberto R. Gonzales, then the White House counsel and now attorney general; David S. Addington, legal counsel to Vice President Dick Cheney, now his chief of staff; Timothy E. Flanigan, the deputy White House counsel; William Haynes III, the Pentagon general counsel; Larry Thompson, then deputy attorney general; Christopher A. Wray, the principal associate deputy attorney general, now head of Criminal Division at the Justice Department; and John Yoo, a lawyer in the Justice Department's Office of Legal Counsel, who reportedly had just helped write an Aug. 1, 2002, "torture memo" to Gonzales, defining torture narrowly as causing pain equivalent to organ failure or death.
The visiting VIPs met with Gen. Dunlavey and his staff, but not with any of the law enforcement investigators who opposed the aggressive interrogations. The White House and the Pentagon will not comment on the visit, other than to say that delegations frequently visited Guantanamo to discuss detainee matters.
Yoo has expressed the administration's position on the balance between anti-terrorist operations and law enforcement in the war on terror.
"You know, the point of the war is not to collect evidence and solve crimes; it's to fight and defeat the enemy," Yoo, now a law professor at the University of California, said in an NPR interview this month. "So I think this sort of flexible process reflects the demands and the nature of warfare."
The Pentagon's law enforcement investigators bristle at the idea that defeating al-Qaida was solely the mission of the intelligence interrogators.
"It was our job to prevent the next attack," Fallon said. "Anyone in the United States government's job, particularly someone who is a federal agent, law enforcement officer, is to prevent the next attack against the United States. ... The question we raised, rather vigorously: Will you really accomplish that objective by using aggressive technique?"
A menu of tactics
On Oct. 11, 2002, Gen. Dunlavey sent a formal plan for al-Qahtani's interrogation up the chain of command. He sought approval for a menu of 19 "counter-resistance techniques" not in the Army Field Manual:
Category 1: Yelling, deception, use of multiple interrogators, misrepresenting identity of the interrogator (as from a country with a reputation for harsh treatment of prisoners).
Category 2: Stress positions (such as standing for up to four hours), use of falsified documents or reports, isolation for 30 days or longer, interrogation in places other than the interrogation booth, deprivation of light and sound, hooding, interrogation for up to 20 hours straight, removal of all comfort items (including religious items), switching from hot food to military meals ready to eat, removal of clothing, forced grooming and shaving of facial hair, use of phobias (such as fear of dogs) to induce stress.
Category 3: Use of scenarios to persuade the detainee that death or pain is imminent for him or his family, exposure to cold or water, use of mild non-injurious physical contact, use of a wet towel or water-boarding to simulate drowning or suffocation.
When preliminary approval of these techniques came from the Army's Southern Command in Miami in early November, the law enforcement agents at Guantanamo offered an alternative plan to the intelligence side. In writing, they described successes they had seen with rapport-building, and criticized the proposed aggressive techniques as  "possibly illegal" and harmful to law enforcement efforts. They also said that agents of the Defense Humint Service, the Defense Department's human intelligence spy agency, "blatantly misled" Pentagon officials by claiming that the FBI endorsed these coercive methods.
The next day, Nov. 23, the military interrogators began using their techniques on al-Qahtani, according to the Army investigation, although written approval had not yet been received. While some aggressive treatment of al-Qahtani had begun months earlier — on Oct. 1, 2002, a military police dog was used to scare the Saudi, an Army investigation found — now it began in earnest.
He was interrogated for 18 to 20 hours per day, for 48 of the next 54 days, according to an Army investigative report. On Dec. 7, 2002, he had to be revived at the detainee hospital when his heart rate fell to 35 beats per minute, according to a log of the interrogation published by Time magazine. Then the interrogation continued.
FBI agents at Guantanamo joined the opposition. A Nov. 27 FBI "legal analysis," since reported by Newsweek, labeled several parts of the plan as "coercive interrogation techniques which are not permitted by the U.S. Constitution." It also warned that several of the proposed tactics could constitute torture, depending on how a judge viewed the intent of the interrogator.
Justice Department spokeswoman Kathleen Blomquist declined to say last week whether the department communicated the FBI objections to the Pentagon or the White House.
'Why is standing limited to 4 hours?'
On Dec. 2, Secretary of Defense Donald H. Rumsfeld signed off, approving most of the tactics for use on al-Qahtani and others, including all of categories 1 and 2, but only one item in category 3: mild, non-injurious physical contact. Mock assassinations and water-boarding were out.
Rumsfeld added an asterisk, a note scrawled on the bottom of the approval memo, asking why stress positions were limited. "I stand for 8-10 hours a day," the secretary of defense wrote. "Why is standing limited to 4 hours?"
The approval wasn't announced, not even to the law enforcement investigators at Guantanamo. "We continued to push the issue," said Fallon, the chief investigator. "Basically the responses started to come back, 'We're authorized to do this.'"
The Qahtani interrogation was a success, the Pentagon has said. Al-Qahtani admitted he had been sent to the United States by Sept. 11 plotter Khalid Sheik Mohamed, that he had met Osama bin Laden several times, that he had been trained at two al-Qaida camps, that he knew the shoe bomber Richard Reid, and that 30 other detainees he identified had been bodyguards for bin Laden.
The law enforcement investigators, however, say the interrogation produced little new. "I will just say that most of what we knew, we knew before," Col. Mallow said. "A lot of the intelligence 'successes' that have been touted were a result of much earlier disclosures made by detainees to our agents."
Al-Qahtani's lawyer says her client repudiates his statements. "He adamantly denies all of that," said Gitanjali S. Gutierrez, of the Center for Constitutional Rights.
She said al-Qahtani, now in his late 20s, is physically and psychologically broken. In addition to the degrading treatment, she said, al-Qahtani was subjected to a "fake rendition," in which he was tranquilized, flown off the island of Cuba, revived, flown back to Cuba, and told he was in a country that allows torture.
"The government," she said, "has never come forward with any evidence that wasn't obtained by torture."
Remembering Nuremberg
Soon other detainees were in line for SERE techniques, under the new leader at Guantanamo. Maj. Gen. Miller, a former artillery officer, had replaced Dunlavey in November. On Dec. 14, according to the law enforcement agents and Pentagon e-mails, the general gave them a proposed "standard operating procedure" for use of SERE techniques.
Here the law enforcement agents had their only internal disagreement. Col. Mallow, the commander, initially took the position that they could watch the intelligence interrogations, to collect information, and perhaps to deter abuses. After all, the secretary of defense had authorized these tactics. Fallon, his deputy and chief investigator, said he would resign from the law enforcement task force — and the Navy if necessary.
"You're talking illegal acts here," Fallon said. "The secretary of defense can't change the law. One of the things that we told all our personnel was the fact that during Nuremberg, Nazi war criminals were actually tried for acts that were perpetrated by them under orders of their superiors."
Col. Mallow said Fallon quickly persuaded him and, on Dec. 16, the colonel ordered his agents to disengage from any inhumane interrogation, to document what they saw, and to report it.
Gen. Miller was displeased, Col. Mallow recalls, saying, "You either are with us or you and your guys are out."
The general does not deny saying this. He said he inherited a situation where the two teams of interrogators "weren't even speaking to one another, and it was unproductive," with two teams duplicating each other.
Still the investigators were unwilling to observe the aggressive interrogations. David L. Brant, the boss of Fallon and Gelles as the director of the Naval Criminal Investigative Service, said he told the Army, "if there's anything that's beyond the boards, we'll just pull our people out." Air Force cops on the task force, from the Office of Special Investigations, said they would go along with a Navy walkout. Finally everyone agreed that the law enforcement investigators would not be forced to watch the intelligence interrogations.
Although they had built a wall separating themselves from the intelligence side, the law enforcement agents knew they had failed to persuade the Pentagon that rapport-building would be more effective than abusive interrogations.
'Put on the same uniform'
They turned back to the Navy for help. On Dec. 17, director Brant from the Naval Criminal Investigative service took the concerns to Alberto J. Mora, the chief lawyer for the Navy.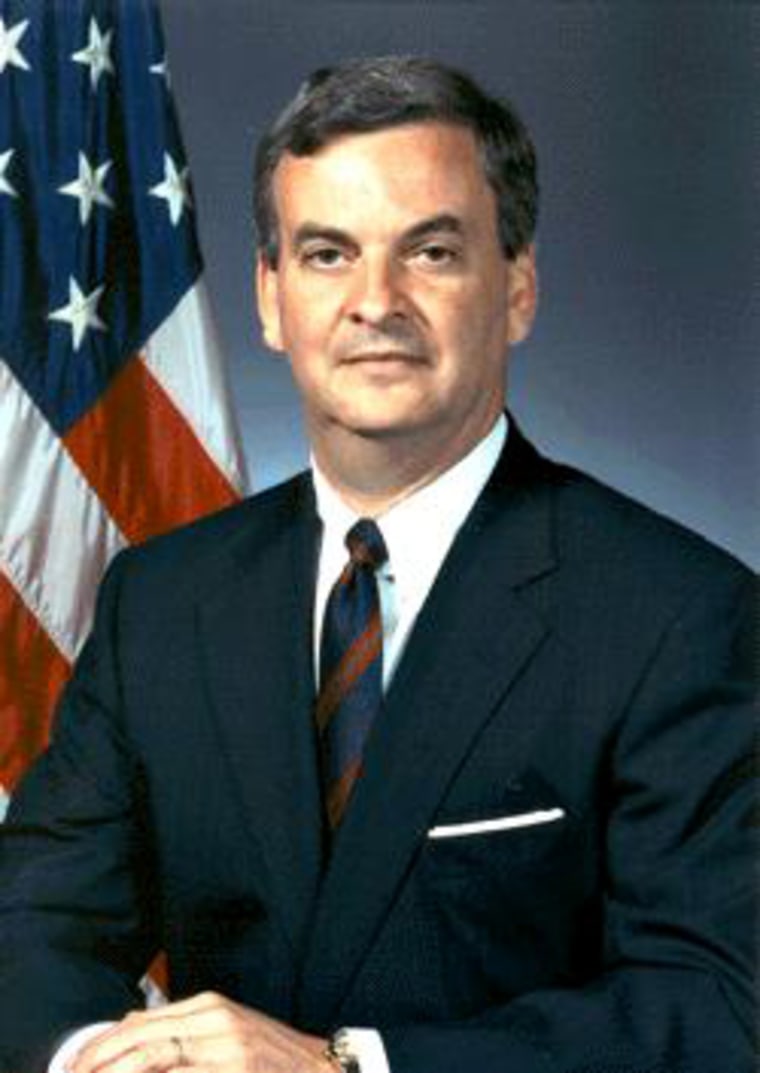 Mora, whose family had escaped Cuba under Castro, says the interrogation tactics shocked him, reminding him of the internment of Japanese citizens during World War II. While he worked on Pentagon lawyers, he recommended that the investigators take one more shot at persuading the leadership at Guantanamo.
So Fallon, the cop, and Gelles, the psychologist, flew down to see Gen. Miller. They took along a Secret Service expert on threat assessment. In Miller's office, the three cops described the rapport-building approach, how it had worked in terrorism cases, the USS Cole bombing, the embassy bombings in East Africa, even in preventing assassination attempts. The general was unmoved.
"If you want to be on the team," Fallon and Gelles said Gen. Miller told them, "you've got to put on the same uniform." The general says that's a fair description of his reply.
Back in Washington, Mora, the Navy lawyer, resorted to an ultimatum. On Jan. 15, 2003, he prepared a draft memorandum opposing the techniques as clearly illegal, addressed to his boss, general counsel Haynes, as well as to the legal adviser to the Joint Chiefs of Staff. Mora said he would be signing the memo at the end of the day. Before he could sign,  Haynes told him that Rumsfeld would stop the aggressive interrogations.
It was true, to a point. Rumsfeld rescinded his blanket approval of the harshest techniques. Rumsfeld then asked a group of lawyers at Justice and the Pentagon to come up with new limits. According to Mora, this group relied heavily on a Justice Department memo, later withdrawn, justifying cruel, inhuman and degrading treatment. In March 2003, Rumsfeld secretly re-authorized 24 techniques, mostly confined to those in the Army Field Manual but also allowing isolation, "environmental manipulation," "sleep adjustment," and threats to send the detainee to a country allowing torture. The new policy required "humane treatment," but did not define it.
'Unanswered questions'
Mora, now the vice president and general counsel for international operations for Wal-Mart, found out about Rumsfeld's reauthorization a year later, watching a congressional hearing on C-SPAN about Abu Ghraib.
"We may have stopped some abuse on the Department of Defense side," Mora said, "but it's clear we had no effect on the national policy, meaning the White House policy, to inflict cruelty on some individuals."
Although the Pentagon has looked at specific allegations made by FBI agents of abusive interrogations, no investigation has untangled how the policy of aggressive interrogation was set, or who influenced it.
"The unanswered questions," Mora said, "are, how much of this was actually applied, what the level of abuse was, who the victims were, and who is responsible for the application of abuse, the cruel treatment? I think the historical record will indicate shifting responsibility for these abuses. … You've got some abuse that was inflicted as a result of authorizations by the command authority, some from a lack of leadership, suggesting that unlawful combatants could be treated more harshly than POWs, and some from rogue soldiers who have sadistic streaks."
The Bush administration has said that there was no policy to abuse detainees, although some detainees were abused in individual cases, and that those responsible have been held accountable.
"What took place at Guantanamo," Rumsfeld said in January, "is a matter of public record today, and the investigations turned up nothing that suggested that there was any policy in the department other than humane treatment. And it is also clear, by the very fact that some 250 people have been punished in one way or another, that there was behavior that was inappropriate."
'An honest mistake'
The Army's internal Furlow-Schmidt investigation of FBI allegations of detainee mistreatment found in April 2005 that Gen. Miller failed to monitor the interrogation of al-Qahtani, whose interrogation "resulted in degrading and abusive treatment but did not rise to the level of being inhumane treatment."
The general told Army investigators that he was unaware of the extent of the techniques used on al-Qahtani, but they found that statement "inconsistent" with a letter he sent to his superiors on Jan. 21, 2003, saying that he approved the interrogation plan and that it was followed "relentlessly." "It is clear," the Army found, that the al-Qahtani intelligence interrogation team "believed they were acting within existing guidance."
In that letter, later unclassified in part, Miller wrote that the new techniques approved by Rumsfeld "are within the spirit and intent of humane detention. ... These techniques are not intended to cause gratuitous, severe physical pain or suffering or prolonged mental harm, but are instead intended to induce cooperation over a period of time by weakening the detainee's mental and physical ability to resist."
Beyond al-Qahtani, the investigators found that intelligence interrogators at Guantanamo had impersonated FBI agents and State Department investigators; played loud music with strobe lights (Metallica, Britney Spears and rap were often used); moved the detainees every few hours to disrupt sleep (called the "frequent flyer program"); wrapped a detainee's head in duct tape to stop him from chanting passages from the Koran; and a female interrogator rubbed red ink on a detainee, and said, "By the way, I am menstruating." ("The detainee threw himself on the floor and started banging his head.")
Gen. Miller was recommended for administrative "admonishment" for failing to supervise the al-Qahtani investigation, but the Pentagon declined to impose the penalty. He was allowed to retire. As a condition of that retirement, he agreed to testify before the Senate Armed Services Committee, which is investigating the interrogations, but he has not yet been called.
"There were mistakes made," Miller told MSNBC.com. "I'll be honest with you."
He said that many of the odd tactics tried on al-Qahtani were "authorized within the guidance" from Rumsfeld of Dec. 2, "but not within the plan" of specifics laid out by his staff at Guantanamo. In other words, individual interrogators were using techniques that he had not anticipated.
"One young, very young interrogator who put ladies' panties on al-Qahtani's head, that wasn't authorized," Gen. Miller said. "We relieved that kid the next morning. It was a youngster who made an honest mistake."
'Unprosecutable'
Will Mohammed al-Qahtani, the suspected 20th hijacker, ever face trial?
The cops who directed the investigation, Col. Mallow and Fallon, said they were told several times by prosecutors in the Pentagon's Office of Military Commissions, as the military trials are known, not to keep bringing forward a case against al-Qahtani, that there would be no case.
"The techniques made some detainees unprosecutable," Fallon said. "It would provide the defense counsel a tremendous advantage at trial to sway the presiding officer and members, as well as it would have disclosed those techniques to the public."
A Pentagon spokesman last week dismissed this as "speculation," but wouldn't say whether al-Qahtani would face a military trial, known as a commission. "The detainee you reference," Cmdr. Gordon said, "is not among those 10 already referred to military commissions." (See sidebar, In limbo: Cases are few against Gitmo detainees.)
Under the Military Commissions Act signed last week by President Bush, statements made under torture would not be admissible in a military trial.
But the law says a military judge could accept statements made under coercion. A court may have to decide which category, torture or coercion, encompasses such techniques as a fake trip to Egypt, sleep deprivation, and being forced to do dog tricks. The new law also extends legal protection from prosecution for war crimes to any U.S. personnel who used coercive tactics, if they believed in good faith that what they were doing was lawful.
Al-Qahtani's lawyer says she believes he'll never face trial, that eventually the government will have to transfer him back to Saudi Arabia.
"They can't just leave him in Guantanamo to rot and die," Gutierrez said.
******
In February 2004, just before the Abu Ghraib photos were released, Mark Fallon saw Gen. Geoff Miller one last time, on the tarmac at the Guantanamo airfield. Miller would soon go to Iraq full time, and Fallon was returning to the Naval Criminal Investigative service, where he directs the training academy.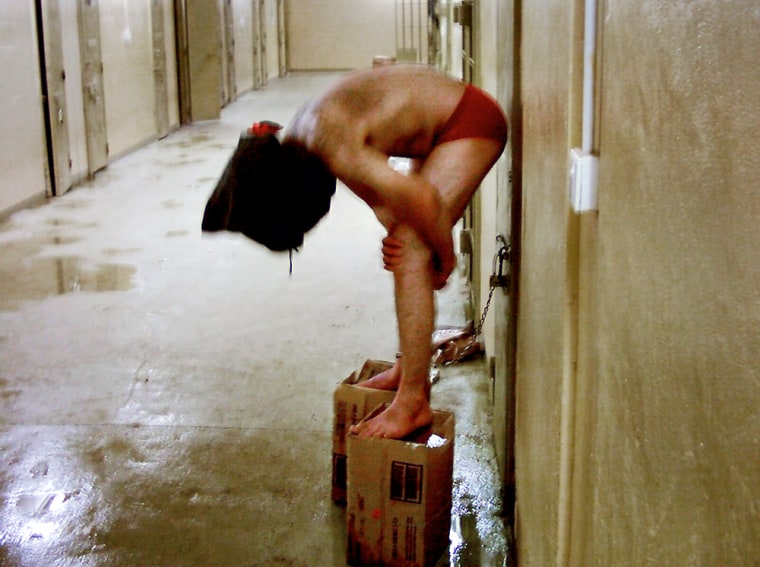 "I frankly was rather surprised because General Miller gave me a hug," Fallon said. "It was the first hug that I received from General Miller.
"And he actually had told me that we were right."
That's true, Miller says.
"To be frank with you," the general says, "I got down there and saw that the rapport-building was more effective. We made significant progress as we moved along. I found the law enforcement techniques to be an effective way to go about doing business.
"But not the only way."