/ Source: The Associated Press
Ohio executed a religious cult leader Tuesday for the murder of a family of five followers who were taken one at a time to a barn, bound and shot to death. The youngest was a girl just 7 years old.
Jeffrey Lundgren, 56, died by injection at 10:26 a.m. at the Southern Ohio Correctional Facility for the deaths of the Avery family.
"I profess my love for God, my family, for my children, for Kathy (his wife). I am because you are," Lundgren said in his final statement.
The evidence against Lundgren was compelling.
Upset by what he thought was the Avery family's lack of faith, arranged a dinner hosted by cult members. Afterward, he and his followers led the Averys one by one — the father first, young Karen last — to their deaths while the others unknowingly cleaned up after dinner. A chain saw was used to muffle the gunfire.
'I can in fact talk to God'
Lundgren argued at his trial in 1990 that he was prophet of God and therefore not worthy of the death penalty.
"It's not a figment of my imagination that I can in fact talk to God, that I can hear his voice," he had told the jurors. "I am a prophet of God. I am even more than a prophet."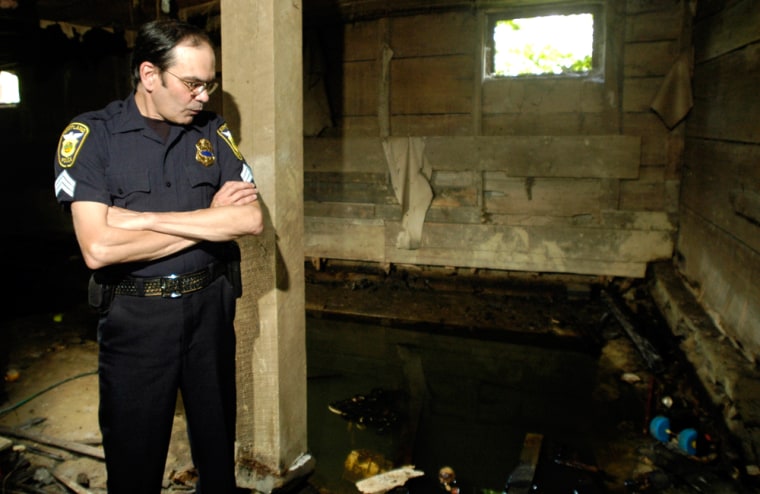 He was convicted of killing Dennis Avery, 49; his wife, Cheryl, 46; and their daughters, Trina, 15, Rebecca, 13, and 7-year-old Karen.
Lundgren formed the cult with about 20 members in the northeast Ohio town of Kirtland after he was dismissed in 1987 as a lay minister of the Reorganized Church of Jesus Christ of Latter Day Saints, an offshoot of the Mormon church.
Lundgren said God commanded him, through interpretation of Scriptures, to kill the Avery family, who had moved from Missouri in 1987 to follow his teachings.
"I cannot say that God was wrong. I cannot say that I am sorry I did what God commanded me to do in the physical act," Lundgren told a jury in 1990 in a bid to spare his life.
Appeals failed
Lundgren's attorneys had tried to put off the execution, arguing that he should be allowed to join a lawsuit challenging Ohio's use of lethal injection as cruel and unusual punishment. They said his execution had more of a chance of being painful because he was diabetic and overweight at 275 pounds.
Late Monday, the 6th U.S. Circuit Court of Appeals in Cincinnati issued an order allowing the execution to go forward. The U.S. Supreme Court refused a last-minute request to stop his execution Tuesday, and Gov. Bob Taft denied clemency.
Lundgren was careful to make sure no one would be looking for the Averys. Before the murders, he directed Cheryl Avery to write to her family and inform them that they were moving to Wyoming and would provide contact information when they got settled.
The case was cracked eight months later when a dissident cult member, upset that his wife had been selected to become Lundgren's second wife, tipped off authorities. On Jan. 4, 1990, the bodies were found.
Thirteen cult members were charged in the case, including Lundgren's wife, Alice, now 55, and their son, Damon, now 35, both serving life prison terms.
Police Sgt. Ronald Andolsek, who led the investigation into the cult killings, compared Lundgren's mind-control tactics to those used by other cult leaders such as David Koresh, Jim Jones and Charles Manson.
"They used the same methods on their followers," Andolsek said. "Jeff wasn't the first. He won't be the last."