/ Source: The Associated Press
Danny Harold Rolling, Florida's most notorious serial killer since Ted Bundy, was executed by injection Wednesday for butchering five college students in a ghastly string of slayings that terrorized Gainesville in 1990.
Rolling, 52, was pronounced dead at 6:13 p.m. EDT, more than 16 years after his killing rampage at the start of the University of Florida's fall semester.
The bodies of his victims were found over three days in late August, just as the University of Florida's fall semester was beginning. All had been killed with a hunting knife. Some had been mutilated, sexually assaulted and put in shocking poses. One girl's severed head had been placed on a shelf, her body posed as if seated.
The killing spree touched off a huge manhunt and plunged the laid-back college town into panic. Students fled, and residents armed themselves.
Belongings that Rolling left at a campsite in the woods and DNA taken after a later arrest for robbery linked him to the slayings. When he came up for trial in 1994, he shocked the courtroom by pleading guilty.
"There are some things you just can't run from, this being one of those," Rolling told the judge.
He later told The Associated Press: "I do deserve to die, but do I want to die? No. I want to live. Life is difficult to give up."
Outside the prison, death penalty opponents stood in a circle singing "Amazing Grace" after Rolling was pronounced dead.
'They're doing a good thing'
Other onlookers supported the execution. "They're doing a good thing," said Randy Hicks, 35, a truck driver and former prison guard who occasionally watched over Rolling. "This guy deserves it. It's very overdue."
Death penalty protesters said the execution only served to provide Rolling additional attention.
"The state of Florida is giving this psychopathic killer just what he wanted," said Mark Elliott of Clearwater, spokesman for Floridians for Alternatives to the Death Penalty.
The attention surrounding Rolling's execution reopened old wounds in Gainesville and for the families of the victims.
"This is a tough thing, but is a necessary thing to go through," said Dianna Hoyt, whose stepdaughter was killed by Rolling and decapitated. "It is very hard for us to see someone else die. But he deserves it."
The victims' families ran an advertisement Thursday in The Gainesville Sun thanking the community for its support: "We hope you will remember August 1990 and the years that followed without any sense of community shame for what has happened here. You turned a blemish into a rose."
Calm, cooperative to the end
Rolling was calm and cooperative ahead of the execution, Corrections Department spokesman Robby Cunningham said. He spent several hours with his brother Kevin and his brother's pastor, officials said.
The gathering on a barren cow pasture across from the prison was reminiscent of the crowds that gathered for Bundy's execution on Jan. 24, 1989, in the state's old electric chair. Bundy was suspected in the deaths and disappearances of 36 women across the country.
Bundy died in the same death chamber. The case was still fresh in the minds of many when Rolling's killings began the following year in roughly the same area as some of Bundy's crimes.
Rolling, a police officer's son from Shreveport, La., arrived in Gainesville on a Greyhound bus, pitched a tent in the woods near campus and set out to become, as he would say later, a "superstar" among criminals.
Police stymied for months
The bodies of Sonja Larson, 18, and Christina Powell, 17, were found stabbed to death in a townhouse just off the University of Florida campus. Christa Hoyt, 18, was found decapitated the next morning in her isolated duplex. Tracy Paules and Manny Taboada, both 23, were discovered dead a day later in the apartment they shared.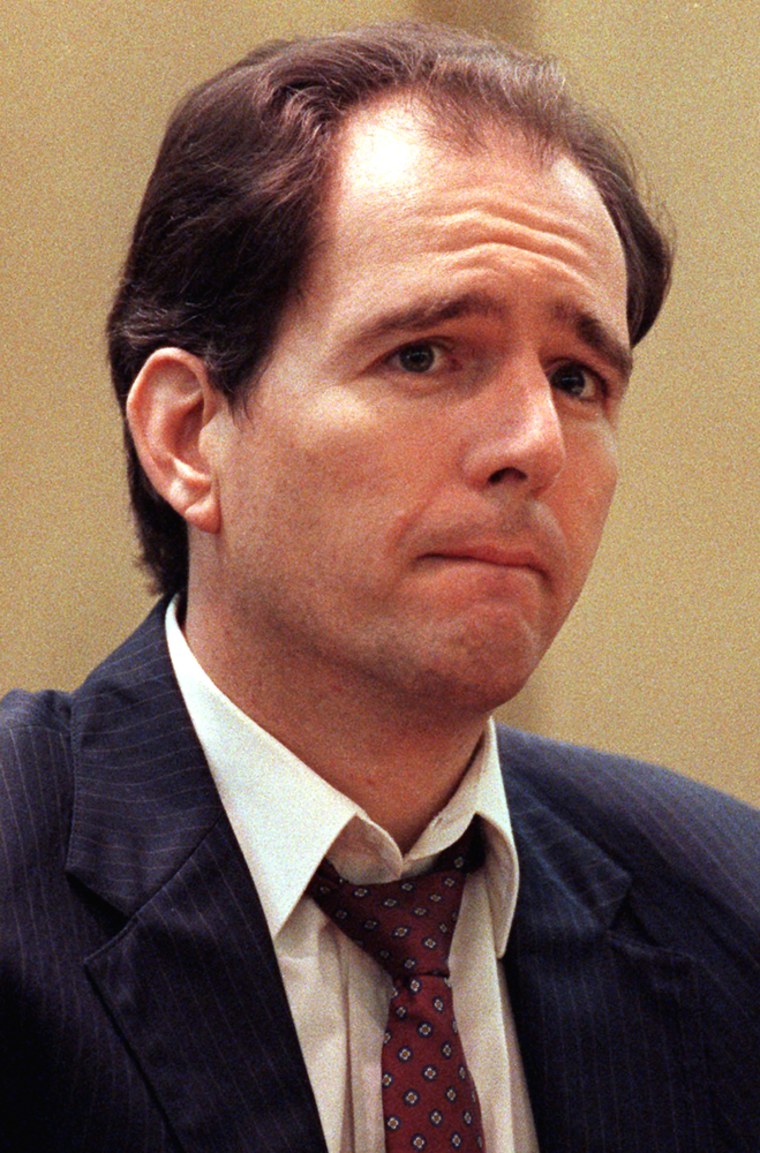 For months, a task force of local, state and federal agents followed hundreds of leads and took blood samples from dozens of men. They did not know that Rolling was already behind bars for robbing a grocery store.
Then authorities in Shreveport, investigating a triple slaying that they believe Rolling committed, suggested police check out the drifter and ex-con.
Rolling blamed the murders on abuse he suffered as a child and his treatment in prison, and claimed he had good and bad multiple personalities.
But in a letter to The Associated Press in 2002, Rolling wrote: "I assure you I am not a salivating ogre. Granted ... time's past; the dark era of long ago — Dr. Jeckle & Mr. Hyde did strike up & down the corridors of insanety."
He said he killed one person for every year he was behind bars. He served a total of eight years in Alabama, Georgia and Mississippi before the killings.
Rolling was the 63rd inmate to be put to death since Florida resumed executions in 1979 and the third this year.