/ Source: The Associated Press
Rumors of racial hatred swirled around the small farm town of Tifton, Ga., last fall after four blacks were arrested in the deadly robberies of six Mexican immigrants. In a single night at different trailer parks, the men were shot and beaten to death with a baseball bat as they slept.
Community leaders — the white police chief, the Hispanic priest of the Roman Catholic church, the local president of the National Association for the Advancement of Colored People — quickly stepped in to maintain peace. They called these crimes of opportunity, saying theft not racism was behind them. Still, they conceded the community was far from integrated.
"We've just never been friends and buddies," said Isabella Brooks, the president of the NAACP in Colquitt County, near Tifton. She said she has no white neighbors and doesn't socialize with the Hispanics up the street because of the language barrier.
The nation's two largest minority groups are sorting out whether their relations will be driven by competition and mistrust or a common bond, a joint effort to close persistent gaps between whites and minorities. In no region is the tension more clear than in the South.
"The Hispanic presence changes the dynamic of the South, which has always been viewed as white and black," said William Ferris of the Center for the Study of the American South at the University of North Carolina.
Advocacy groups from the NAACP to the National Council of La Raza argue that Hispanics, especially immigrants struggling for legislative reform, find the perfect ally and model in blacks and their history of fighting for equal rights.
Hispanics have passed blacks as the largest U.S. minority group at 14.5 percent of the population compared with blacks at 12.1 percent, according to the Census Bureau. (It counts Hispanics as people of any race whose ethnic background is in Spanish-speaking countries.)
While blacks are still more numerous in the Southeast, except for Florida, a rush of immigrants from Spanish-speaking countries is changing racial interaction across the region. Several Southern states now lead the nation in the growth of Hispanic residents and illegal immigrants.
In places like Houston and Los Angeles, where blacks and Hispanics have long lived side-by-side, the two groups most often fight for jobs, notably low-income jobs that were often held by unskilled black workers.
'Antagonism still exists'
An April 2006 Pew Research Center poll showed that more blacks than whites said they or a family member had lost a job or never got it because an employer hired an immigrant worker.
"When you get down to the nitty-gritty worker, the antagonism still exists, while politicians talk about common areas and agendas," said Nicolas Vaca, author of "The Presumed Alliance: The Unspoken Conflict Between Latinos and Blacks and What It Means for America."
That animosity endures in the South, where anti-immigrant groups argue that Hispanic newcomers are willing to accept wages that others won't. Many Southern employers, especially farmers, however, say that there simply aren't enough local workers to harvest their peaches and pluck their chickens.
Is the job argument simply a new version of the "racial baiting" behind historic white-on-black discrimination in the South? Yes, said race relations historian John Inscoe, it's all too easy to stir up racial or ethnic mistrust in poor people who feel outnumbered in the fight for survival.
Census figures show that across 11 Southern states, foreign-born Hispanics have a substantially lower unemployment rate than blacks — less than 5 percent, compared to more than 9 percent for blacks in 2004 — and earn more; their median household income of $33,765 in 2005 was nearly 10 percent higher than that of blacks.
Further, research has found blacks feel threatened beyond the workplace by the influx of Latinos in the South. Of the three metropolitan areas with booming immigrant populations surveyed in a study related to the April Pew poll, it's only in the Southern one — Raleigh-Durham, N.C. — that a solid majority of blacks favors cutting back on legal immigration.
Some see 'natural linkage'
But some say it's precisely because of the history of strained race relations in the South, where institutional segregation was painfully dismantled, that the region can help integrate another community into the American mainstream.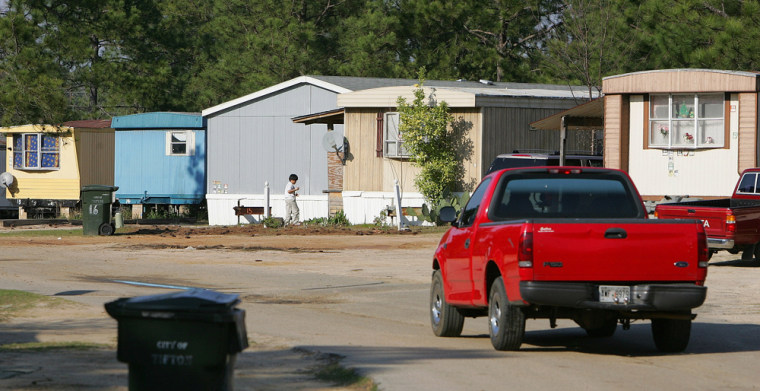 "There's a very natural linkage between the African-American and the Hispanic communities," said NAACP President Bruce Gordon. "There's a conscious effort to create animosity between African-Americans and Hispanics that takes our eye off the ball. There's an advantage to coalition, and we should find a way to take advantage of this opportunity."
Angela Arboleda of La Raza agrees, though she notes black leaders have not always embraced the notion of solidarity among minorities, citing as an example New Orleans Mayor Ray Nagin's comment that he feared that city would be "overrun by Mexican workers" during reconstruction after Hurricane Katrina.
In Georgia — home to many black leaders, one of the fastest-growing illegal immigrant populations, and some of the nation's most stringent immigration laws — the growing pains in the developing black-Hispanic relationship have been acute.
"Both sides (blacks and whites) are waiting to see if Latinos will define themselves as black or white," said Dana White, a professor at Emory University who has written about the South. Since skin color is still a defining issue in race relations, and most Hispanics in the U.S. are white, some argue that rather than joining a coalition of minorities Hispanics will close ranks with white Americans and further marginalize blacks.
In 2001, black Georgia lawmakers fought legislation making Hispanic businesses eligible for a state program designed to bolster minority enterprises, arguing it would weaken the state's goal of helping black businesses.
However, last April some black leaders spoke of a shared cause against discrimination at a pro-immigration rally in Atlanta that drew 50,000 people, the kind of street demonstration typical of the civil rights movement defined by Atlanta son Martin Luther King Jr.
And it was in a majority-black county just outside Atlanta that Georgia's first bilingual public school, Unidos Dual Language Charter School, opened in August.
Yolanda Hood, who's black, enrolled her 5-year-old son in the school even though some relatives feared his English could be compromised.
"We're more sensitive to the plight of Hispanics just because we dealt with so many prejudices," she said, explaining that her own educational experience influenced her decision. "I went to a predominantly black school, then a predominantly white college and it was a shock to me — I didn't want my son to have that."
A process of healing, not an event
Overcoming mistrust and misunderstandings will take time, experts say.
After the attacks in Tifton, even though they were not officially termed hate crimes, the U.S. Justice Department sent peacemakers to ease tensions, and police stepped up patrols to quell rumors of black people terrorizing Latino neighborhoods.
"Sometimes I think it was some kind of racism," said Tereso Rodriguez, who was assaulted by a black man shortly before the deadly attacks. "I met a man with his jaw and teeth taken out. If it were only stealing, there'd be no need to hit us so much."
Vaca, the author, says basic attitudes differ between the minority communities. Blacks tend to see their historic struggles against slavery and discrimination as giving them an entitlement they don't feel Latino immigrants have a right to share, he said, while foreign-born Hispanics know less about black struggles and tend to feel blacks are owed nothing.
Ultimately, people on the front lines like Brooks, the NAACP president, ask a question that's not as simple as it sounds: "What can we do to connect?"