/ Source: The Associated Press
Sen. George Allen mingled with tailgaters Sunday at the home of the football team his father once coached, and his Democratic rival Jim Webb sought votes in Virginia's economically struggling coal country as a race that could change the leadership of the Senate entered its final, nailbiting days.
Both sides were relying on elaborate get-out-the-vote efforts that worked full-bore on the final campaign weekend, and have readied teams of lawyers to go to work in case of a close finish.
What had appeared to be a runaway re-election bid for Allen as late as August was about even according to recent polls, including one released Saturday by Mason-Dixon Polling & Research Inc. It's one of several tight races that will help determine whether Republicans will hang on to the Senate.
Forty-six percent supported Webb and 45 percent backed Allen in the statewide survey of 625 likely voters conducted Wednesday through Friday for several Virginia newspapers. The poll's margin of error was plus or minus 4 percentage points.
In rural, mountainous southwestern Virginia, Webb received roaring ovations by pledging to champion the working class and countering Allen's claims that Webb would reverse President Bush's tax cuts.
"I will not vote to raise taxes for working men and women. What I have said is corporate America is not paying its fair share," Webb told a cheering crowd of about 200 at Grundy Senior High School.
Allen campaigned outside FedEx Field in Landover, Md., home of the Washington Redskins, where he compared his campaign's frantic final hours to a football game's closing seconds. His father, the late George H. Allen, was a legendary football coach with the Redskins and the Los Angeles Rams.
"There's no more perfect place to illustrate the need for a two-minute drill than a Redskins-Cowboys game," the senator said.
Protesters dressed in jail jumpsuits and oversize masks resembling Bush, Vice President Dick Cheney and Defense Secretary Donald Rumsfeld dogged Allen all over the parking lot, trying to squeeze into photos with him. "I thought we were friends," they said when shunned.
Virginia suburbs in play
Allen is trying to bolster support in the populous Virginia suburbs of Washington, D.C., once reliably Republican but more recently favoring Democrats in statewide races.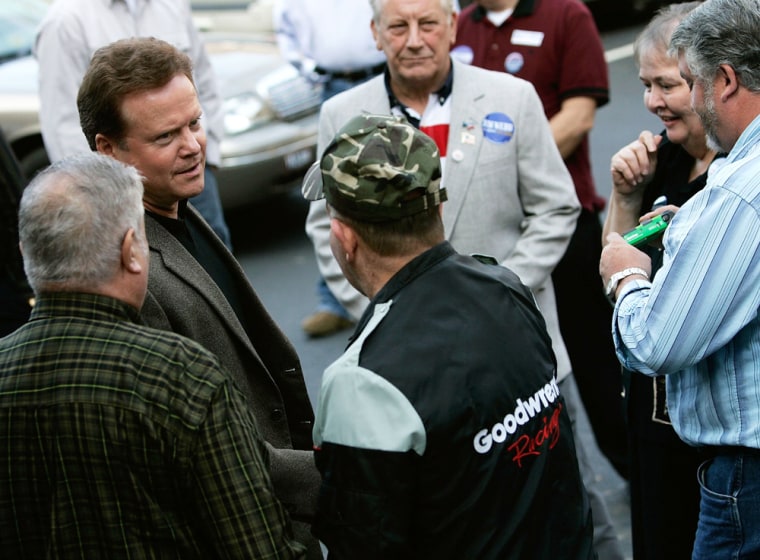 Virginia voters outside the stadium varied in their support, but many were just weary of the long and often negative campaign.
Butch Villaflor of Oak Hill, Va., posed for a photo with Allen and said he was leaning toward him, but added that his vote wasn't sewn up because of Allen's close ties to Bush. "You can be a Republican and not vote for Bush 100 percent of the time," he said.
Ken Morgan of Virginia Beach said he usually votes Republican, but will vote for Webb. He was turned off by Allen's attack on Webb's novels — works of fiction Morgan said he had read and respected.
"I absolutely hated the way he took things out of context," Morgan said. "It was blatant."
Allen assailed Webb in late October over selected passages about sex acts in Webb's six acclaimed war novels that recount the killing, desperation and inhumanity Webb experienced as a decorated Marine veteran of the Vietnam War's bloodiest battles.
'Macaca' comment
Allen, meanwhile, has battled claims of racial insensitivity after he singled out a man of Indian descent before a mostly white crowd at an August rally and called him "macaca," which can be considered a racial slur.
Later Sunday, Allen and former New York Mayor Rudolph Giuliani addressed about 250 supporters at the Northern Virginia Criminal Justice Academy in Ashburn.
"This isn't a time for inexperience. This isn't a time for turning back the clock, which is after all what George's opponents want to do. They want to go back before Sept. 11, when we used to play just defense against the terrorists," Giuliani said.