/ Source: The Associated Press
House control at stake, President Bush campaigned Sunday in endangered Republican districts across GOP-friendly middle America. Rep. Nancy Pelosi, hoping to become the first female speaker, stumped for Democratic challengers in the left-leaning Northeast.
"Here's the way I see it," Bush told a crowd inside an auditorium in Grand Island, Neb. "If the Democrats are so good about being the party of the opposition, let's just keep them in the opposition." Republicans are hoping their party's acclaimed get-out-the-vote operation can prevent a Democratic rout in a campaign marked by voter fury over the Iraq war.
Pelosi, D-Calif., was cautiously optimistic about her party's chances Tuesday. "We are thankful for where we are today, to be poised for success," she said in Colchester, Conn. "But we have two Mount Everests we have to climb — they are called Monday and Tuesday."
Her party appears increasingly confident it can ride a wave of public disenchantment with the administration's policies to victory in the House and, possibly, the Senate.
Two days before the election, both parties focused on turning out voters. The numbers historically are low in nonpresidential year elections, with only about 40 percent of U.S. citizens of voting age population casting ballots.
Republicans and Democrats have sent out thousands of volunteers in states with the most contested races to work phone banks and canvass neighborhoods. Both parties also have assembled legal teams for possible challengers in case of voting problems.
Final pitches
Candidates were making their final pitches. Republicans repeated their assertion that Democrats would raise taxes and prematurely pull out of Iraq if they controlled Congress. Democrats pressed their case for change, arguing that Republicans on Capitol Hill blindly have followed Bush's "failed policy."
Up for grabs are 435 House seats, 33 Senate seats, governorships in 36 states, and thousands of state legislative and local races.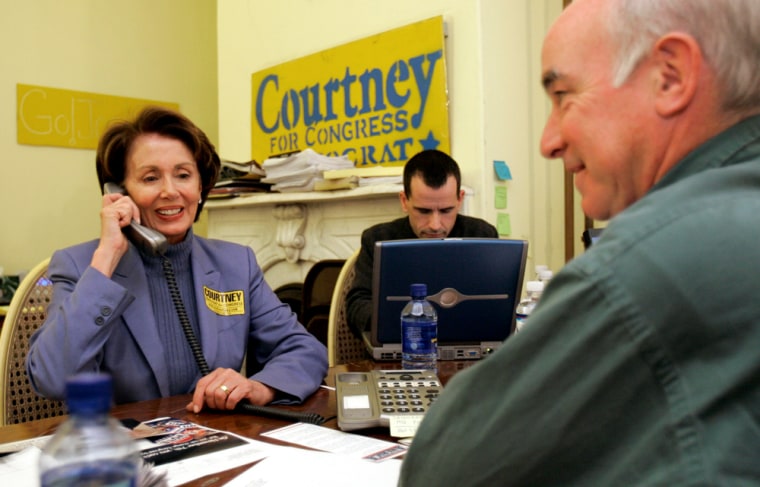 In 37 states, voters will determine the fate of ballot initiatives, including whether to ban gay marriage, raise the minimum wage, endorse expanded embryonic stem cell research and — in South Dakota — impose the country's most stringent abortion restrictions.
Already, this is projected to be the most expensive election cycle ever, at $2.6 billion.
Iraq has dominated the campaign season, and Republicans and Democrats sparred over the war again Sunday following Saddam Hussein's conviction on crimes against humanity. He was sentenced him to die by hanging; an appeal is planned.
"To pull out, to withdraw from this war is losing. The Democrats appear to be content with losing," said Sen. Elizabeth Dole of North Carolina, who leads the Senate GOP's campaign efforts.
Infuriated, Rep. Rahm Emanuel of Illinois, the Democrat in charge of the party's House campaign, shot back, "We want to win and we want a new direction to Iraq."
In his sixth year in office, the president faces the likelihood of losing GOP seats in both the House and the Senate, as well as fewer GOP governors.
Voters are agitating for change. They give both the president and GOP-controlled Congress low job performance ratings; they do not like the direction the country is headed; and they are particularly frustrated with the war as costs and casualties mount.
"It may not be popular with the public. It doesn't matter, in the sense that we have to continue the mission and do what we think is right," Vice President Dick Cheney said.
Cheney told ABC News' "This Week" that the administration would continue "full speed ahead" with its Iraq strategy.
That drew a sardonic response from Sen. Hillary Rodham Clinton, D-N.Y. "It's full speed ahead over a cliff!" she told supporters at a rally Sunday in Union Vale, N.Y.
Further complicating an already difficult environment for the GOP, the public also has been turned off by allegations of corruption in Washington and political scandals dogging the GOP.
"There's wind in our face," acknowledged Rep. Tom Reynolds of New York, the head of the Republican House campaign effort. But, he said, "I believe we have a great opportunity to hold the House by turning the vote out."
Said Emanuel, "I'd rather be us than them."
Competitive races
Races in more than 50 Republican-held districts are competitive.
Democrats initially targeted GOP-held seats left open by retiring Republicans as well as districts where the president won by close margins in 2004 — many in the Northeast and Midwest. In recent weeks, Democrats have been able to expand the battlefield, making plays for seats long in Republican hands, such as in Wyoming and Idaho.
That offensive — and Bush' unpopularity — explains why the president was in the midst of a campaign swing in America's most Republican states. He was in Nebraska and Kansas on Sunday to fire up a dispirited conservative base in hopes of saving two seats.
In western Nebraska, GOP state Sen. Adrian Smith and Democrat Scott Kleeb are competing to replace retiring Rep. Tom Osborne in a district that last went Democratic 45 years ago. Bush won 75 percent of the district's vote in 2004.
The president also appeared in Topeka, Kan., for Republican Rep. Jim Ryun, who is facing an unexpectedly tough challenge from Democrat Nancy Boyda. The race is a rematch: Ryun beat Boyda two years ago by 15 percentage points.
"Don't pay attention to the prognosticators, the pundits," Bush said. "A bunch of them already decided that the verdict's in. They forgot that the voters in Kansas haven't gotten to the polls yet."
In the increasingly close race for Florida governor, however, Republican candidate Charlie Crist decided to skip an appearance with Bush and instead spend Monday crisscrossing the state.
Pelosi, a Democrat from San Francisco, was appearing at separate events in Connecticut with Democrats Chris Murphy, Joe Courtney and Diane Farrell, Democratic challengers trying to oust GOP Reps. Nancy Johnson, Rob Simmons and Christopher Shays — three of the most at-risk Republican incumbents.
Republicans all but conceded six House seats or more are lost to the Democrats.
Still, two public polls gave Republicans reason to be hopeful that they could stave off a Democratic takeover.
Republicans were posting higher marks among likely voters on the question of which party should control the House, a shift one poll attributed to the GOP making gains among independent voters and party faithful becoming more engaged. The independent Pew Research Center found that Democrats now have a four-point edge over Republicans, narrower than the 11-point advantage two weeks ago.
Senate a question mark
Compared with the House, the Senate outcome is more of a question.
Democrats need to pick up six seats to win control and are expected to defeat Republican Sens. Rick Santorum in Pennsylvania, Mike DeWine in Ohio and Lincoln Chafee in Rhode Island. The state of four races is less clear — Sens. George Allen in Virginia, Conrad Burns in Montana, Jim Talent in Missouri and the Tennessee seat that Majority Leader Bill Frist is leaving to run for president.
"We will hold the majority," Dole insisted.
Her counterpart on the Democratic campaign committee, Sen. Chuck Schumer of New York, said: "We're right on the edge of taking back the Senate. I wouldn't open up the champagne or do the high-fives, but we are feeling very good."
Cheney appeared on ABC's "This Week." Reynolds, Emanuel, Dole and Schumer were on "Meet the Press" on NBC.