/ Source: The Associated Press
Ravenous giant snails that emerge from the ground by night are thriving on the tropical island of Barbados, destroying crops and prompting calls for the government to eliminate them.
A nocturnal survey last weekend found hundreds of thousands of African snails — which are often about the size of a human hand — swarming the central parish of St. George, the country's agricultural heartland, where farmers complained of damage to sugar cane, bananas, papayas and other crops.
"We saw snails riding on each other's backs and moving in clusters," said David Walrond, chairman of the local emergency response office that organized 60 volunteers for the expedition. "You're just crunching the shells as you're walking through."
The volunteers sprayed government-supplied pesticides in gullies and other cool, low-lying areas where the snails are believed to breed, venturing out after dark to catch the snails as they emerge from spending the day underground.
Bounties suggested
Walrond's brigade plans to continue its assault over the next three weekends. "It's not difficult to kill them, but on a small island like this, they cannot be left unnoticed," Walrond said.
An association of farmers, the Barbados Agricultural Society, recently urged the government to set up a task force to eradicate the snail population. It suggested offering rewards to individuals who kill the creatures.
Some St. George residents already are taking measures to reclaim their land. Allaby Small, 66, has started lighting bonfires a few nights a week to kill the snails encroaching on his house, and said he worries they will find a way under his roof to his home.
The snails are known to consume as many as 500 different plants and can transmit meningitis and other diseases through their mucous.
"At present the snail is regarded as an agricultural pest, but in other parts of the world it is also a very important public health pest," said Ian Gibbs, a government entomologist.
Rats next?
Walrond said his group aims to help the country avert an ecological disaster. Beyond threatening the food supply, he said the snails can lead to an increase in the populations of rats, which prey on the fast-multiplying creatures, and mosquitoes, which breed in water that collects in shells of dead snails.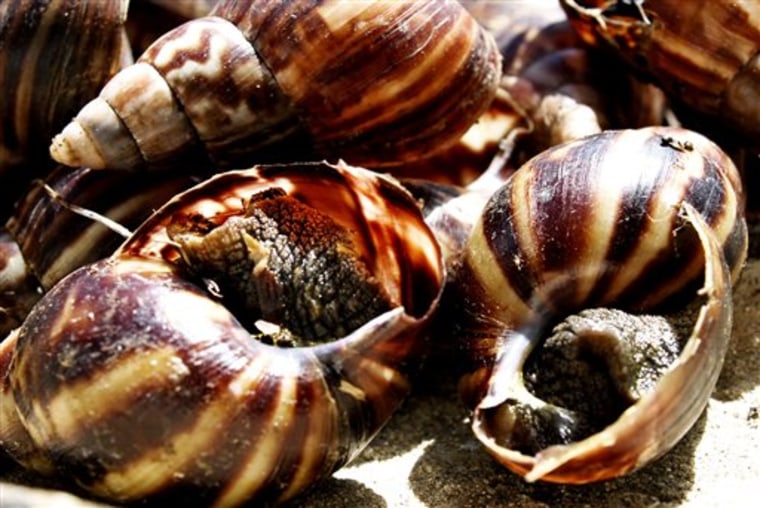 The turban-shaped snails can grow as long as 8 to 10 inches and about 3 to 4 inches wide, but most aren't quite that big.
The first snail discovered in Barbados, found in 2000 in a coastal town near the capital of Bridgetown, is believed to have reached the island aboard a cargo ship. The snails, native to Africa but found in parts of Asia, have been discovered in other Caribbean islands, including St. Lucia, Martinique and Guadeloupe.
It is illegal to bring the invasive snails into the United States, where the introduction of one in the 1970s led to an infestation that took nearly six years to eradicate.