NATO forces killed up to 22 Taliban fighters in an airstrike in Afghanistan's southern province of Kandahar, Afghan and alliance officials said Thursday.
Residents said at least one woman was also killed in the raid on Wednesday evening in Zari district, southwest of the provincial capital, Kandahar city.
They said cluster bombs were dropped in the attack on the district, scene of a major NATO offensive in September in which hundreds of Taliban were killed.
A NATO official in Kabul said 20 insurgents were killed in Wednesday's raid, but had no further details. District police chief Ghulam Rasool said 22 rebels died.
The Taliban said only two guerrillas were killed in the air strike, which they said followed an ambush of NATO vehicles in the province, the birthplace of the radical Islamist movement whose government U.S.-led troops overthrew in 2001.
Bloody phase
Afghanistan this year is going through its bloodiest phase of violence since the Taliban's ouster. More than 3,100 people, about a third of them civilians, have been killed in the Taliban-led insurgency and operations by foreign forces.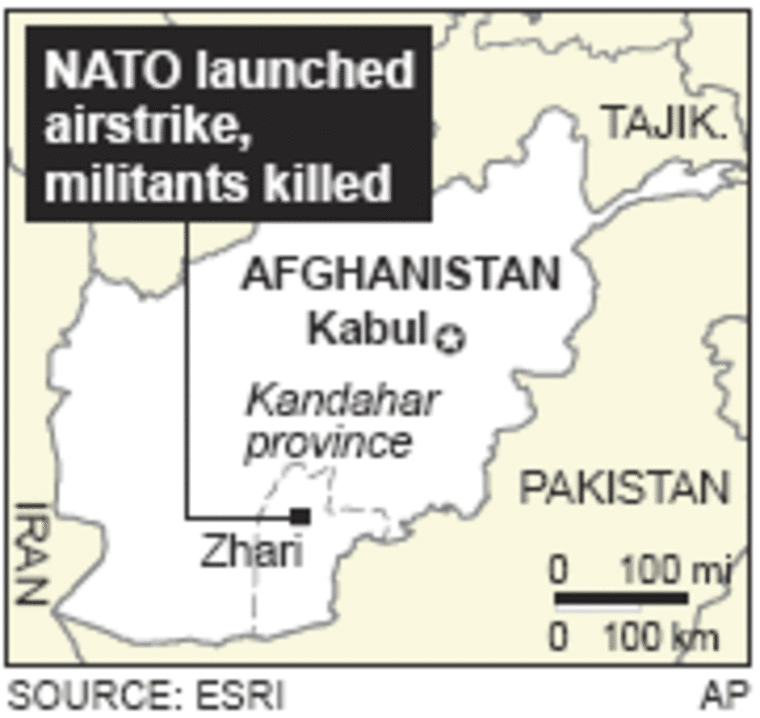 Rasool said six more Taliban were killed in an encounter with police close to Zari on Thursday, while several Taliban and police died during a clash on Wednesday in Zabul province, adjacent to Kandahar.
And local authorities said five Taliban guerrillas and two policemen died in fighting in Nimruz province.
NATO assumed full security responsibility of Afghanistan from the U.S.-led coalition in September, the biggest military operation in the alliance's history.