/ Source: The Associated Press
Wall Street rose for a third straight session Wednesday, with the Dow Jones industrial average reaching another record close, as investors grew more confident that a huge victory by Democrats in congressional elections would result in gridlock and keep lawmakers out of the way of business interests.
The market had largely expected Democrats to gain control of the House of Representatives, but an undecided Senate race in Virginia had during early trading unnerved investors who dislike such uncertainty. Stocks showed gains after the resignation of Defense Secretary Donald H. Rumsfeld.
"I would think over the next several weeks that investors should return their focus to the likelihood for interest rate moves in the decelerating economic climate, the moderating earnings growth and the weakening housing market," said Elizabeth Weymouth, global investment specialist at JPMorgan Private Bank.
The Dow Jones industrial average finished the day up 19.77 points, or 0.16 percent. The blue chips closed above the record of 12,167.02 set on Oct. 26 and came within a few points of a record trading high of 12,196.32 reached Tuesday.
The broader Standard & Poor's 500-stock index gained 2.88 points, or 0.21 percent, while the Nasdaq composite index, full of technology stocks, added 9.06 points, or 0.38 percent.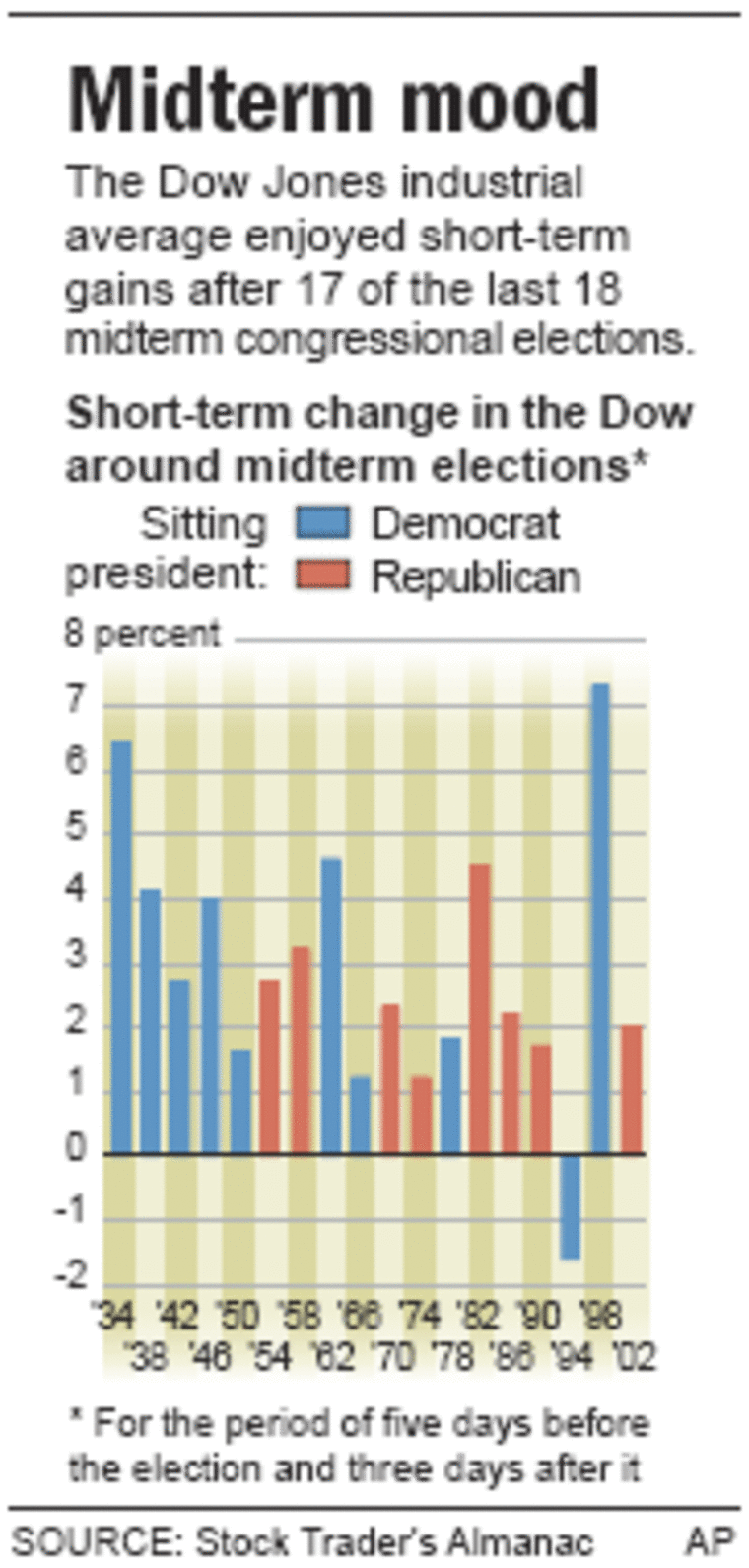 Bonds rose, with the yield on the benchmark 10-year Treasury falling to 4.64 percent from 4.66 percent late Tuesday. The dollar was mixed against other major currencies, while gold prices fell.
Light, sweet crude rose 90 cents to $59.83 on the New York Mercantile Exchange after the Energy Department reported domestic crude inventories rose last week but that gasoline stores fell.
While Weymouth expects gridlock could again become a fixture in Washington, she said investors will likely still ask whether Democrats might make an effort to curb prescription drug prices, raise the federal minimum wage or raise the 15 percent tax on some dividend gains.
Subodh Kumar, chief investment strategist for CIBC World Markets, contends that while sectors such as energy might sees pressure on stock prices amid concerns about windfall profit taxes the overall mood on Wall Street is positive.
"One of the interesting things to look at it is that bond yields have been relatively stable and the dollar has been moving up. I think one can look at that as anticipation that reduction of budget deficits will be a higher priority in Washington," he said.
Stocks in sectors as disparate as housing and stem-cell research showed movement Wednesday as investors tried to determine how government might weigh in with regulations or business-friendly measures.
Defense stocks moved moderately following the news of the Defense Secretary's resignation. Northrop Grumman Corp. was down $1.42, or 2.1 percent, at $64.98, while Lockheed Martin Corp. was down $1.04 at $86.45.
Companies in the stem-cell sector showed gains after voters in Missouri narrowly approved a referendum guaranteeing federally approved stem-cell research and treatment will be available in the state. StemCells Inc. rose 32 cents, or 10.4 percent, to $3.39, while Geron Corp. rose 28 cents, or 3.3 percent, to $8.66. Aastrom Biosciences Inc. was up 10 cents, or 6.7 percent, at $1.59.
Also, companies in the government-sponsored mortgage business made advances on the notion that Democrats would push plans to broaden access to housing. Fannie Mae was up $1.75, or 2.9 percent, at $61.65, while Freddie Mac was up $1.37, or 2 percent, at $71.23.
In other corporate news, Merck & Co. fell $1.56, or 3.4 percent, to $44.34 after the pharmaceutical company said liabilities from tax disputes in the U.S. and Canada could total $5.58 billion.
Cablevision Systems Corp. fell 2 cents to $27.91 after the cable TV operator and owner of properties such as Madison Square Garden, reported a wider-than-expected third-quarter loss.
Sirius Satellite Radio Inc. was up 3 cents at $4.12 after posting a narrower-than-expected loss as revenue more than doubled.
Federated Department Stores Inc., parent of Macy's and Bloomingdale's, reported that it swung to a third-quarter loss from a profit due to costs related to its acquisition of May Department Stores Co. last year; the old May stores were recently converted to Macy's branches. Federated was down 47 cents at $39.87.
Overseas, Japan's Nikkei stock average closed down 1.08 percent. Britain's FTSE 100 lost 0.08 percent, Germany's DAX index slipped 0.20 percent and France's CAC-40 was down 0.01 percent.