/ Source: NBC News and news services
Republican Sen. George Allen conceded defeat Thursday to Democrat Jim Webb, sealing the Democrats' control of Congress and the political downfall of a man once considered a White House contender.
"I respect their decision," Allen said of Virginia voters during a speech to supporters. "I called to congratulate Jim Webb and his team."
Webb, a former Republican and Navy secretary under President Reagan, claimed victory early Wednesday after election returns showed him with a narrow lead of about 7,200 votes out of 2.37 million ballots cast.
Allen chose not to demand a recount after initial canvassing of the results failed to significantly alter Webb's lead.
"I do not wish to cause more litigation that would not alter the results," Allen said, adding that he saw "no good purpose being served by continuously and needlessly expending money and causing any more personal animosity."
Allen was comfortably ahead in polls until August, when he mockingly referred to a Webb campaign volunteer of Indian descent as "macaca," regarded by some as a racial slur.
In a rout once considered almost inconceivable, Democrats won control of the Senate and thus both Houses of Congress after 12 years of near-domination by the Republican Party.
RNC chief won't seek another term
Two days after the GOP losses, NBC News reported that Ken Mehlman was not expected to seek another term as Republican National Committee chairman. An announcement was expected in the coming days, sources told NBC. Mehlman's current two-year term will expire in January.
Mehlman has served Bush in various capacities for seven years, including as White House political director and as manager of Bush's 2004 re-election campaign.
Pledges from Webb
Addressing his supporters at a Thursday afternoon rally, Webb aligned himself with Mark Warner and Tim Kane, Democratic predecessors in leadership positions in the historically conservative state.
Webb said he hoped to work to "bring a sense of responsibility that will result soon, I hope, in a diplomatic solution in Iraq."
The senator-elect also pledged "to work hard on issues of economic fairness, and I look forward to joining Sen. (Charles) Schumer in voting to increase the minimum wage."
Webb called on President Bush "to publicly denounce the campaign tactics that have divided us rather than bring us together."
Burns concedes in Montana
In Montana, the other Senate race that had not been decided on election night, Republican Sen. Conrad Burns earlier Thursday conceded to Democrat Jon Tester.
"I stand ready to help as Montana transitions to a new United States Senator," Burns said in a statement. "We fought the good fight and we came up just a bit short. We've had a good 18 years and I am proud of my record."
Burns had to fight off campaign miscues as well as his ties to Jack Abramoff, the once super-lobbyist caught in an influence-peddling scheme.
New Senate Democrats not all alike
The Virginia and Montana wins mean 51 Democrats and independents in the Senate, and 49 Republicans. A 50-50 split would have given Vice President Dick Cheney a vote to break any legislative voting ties.
Democrats will have nine new senators on their side of the aisle as a result of Tuesday's balloting. Six of them defeated sitting Republican senators from Pennsylvania, Ohio, Missouri, Rhode Island, Montana and Virginia. The other three replaced retiring senators from Maryland, Minnesota and Vermont.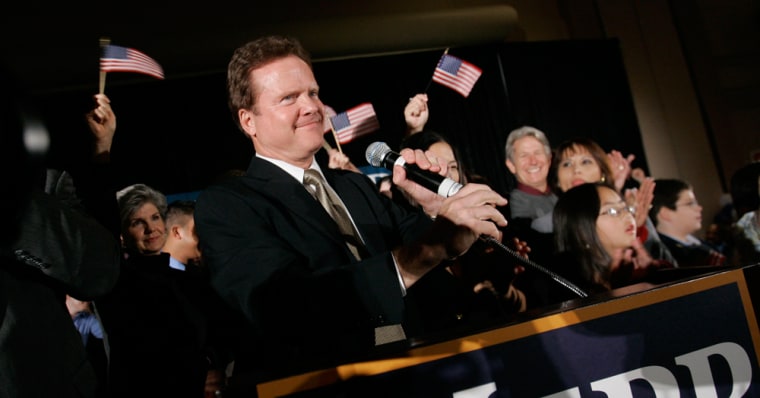 The Democratic majority counts on the support of two newly elected independent senators, Joe Lieberman and Bernie Sanders, who have declared that they will caucus with the Democrats.
The ideologies of the new Senate Democrats are as varied as their home states. Sanders, an independent who will replace Vermont Sen. Jim Jeffords, is a Socialist who has served in the House and voted with Democrats since 1990.
Bob Casey Jr., who defeated Republican Sen. Rick Santorum in Pennsylvania, is an anti-abortion moderate. Webb once declared that the sight of former President Clinton returning a Marine's salute infuriated him.
The shift dramatically alters the government's balance of power, leaving President Bush without GOP congressional control to drive his legislative agenda. Democrats hailed the results and issued calls for bipartisanship even as they vowed to investigate administration policies and decisions.
Turnover rivals 1994 election
As watershed elections go, this one rivaled the GOP's takeover in 1994, which made Newt Gingrich speaker of the House, the first Republican to run the House since the Eisenhower administration. This time the shift comes in the midst of an unpopular war, a Congress scarred by scandal and just two years from a wide-open presidential contest.
In the House, Democrats won 230 seats and led in two races, while Republicans won 196 seats and led in seven races. If current trends hold, Democrats would have a 232-203 majority — 14 more than the number necessary to hold the barest of majorities in the 435-member chamber. Without losing any seats of their own, Democrats captured 28 GOP-held seats.
Rep. Nancy Pelosi, who would become the first female speaker in history, called for harmony and said Democrats would not abuse their new status.
Pelosi said she would be "the speaker of the House, not the speaker of the Democrats," Democrats will aggressively conduct oversight of the administration, she added, but that any talk of impeachment of President Bush "is off the table."
In the Senate, Sen. Charles Schumer of New York, the head of the Democrats' Senate campaign committee, said, "We had a tough and partisan election, but the American people and every Democratic senator — and I've spoken to just about all of them — want to work with the president in a bipartisan way."
Bush laments 'thumpin' '
President Bush told reporters at a White House news conference Wednesday that the election was "a thumpin'" for Republicans. "It's clear the Democrat Party had a good night."
Bush made conciliatory gestures toward top Democrats on Wednesday, pledging to work with them and on Thursday in the Oval Office.
Exultant Democrats won an early victory Wednesday when over the troubled war in Iraq despite Bush's flat refusal to fire him.
In the House, said he will not seek to be elected his party's House minority leader when Democrats take control in January.