In a surprise finding, heart attack survivors with mild or no symptoms who wait three days or more to seek medical help will not benefit from widely used procedures to open clogged arteries, U.S. researchers said Tuesday.
Artery-clearing procedures called angioplasties are recommended for almost all heart attack patients with completely blocked arteries who seek treatment within the first 12 hours of a heart attack.
The early treatment restores blood flow to the heart, preserving the heart muscle and reducing the risks of death and heart failure, a chronic condition in which the heart pumps blood less efficiently. But about 30 percent of acute heart attack patients arrive at the hospital after the 12-hour treatment window has closed.
Many doctors had assumed some benefit would extend to patients who sought help beyond the treatment window.
Researchers, writing in the New England Journal of Medicine, said surgically restoring blood flow after three days was no better than standard drug therapy at reducing the risk of death, a second heart attack or heart failure.
"It's not what I expected. We had expected a 25 percent reduction in events with angioplasty," said the study's lead author, Dr. Judith Hochman of New York University School of Medicine. "There is absolutely no benefit."
The finding applies only to stable heart attack survivors who wait too long to seek treatment, a group that represents some 100,000 patients per year in the United States.
Hochman said the research underscores the need for patients to seek treatment early for a heart attack.
"This is disappointing but on the other hand, it shows how good medical therapy has gotten," she said. "Beta-blockers, ACE inhibitors, statins, aspirin -- these are critical life-saving medicines."
The four-year study involved 2,166 stable heart attack survivors on five continents. Patients were randomly assigned by computer to receive medical therapy alone or medical therapy plus balloon angioplasty and stenting.
The procedure involves fishing a catheter through the artery, inflating a balloon in the blocked vessel and inserting a tiny, wire-mesh tube or stent to keep the artery open.
The study found no statistically significant difference between the two groups in the occurrence of death, heart attacks or heart failure in up to five years of followup.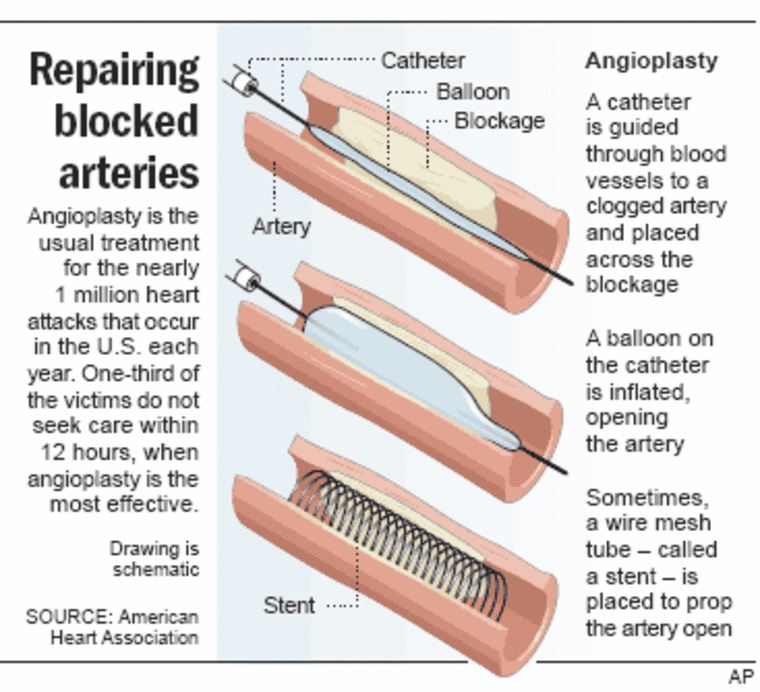 The study, dubbed TOSCA-2 and published in the journal Circulation, originally started as an independent trial funded by the National Institutes of Health and was later merged with the larger trial, known as OAT.
The TOSCA-2 study looked at 381 Canadian and international patients who were treated with either drugs or angioplasty to see how long their arteries stayed open and whether angioplasty helped improve the heart's pumping efficiency.
It found that 83 percent of arteries stayed open in patients treated with angioplasty, compared with only 25 percent in the medication group, but the treatment did not improve the heart's pumping ability.
Both studies are being presented at the annual scientific meeting of the American Heart Association in Chicago.