/ Source: Forbes Traveler.com
Stride, kick, push, glide. The smooth cadence of a refined cross-country ski technique is a beautiful thing. And all the more so in an epic setting: a bright winter sky, long mountain views and trees frosty with new snow.
But cross-country skiing, often pegged as a bit stodgy and slow, can be a breathtaking experience in the right place. Tough uphill climbs can end in high alpine bowls. Dizzying cornices can line the trail. And dozens of resorts in the U.S. now feature jumps, banked turns, rails and half-pipes to accommodate an up-and-coming freestyle-influenced discipline called Nordic jibbing.
"Cross-country skiing is not all uphills and flats and hard work," said Andrew Newell, a 22-year-old member of the U.S. Cross-Country Ski Team who competed in the 2006 Olympic Winter Games in Torino. Newell, who grew up skiing in New England, said cross-country skiing gets a bad rap as being slow and tedious. "This sport can be fast and gnarly if you know where to go," he said.
In an effort to compile a Top Ten list of North America's best--and perhaps most gnarly--cross-country ski resorts, we polled Newell and five other members of the U.S. Cross-Country Ski Team, including athletes Torin Koos, Andrew Johnson and Kris Freeman; coach Chris Grover; and the team's Director, Luke Bodensteiner.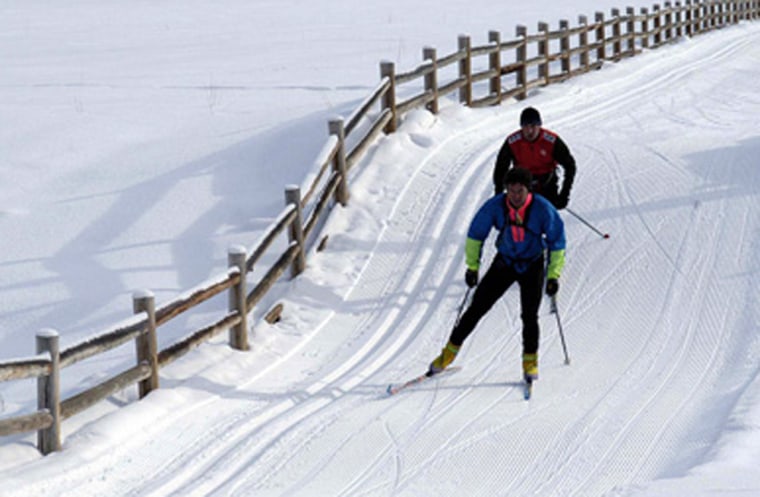 The panel's picks, which ranged from mom-and-pop ski hills in Vermont to mega-resorts and Olympic venues in the Rocky Mountains, represent a geographic spread of epic destinations. Take Mont-Sainte-Anne Cross-Country Centre in Quebec, for example. The resort, which was on almost everyone's pick list, has more than 130 miles of groomed trails and a season that lasts from November to April. Fast skate-skiing trails contrast with winding and woodsy loops, which climb and descend through the rolling terrain of the Laurentian Mountains.
"If you can get there when it's not too cold, Mont-Sainte-Anne is just awesome," said Andrew Johnson, a 28-year-old racer from Park City, Utah. "The resort has a nice mix of wide and perfectly groomed ski 'highways' as well as narrower, more challenging trails in great terrain."
Johnson's top pick, Craftsbury Outdoor Center in Vermont, is another epic Nordic destination, its trails coursing alongside rivers, tracking onto the surface of frozen lakes and climbing hills on a high plateau. In addition, Craftsbury Outdoor Center offers backcountry ski instruction for adventurers who want to explore the adjacent wild and little-skied wilderness of Vermont's Northeast Kingdom.
One lone Midwestern area--Telemark Resort in northwestern Wisconsin--was chosen by the panel. It has sixteen trail loops that bound through the thick forests surrounding Mount Telemark, a 1,700-foot bluff. The area also provides access to the famous 27-mile American Birkebeiner Trail, a route Luke Bodensteiner, director of the U.S. Cross-Country Ski Team, calls "the best long-distance point-to-point trail in the world."
Several Western ski resorts made the list, including: Royal Gorge Cross Country Ski Resort, Calif.; Methow Valley, Wash.; Devils Thumb Ranch, Colo.; Soldier Hollow, Utah; and Sun Valley Nordic Center, Idaho.
But Silver Star Mountain Resort, a high-altitude British Columbia resort that averages 23 feet of snow per year, was a top pick across the board. "All the Euros were gushing about Silver Star while there for the World Cups in December 2005," said Torin Koos, a 26-year-old racer from Leavenworth, Wash. "There's all kinds of terrain, from World-Cup-tough courses to great cruising trails."