/ Source: The Associated Press
Israel promised a punishing response to a deadly Palestinian rocket attack Wednesday near the home of the country's defense minister.
The rocket — one of eight that struck Israel during the day — killed a 57-year-old woman walking to the grocery store in the Israeli town of Sderot near the Gaza border and raised the specter of a large-scale offensive against militant rocket squads.
Militants affiliated with the Palestinians' ruling Hamas group and Islamic Jihad both claimed responsibility for the fatal Sderot attack, calling it retaliation for 19 civilians killed by Israeli shelling last week in the Gaza town of Beit Hanoun.
"The occupation hasn't stopped attacking Palestinians before or after Beit Hanoun, so we say resistance is a right of Palestinians," Hamas spokesman Fawzi Barhoum said.
The deadly homemade rocket exploded 150 yards from the home of Israeli Defense Minister Amir Peretz in Sderot. The town of 20,000 is a favorite target of the militants because it is less than a mile from the Gaza fence, but Wednesday's attack was the first deadly strike there since the Gaza Strip evacuation last year.
The rocket also badly wounded a member of the minister's security detail. Another rocket fired later at Sderot seriously wounded a teenager, the rescue service said.
Israel: Enemies 'will pay a heavy price'
The Israeli defense minister promised a harsh response and convened an emergency meeting of senior security officials. Peretz said Israel will act against anyone involved in firing rockets. "The terror organizations will pay a heavy price," he said.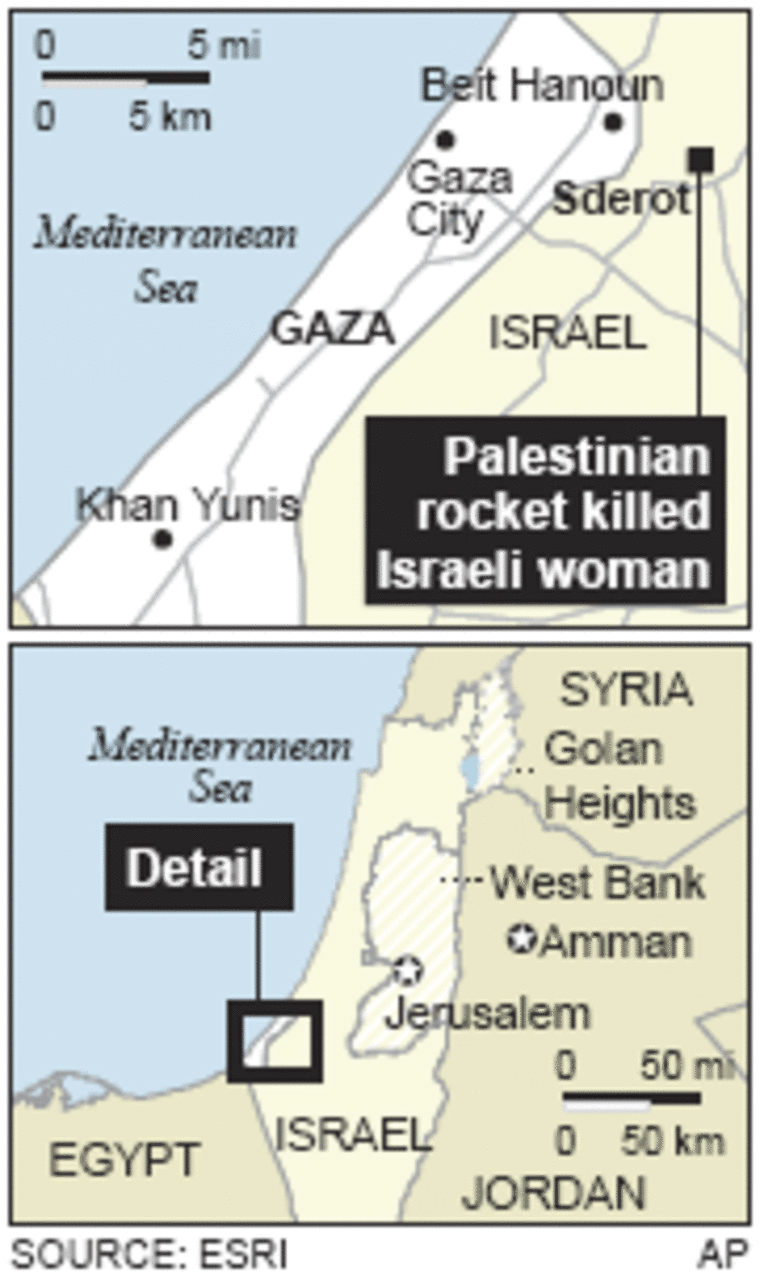 Prime Minister Ehud Olmert, who is at a meeting of Jewish leaders in Los Angeles, talked to Peretz and generals before the meeting, said his spokeswoman Miri Eisin.
"The operations in Gaza will continue without letup," Olmert told reporters.
Another senior member of the Cabinet, Public Security Minister Avi Dichter, said Israel must expand its operations to bring halt rocket fire, "whether that means a ground operation, an air operation or other special operations."
The area military commander, Maj. Gen. Yoav Gallant, said the army "will get those responsible for the attacks in the way we know how."
Israel's latest military operation against rocket squads, an offensive in Beit Hanoun, ended last week without major achievements. For more than a week, troops backed by attack helicopters and tanks went after rocket squads in the town. They killed about 50 militants, but also left behind badly damaged buildings, uprooted trees and streets chewed up by tank treads.
The Geneva-based U.N. Human Rights Council, which has censured only one country — Israel — during its six-month existence, voted Wednesday to send a fact-finding mission to Beit Hanoun and to condemn the Israeli artillery barrage and other "human rights violations" in the Palestinian territories.
Palestinian President Mahmoud Abbas met with Egyptian President Hosni Mubarak in Cairo on Wednesday to discuss the talks and the potential for peacemaking. Mubarak told Abbas that Palestinians should "speak in one voice" and express "positions that advance the peace process and end Palestinian suffering."
Quartet to meet in Cairo
On Wednesday, envoys of the so-called Quartet of Mideast mediators — the U.S., the U.N., the EU and Russia — were to meet in Cairo, in part to be briefed on the coalition talks.
A months-long deadlock over whether the new government would recognize Israel is to be solved by a division of labor: Abbas and his Palestine Liberation Organization would lead peace talks with Israel, while the government of experts would run daily life in the Palestinian territories.
An agreement on a new government would be closely linked to a Hamas-Israel prisoner swap and a promise by Gaza militants to halt rocket attacks on Israel.
Egyptian intelligence chief Omar Suleiman is to try to conclude a swap in a visit to the Palestinian territories, starting Saturday. In a deal pushed by Egypt, Hamas-allied militants would release Cpl. Gilad Shalit, an Israeli soldier captured in June, and Israel would free hundreds of Palestinian prisoners as well as two dozen Hamas Cabinet ministers and legislators seized in recent months.
Abbas has promised Hamas he will not present the new government to parliament for approval until the Hamas politicians have been released.
Abbas-Olmert summit?
Such a deal could pave the way for a long-overdue meeting between Abbas and Olmert. Abbas' aides have said there is no point in a meeting as long as the Israeli soldier is in captivity, because they fear Olmert will only discuss the soldier's fate and no other issues.
A swap and a cease-fire, in turn, could give a push to U.S. plans to get Gaza's border crossings with Israel reopened and boost Gaza's paralyzed economy.
The Rafah crossing for pedestrians and the Karni crossing for cargo have been closed for long stretches because of security alerts.
On Tuesday, U.S. and European diplomats met with Israeli and Palestinian officials to discuss security arrangements at Rafah, the gateway between Gaza and the Arab world.