/ Source: The Associated Press
The number of people struggling with hunger in the United States fell in 2005, the first such decline in six years, the Agriculture Department said Wednesday.
Last year, 35 million people suffered food insecurity, meaning they didn't have enough money or resources to get food. The number was 38 million in 2004.
The department had waited until after Election Day to issue the annual report, prompting accusations from Democrats that the Bush administration was playing politics with hunger.
Despite the positive news, the report is still drawing criticism, this time because analysts decided not to use the word "hunger" to describe how hungry people are.
Changing the wording "is a huge disservice to the millions of Americans who struggle daily to feed themselves and their families," said the Rev. David Beckmann, president of Bread for the World, an anti-hunger group.
"We should not hide the word 'hunger' in our discussions of this problem, because we cannot hide the reality of hunger among our citizens," Beckmann said.
The report found:
There were more people with very low food security — those who are worst off. The number was 10.8 million, up from 10.7 million in 2004.
There were 24 million people with low food security, down from 27.5 million in 2004.
The group doing the worst, whether measured by food insecurity or poverty, "isn't being helped enough to start shrinking, even though the economy keeps growing," said Jim Weill, president of the Food Research and Action Center, an anti-hunger group.
Weill said the overall drop in food insecurity shows the effectiveness of programs like food stamps and school meals.
"But it's not cause for anybody letting up — it's just a sign that these programs work, and we need to redouble our efforts to get them to more people in need," Weill said.
Hawaii saw biggest drop
In the report, the terms "low food security" and "very low food security" replace the old descriptions of "food insecurity without hunger" and "food insecurity with hunger." The change was recommended by the National Academies, which advise the government on science and medical issues.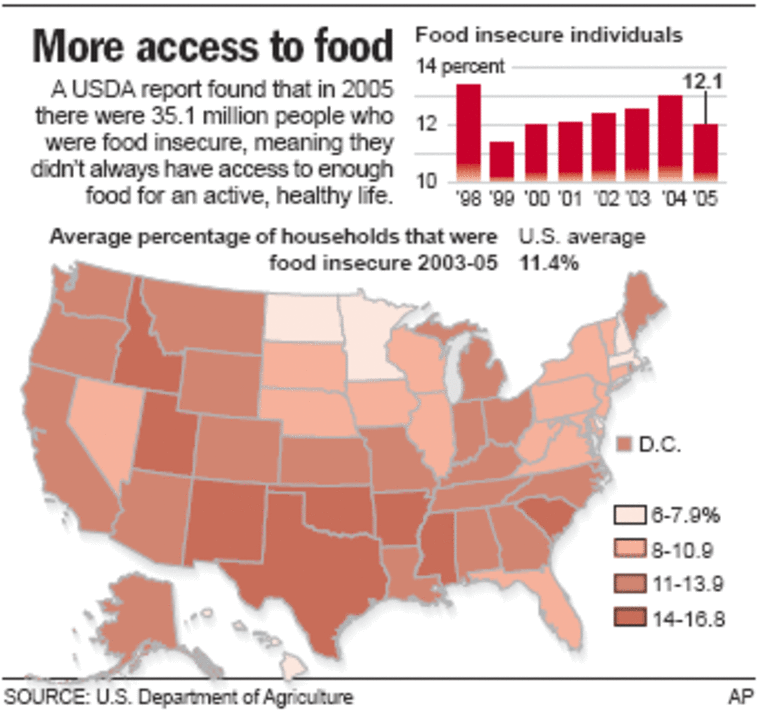 Among the states, Hawaii saw the biggest drop in the number of hungry people, from 12.9 percent in 1998 to 7.8 percent in 2005. South Carolina saw the biggest increase, from 11 percent in 1998 to 15.5 percent in 2005.
The hunger report is based on Census Bureau data on poverty, which stopped climbing in 2005.