/ Source: msnbc.com news services
Millions of Americans are on their way to Thanksgiving dinner in one of the busiest holiday travel periods of the year, and weather, long lines and other issues are snarling some travelers' plans.
By late afternoon Wednesday, the strains were evident, with airports reporting delays, and traffic jams on major thoroughfares. The National Weather Service predicted heavy rain and winds in New York, Philadelphia and Washington, D.C. — conditions that promised to further aggravate travel conditions.

At LaGuardia Airport, arrivals were delayed about two hours, and departures about an hour and a half, said Steve Coleman, Port Authority spokesman. Kennedy Airport had 30-minute delays on arrivals and departures, while Newark Liberty International Airport had an average hour-long delay on arrivals.

Traffic was moving smoothly at several other major airports, including the world's busiest, Hartsfield-Jackson Atlanta International Airport.
"I expected it to be a lot worse than it is, but the day is still young," said Steve Miller as he waited for relatives arriving from Fort Myers, Fla.
At Boston's Logan International Airport, wait times at security checkpoints were averaging less than 10 minutes and there were no long lines at ticket counters at midday.
Drivers in parts of North Carolina, South Carolina and Virginia faced high winds and flooded roads Wednesday as an early winter storm swept across the South.
The weather slowed traffic between the Carolinas on Interstate 95, one of the main arteries for East Coast travel. Some ferry service along North Carolina's coast was halted on Wednesday due to the storm; the state Department of Transportation said it would likely not resume until Thanksgiving Day.
In Virginia, a tunnel between Norfolk and Portsmouth was shut down because of high water, and high winds prompted operators of the Chesapeake Bay Bridge-Tunnel to limit vehicles crossing the span to cars and pickup trucks.
More than fall colors
Motorists along Interstate 40, an east-west highway that spans more than 2,500 miles, were seeing more than just fall colors along the route: State troopers will be posted every 10 miles.
The coordinated effort between state police in the eight states the highway passes through — California, Arizona, New Mexico, Texas, Oklahoma, Arkansas, Tennessee and North Carolina — is aimed at reducing accidents and fatalities Wednesday and Thursday.
One of Southern California's busiest freeways was shut down on one side for hours when a flatbed truck carrying hazardous materials jackknifed, spilling 55-gallon drums of acetone and rubbing alcohol.
Southbound traffic on Interstate 405 in Hawthorne became so backed up some drivers were directed to travel in the wrong direction to the nearest exit to help ease the gridlock. The truck's driver and another motorist were hospitalized with minor injuries, the Los Angeles County Fire Department reported.
In New York, scores of people packed the train waiting area at Pennsylvania Station by noon, including Sandra Clifton. Her flight last year to Pittsburgh took so long — 27 hours thanks to flight cancellations and delays — that this year she was taking the train to see different relatives outside Philadelphia.
"It broke my mother's heart," said Clifton, 39. "I love my family. I just can't always get to them."
Nationwide, an estimated 38.3 million people will travel 50 miles or more for Thanksgiving, according to AAA. The estimate is up by a million from last year.
Moderating gas prices may be one reason for the increase, said the automobile association's Robert Sinclair.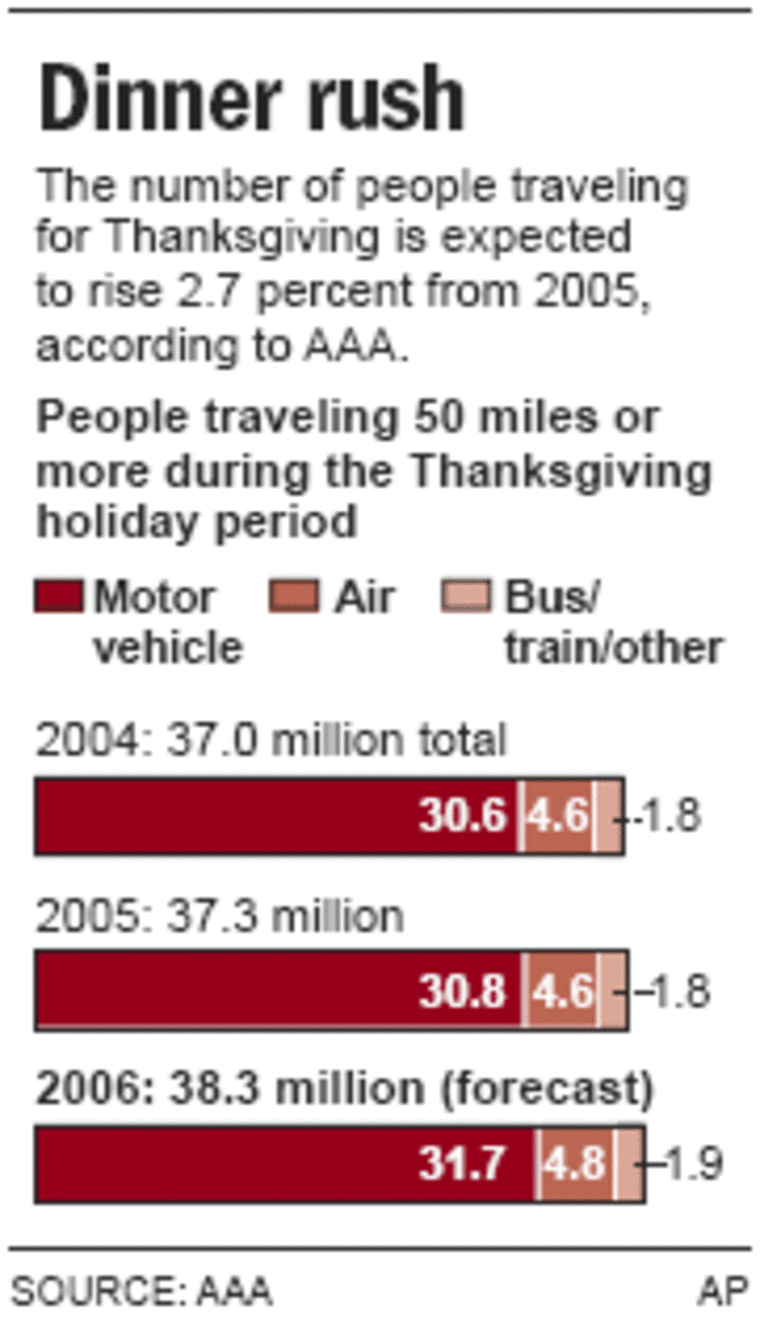 Since peaking above $3 per gallon in early August, gasoline pump prices have dropped by around 80 cents per gallon nationwide in the past three months. Wednesday's nationwide average gas price was $2.23 a gallon, according to AAA.
While there won't be any more food on flights, there will be many more people — and their luggage — crammed on planes.
Planes will be flying fuller than ever during this holiday weekend, likely leading to long lines at security and plenty of lost bags.
"We have projected that this will be a record," said David Castelveter, a spokesman for the Airline Transport Association (ATA).
AAA predicted 4.8 million travelers will fly to their Thanksgiving destination. The Port Authority of New York and New Jersey anticipated 1.6 million passengers — about 2 percent more than last year — would pass through LaGuardia, John F. Kennedy International and Newark Liberty International airports.
It looks for flights on most days during the holiday weekend to be more than 80 percent full, and more than 90 percent full on the peak days of Sunday and Monday as Americans flock home.
Robust travel demand last holiday season kick-started the airline industry's recent recovery, allowing airlines to raise fares and post profits after years of losses.
Carriers such as AMR Corp's American Airlines, UAL Corp.'s United Airlines and Continental Airlines have continued to raise prices, which are on average about 10 percent to 15 percent higher than a year ago, said Terry Trippler of travel club myvacationpassport.com.
But the higher fares have done little to deter travelers.
'It all looks rosy'
"The turnaround began a year ago, and it's continuing," said Trippler. "It all looks rosy for the airlines."
The crush of traffic — plus security measures that ban liquids and gels of more than three ounces in carry-on bags — will likely mean longer waits at the airport.
Last year, the average wait to get through security was 20 minutes. This year, that is expected to jump to 45 minutes at some airports, said Amy Ziff, editor-at-large of travel Web site Travelocity.
The U.S. Transportation Security Administration will have its screeners working more overtime, and some airports have added additional security lanes.
Still, Ziff and other experts advise travelers to budget at least two hours to check in and get through security, because missing a flight may mean missing the holiday.
"There isn't a spare seat necessarily if you miss your flight to catch the next one," said Ziff. "You might miss your turkey feast."
Although in place for weeks, the security measures will be new to many Thanksgiving travelers and that could force people to check bags at the last minute, further putting stress on the system.
"It is likely that there will be more bags lost or mishandled this Thanksgiving," said Ziff.