/ Source: NBC, msnbc.com and news services
Though "reasonably safe," silicone-gel breast implants won't last a lifetime and women who get them probably will need surgery again, the government warned as it ended a 14-year virtual ban on what arguably are the nation's most controversial medical devices.
Women must undergo repeated, costly MRI exams to check for broken, oozing implants and understand that there are other irreversible side effects, the Food and Drug Administration said Friday.
"Many of the changes to your breasts following implantation cannot be undone," warns the FDA's special brochure that women are supposed to be given before undergoing the operation.
Still, the agency cleared manufacturers Mentor Corp. and Inamed Corp. — now part of Allergan Inc. — to start selling the implants again, more than a decade after the devices were yanked off the market for fears that they could cause myriad diseases.
The FDA approved the silicone-gel implants for women 22 and older, or those undergoing breast reconstruction surgery. The age minimum is because most women's breasts have not fully developed before that age.
"There is reasonable assurance that Allergan and Mentor silicone-gel breast implants are safe and effective and there is adequate information to enable women to make informed decisions," said Dr. Daniel Schultz, FDA's medical device chief.
Mentor called the decision a "historic moment." Allergan said it created new options for women.
However, Dr. Sidney Wolfe, a consumer activist and longtime opponent, called the implants "the most defective medical device FDA has ever approved." And a lawmaker called on Congress to investigate the FDA's approval process.
The approvals came with conditions, including a requirement that the companies complete 10-year studies on women who have received the implants to study leaks. Companies are also required to begin new decade-long studies of the safety of the devices in 40,000 women.
Schultz called the implants "one of the most extensively studied medical devices."
Fears of 'silent rupture' The FDA warned that the implants are not without risk and that women may not immediately know if their implants break. That means women with the implants will need to undergo regular MRIs to catch those so-called "silent ruptures." Such MRIs typically cost several hundred dollars — a cost not always covered by insurance.
The FDA decision opens the implants to much wider use by women seeking to reconstruct or augment their breasts. Since 1992, the silicone implants had been available only as part of research studies.
Silicone-gel breast implants first went on the market in 1962, before the FDA required proof that all medical devices be safe and effective. Thirty years later, they were banned amid concerns about their safety.
At the time, there were fears about a possible connection to a variety of diseases, including cancer, lupus, arthritis and other so-called autoimmune diseases. Alarming cases of ruptures added to the concern.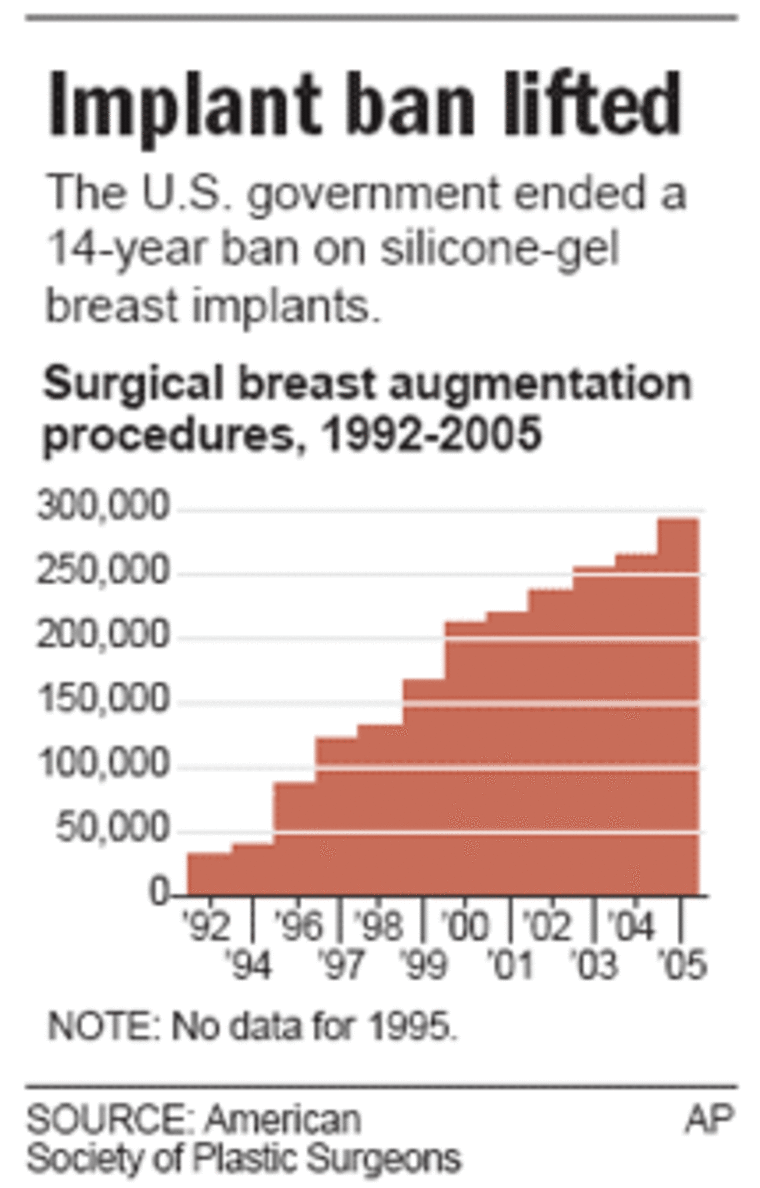 Since then, most studies have failed to find a link between silicone breast implants and disease.
"There is no association between silicone breast implants and those type of diseases," says Dr. Sherine Gabriel, an epidemiologist and arthritis researcher with the Mayo Clinic. "So the scientific evidence on this point has been negative and quite consistent."
The rupture issue persists. An Institute of Medicine report in 2000 found rupture rates as high as 77 percent. The FDA's Dr. Donna-Bea Tillman said women should expect them to last for the "reasonably foreseeable future," without elaborating.
Rep. Rosa DeLauro, D-Conn., called on Congress to investigate the FDA's decision-making process to make sure it is "based on science and not on corporate and political considerations."
"From a scientific standpoint, the decision we are making tonight is in the best interests of American women," Schultz responded.
Women whose silicone implants ruptured have reported years of pain, swelling, numbness and other symptoms that they blame on the devices. Leaked silicone gel can migrate throughout the body, forming lumps. Implants also can cause infection and form hard, painful scar tissue that can distort the shape of a breast.
Some researchers also worry that the platinum used to manufacture the implants can seep into the body and cause harm. The FDA says there is no evidence of that.
Look and feel better Many plastic surgeons and their patients say the silicone implants look and feel better than the saline-filled substitutes that took their place. Those implants are sold without restrictions.
"It's a hugely positive piece of news for plastic surgeons and for patients and for the company — all three — because it really allows us to turn a page and to work with what we have believed for a long time is a better technology and better device," said Dr. Scott Spear, head of plastic surgery at Georgetown University Hospital and an Allergan consultant.
Last year, the FDA told both companies their implants could be approved once they met additional, undisclosed conditions. Federal advisers had narrowly recommended that Inamed's implants not receive FDA approval, citing concerns about the long-term durability. The same advisers endorsed Mentor's implants.
In October 2003, FDA advisers had recommended allowing the implants to be sold again. The agency overruled that recommendation.
But why now, after so many years?
"We have more information than we had 14 years ago — more information about why these devices are safe and effective, more information about the risks and benefits that we can give to women so they can make informed choices," said Dr. Donna-Bea Tillman, director of the FDA's Center for Devices and Radiological Health.
Breast implants have become more popular, despite a history of lawsuits. Last year, 291,000 women had their breasts surgically enlarged in the United States, a 37 percent increase since 2000, according to the American Society of Plastic Surgeons.
The popularity of implants for reconstructive surgery shrank over the same five-year period by 29 percent, to 58,000 procedures, according to Society statistics. Last year, 39,000 women had their implants removed.
Overall, the use of breast implants has grown since 1992 despite the FDA's de facto ban.
Dow Corning Corp., once the major manufacturer of silicone breast and other implants, faced 19,000 lawsuits, pushing it into Chapter 11 in 1995. The company emerged from Chapter 11 in 2004, after setting aside $2.35 billion to settle claims.
Allergan Inc. shares rose $1.76, or 1.6 percent, in trading that was almost double its average volume to close at $112.50 on the New York Stock Exchange. Mentor Corp. shares increased $1.47, or 3.19 percent, also in heavy trading, closing at $47.58.
The Associated Press and NBC's Robert Bazell contributed to this report.