Kids are naturally attracted to new toys. But it doesn't take long for them to decide whether that toy is fun or boring. Just because it's on the shelf or advertised on TV doesn't mean it's a good toy. You can't even go by what your kids tell you they want — they're too easily swayed by TV commercials.
That's why I do my Toy Test each year. I'm not trying to find the "hottest" toys — there are plenty of those lists around — I want to help you find toys that your children or grandchildren will play with over and over again.
This year we tested 100 different toys, all new for 2006, including dolls, board games, drawing toys, construction sets, and remote-control vehicles.  All were donated by the manufacturers.
The test was open to all toy makers who had products that fit our two categories —educational and bargains (toys for $25 or less). But I chose which ones to accept for testing based on 25 years of experience rating toys.
We gave those toys (four copies of each, so lots of kids could play with them) to 15 child care centers in the greater Seattle area.
About 2,000 kids got to play with them for two weeks. Then their teachers rated each toy for us. We asked a lot of questions. Is the toy fun and easy to use? Is it durable? Do the kids still want to play with it after two weeks? Would you recommend this toy?

Here are the winners in the educational category. (Prices are approximate.)

Best bets for toddlers
Bristle Blocks Twirlie Tots set (Parents Magazine, $35, 18 months and up)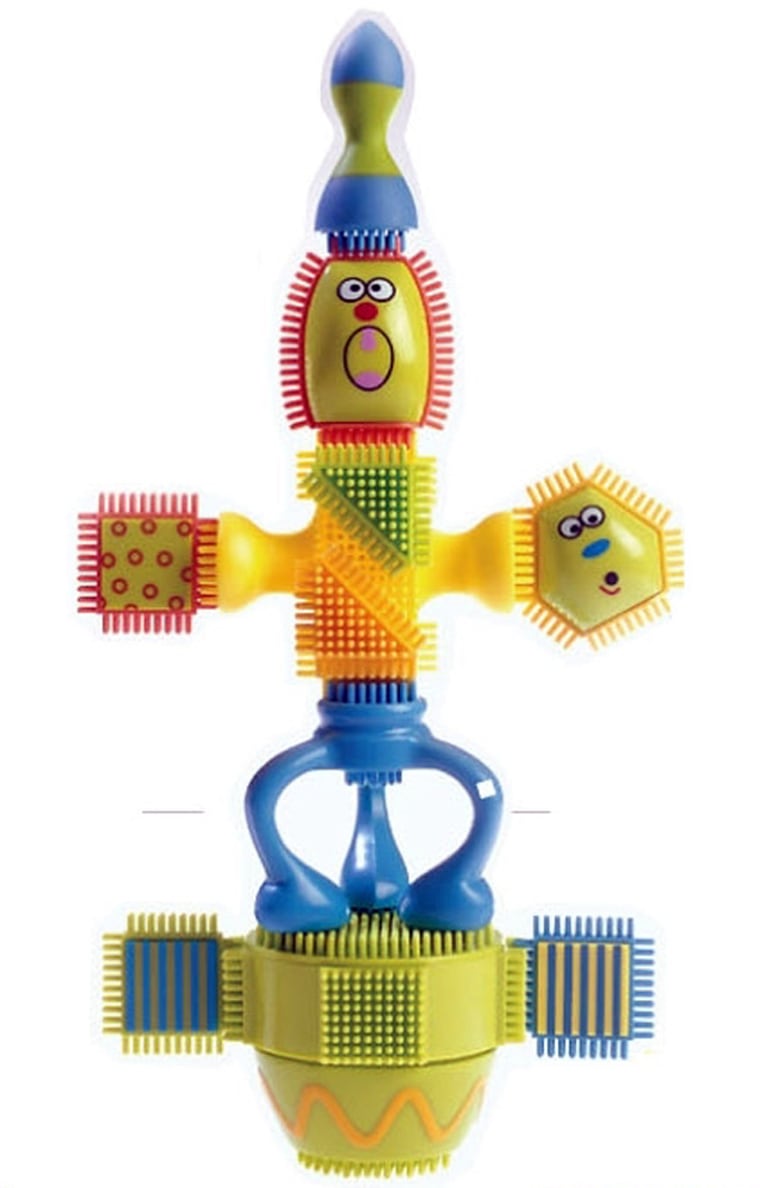 The top-rated toy for this age group is a brightly colored construction set called Bristle Blocks. The building pieces are made from soft, flexible plastic. They're colorful and easy to connect.

One of the teachers told me the kids "just absolutely loved them" because they were able to "use their imaginations" to make whatever shapes they wanted.

The Twirlie Tots set has 75 pieces, including wacky shapes, funny faces and building platforms that spin. Bristle Blocks are washable and come in a storage bin.

Talking Video Phone (Chicco, $40, 18 months and up)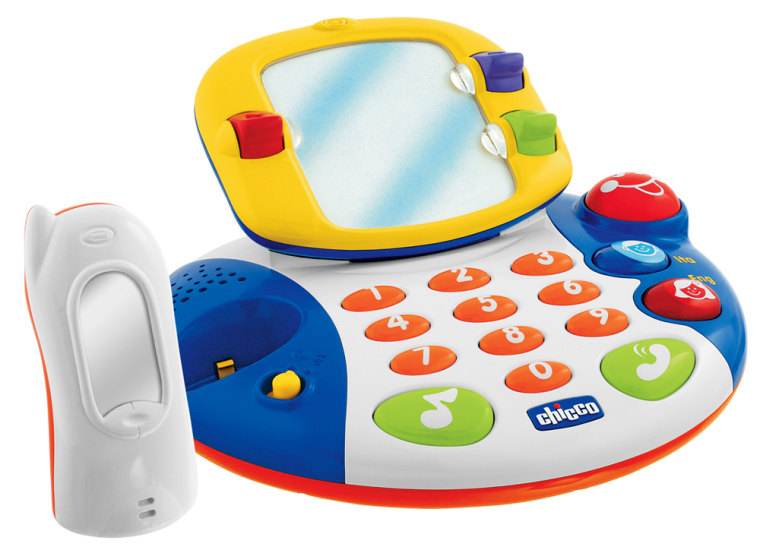 The Talking Video Phone is different from other electronic phones on the market. Sure, it rings, and it tells you the numbers zero through nine.

But this colorful phone has a big screen that lights up with 6 story elements — a mountain, tree, pond, park, dog, and duck. The child can make three of them light up at the same time.

The friendly voice on the phone puts them all together to make a story. "Hi, I'm at the park. Who just took a bath in the pond? The duck did!"  By the way, this phone teaches in both English and Spanish.

SmartVille Alphabet Train Station (VTech, $50, 12 months and up)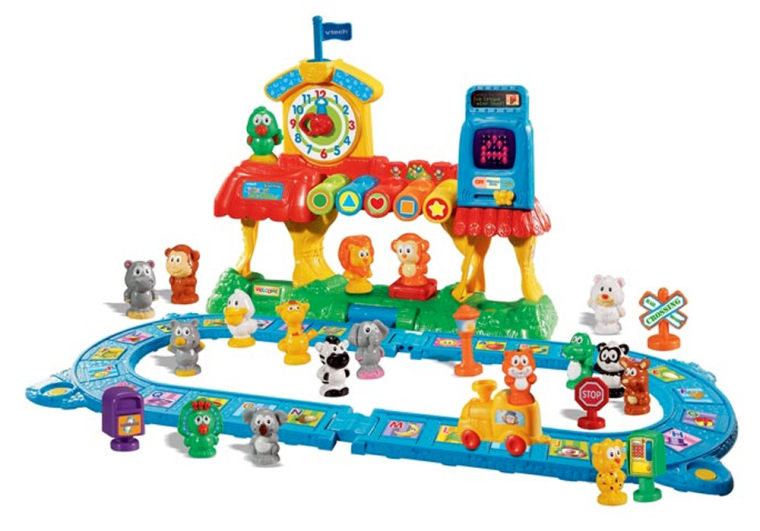 Our last stop in the Toddler category is SmartVille Station, an interactive playset that's loaded with fun things to do and fun ways to learn.

When kids turn the handle on the big clock it tells them the time. They can push down on the piano-like keys to hear about shapes and colors. The track has all the letters of the alphabet. When the train rolls over a letter, kids hear the letter and a word that starts with that letter. There are also lots of train sounds.

The set comes with a collection of chubby animal characters who can ride in the train car. When they're placed in one of the special "hot spots" they talk to the child.
Toys for the preschool set
Spark Art Easel (Fisher-Price, $80, 3 and up)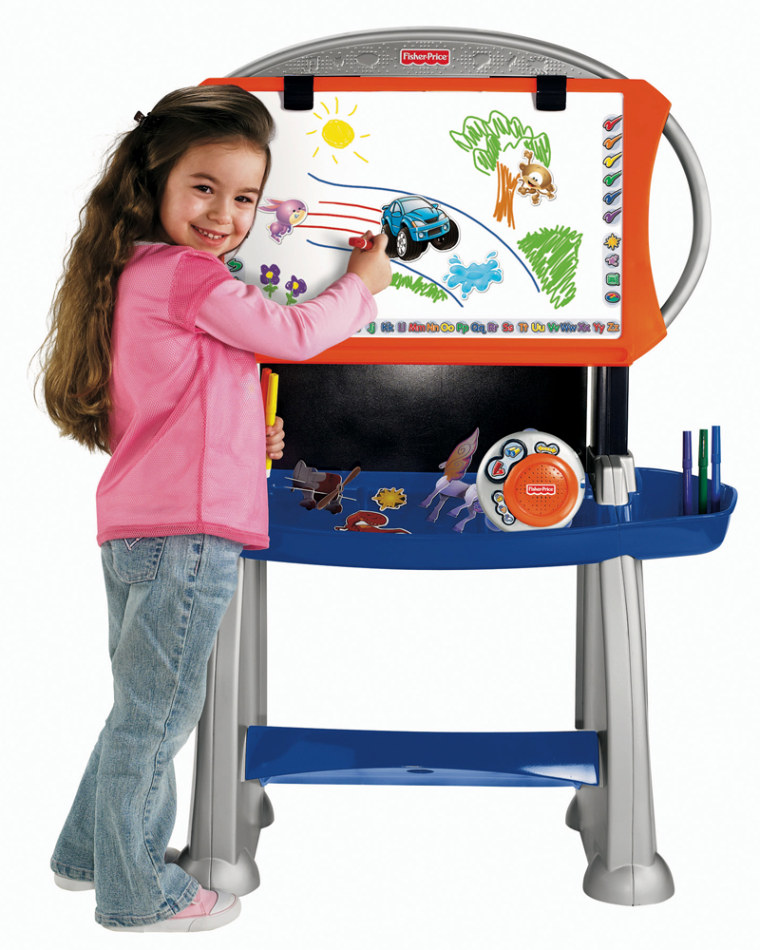 Kids love to draw, so it's no surprise the top-rated toy in this age group is a drawing toy. The Spark Art Easel takes the dry-erase board to a whole new level. It's loaded with electronics —more than 600 fun sounds and interactive voice prompts — that spark creativity.

Kids use the blue "inspiration pen" connected to a little sound pod to make this easel come to life. For instance, touch the letter "S" on the board and it will say, "S, sandwich, draw a big sandwich."

"If they don't exactly know what they want, they can easily use the pen to give them an idea," said a teacher. "Then they can totally build off of what they hear just from one sound effect."

Here's the part I really like. Kids can add special magnets to any part of the picture that tells you its name (horse, monkey, dinosaur) and makes various sounds depending on where you touch it. For example, the car magnet makes the sound of an engine revving, tires squealing and horn honking.

The easel is adjustable to three heights. It comes unassembled and could easily take you 20 minutes or more to put it together.
T.J. Bearytales (Playskool, $50, 3 and up)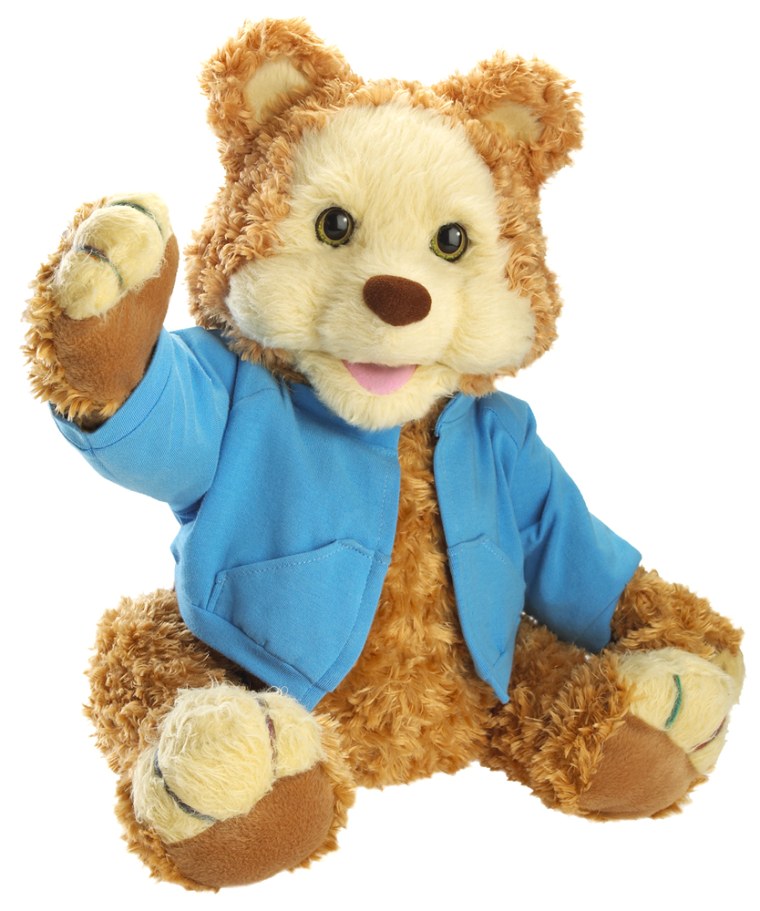 Talk about cute!  Theodore James Bearytales (you can call him T.J.) is one of the most adorable animated characters I've seen in a long time. T.J. likes to sing, but he loves to tell stories.
He comes with a colorful storybook that lets kids follow along. And they really like to do that. T.J. proves that a good educational toy can make learning fun.
One teacher told me T.J. quickly becomes "a very good friend." That's why the kids can watch and listen to him for the longest time. In fact, when one story's done, they want to hear another. That's easy to do; just change the cartridge in his back. T.J. comes with "My Big Birthday Surprise." Other stories, such as "Bear Ahoy! My Pirate Adventure," are sold separately.
For the school-age crowd
Power Chutes Start Set (Rokenbok, $70, 6 and up)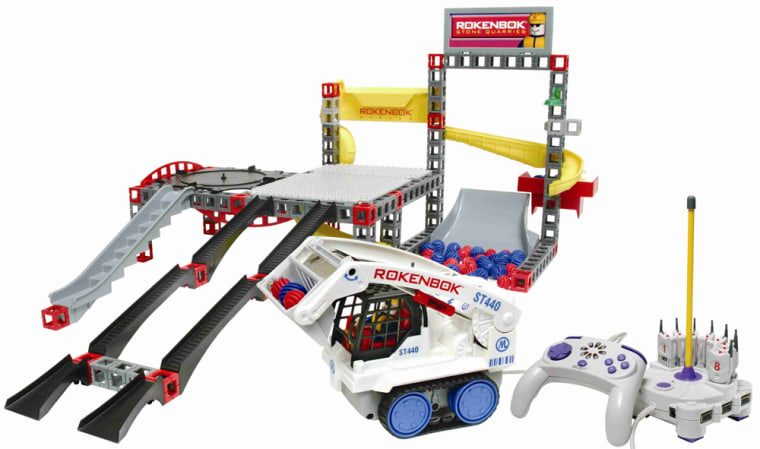 Some remote control vehicles just race around the room. The R/C Skip Track front loader in the Power Chutes set has a purpose — to deliver those red and blue ROK balls to the power chutes factory.
Of course, before kids can do that, they have to build the factory. That construction project has 127 pieces that snap together.
"They start off with nothing and then build up something great," said a teacher.
Kids control the front loader with a controller that looks like it came from a video game machine. It controls both the direction and the scoop on the front loader. I watched the kids driving up the ramp to the loading bin and it's quite challenging. You've got to maneuver the Skip Track into just the right position to drop the balls into the chute. The way you drop them determines which chutes the balls go down.

This start set is a great way to "test drive" the Rokenbok line. The RC Control Center can handle up to 8 vehicles. And everything in this set works with every product in the Rokenbok line.

WonderWorks Talking Picture Book (Cranium, $20, 5 and up)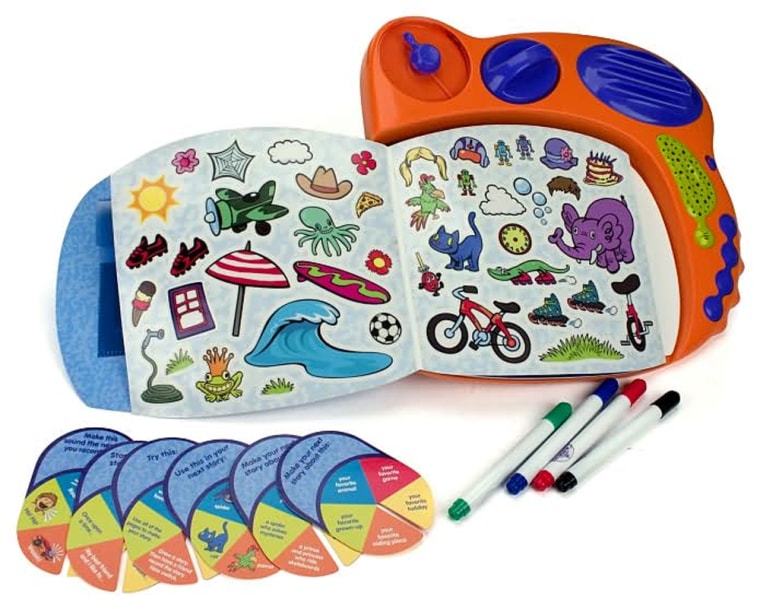 Those clever folks at Cranium have done it again. The WonderWorks Talking Picture Book is a personal, portable drawing pad. It uses dry erase markers and comes with lots of reusable stickers.

There's also an activity spinner that gets kids started with various story lines.
But here's cool part. Kids can record a little story for each of the four pages. Then play back the audio, one at a time, in any combination. You should see the smiles on the kid's faces as they hear themselves narrate their stories. It's amazing how something so simple can be so much fun.

You can see all these toys in action by watching my video podcast at the top of this story.

Next week: Top rated toys for under $25.